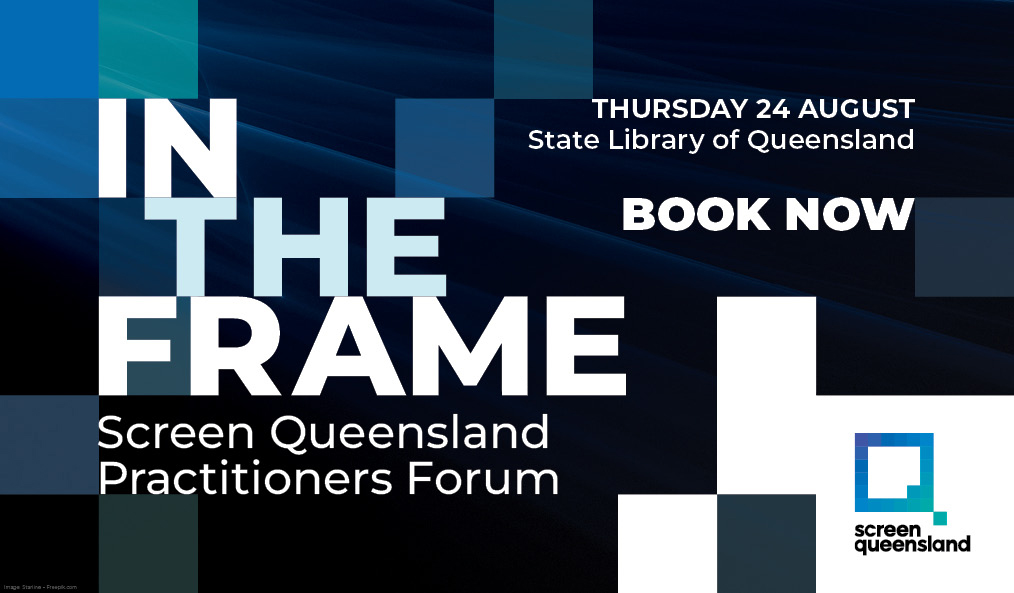 Screen Queensland's popular annual industry event is returning in 2023, applying a local lens to screen production and exploring new opportunities for screen creatives to continue to shine on a local and global stage.
New CEO Jacqui Feeney said that In the Frame: Screen Queensland Practitioners Forum on Thursday 24 August at State Library of Queensland will offer a full day of practical panels and insightful industry conversation, as well as networking opportunities for local practitioners.
"Screen Queensland is dedicated to a diverse, inclusive and sustainable local industry, and we are proud to present a range of panels across a variety of genres and formats, including drama, romance and animation.
"Screen practitioners from all levels of the industry and all backgrounds are encouraged to join us to learn more about Screen Queensland's programs to support local production and build connections with their fellow screen professionals."
Chief Creative Officer, Dr Belinda Burns said that In the Frame is focussed on celebrating local success stories and sharing knowledge with the rest of the sector.
"Screen Queensland is proud to invest in diverse screen stories and experiences that reach and engage audiences locally and internationally.
"We look forward to seeing practitioners from across the state coming together for an inspiring day of discussion about opportunities to strengthen and expand the Queensland screen industry ecosystem."
The full program for In the Frame: Screen Queensland Practitioners Forum will be released on Thursday 3 August.
Tickets are now on sale for $35 (excl. booking fees) including lunch and networking refreshments via screenqueensland.com.au.   
Applications for Travel Support grants to support screen practitioners from regional Queensland to attend are also open for a limited time. Find out more.
-ENDS-
MEDIA CONTACT
Amanda Lawson, Head of Marketing and Communications
media@screenqld.com.au
07 3248 0500
ABOUT SCREEN QUEENSLAND
Screen Queensland is the Queensland Government-owned agency dedicated to growing a successful screen industry in the state. The agency supports locally produced films, series and games, and secures international and interstate production and post-production into Queensland. It also runs initiatives to build skills and careers for local screen practitioners, and funds film festivals and industry conferences. Screen Queensland is deeply committed to uplifting the voices of Aboriginal Peoples and Torres Strait Islander Peoples and increasing diversity on and off screen.
Opened in 2019, Screen Queensland Studios, Brisbane has hosted Zombie Plane, Fear Below, Joe vs Carole and Young Rock. Screen Queensland Studios, Cairns is set for completion in early 2024. International productions supported by Screen Queensland include Elvis, Thirteen Lives, Ticket to Paradise, Irreverent, The Portable Door, Land of Bad, Godzilla x Kong: The New Empire, Wizards!, Nautilus, Apples Never Fall, La Brea (Season 3) and Mortal Kombat 2. Supported Australian projects include Audrey, Bluey, Black Snow, The Bachelors Australia, Boy Swallows Universe, Dawn of the Dolphins, First Weapons, In Limbo, In Our Blood, Limbo, Love is in the Air, Upright (Season 2), Revealed: Reefshot, Rock Island Mysteries (Seasons 1 and 2), Strait to the Plate (Seasons 1 and 2) and True Spirit. Digital games include the BAFTA-winning Unpacking, My Little Pony: Mane Merge, It's Literally Just Mowing, Go-Go Town! and Cities: Skylines – Remastered. Screen Queensland's Screen Culture fund supports film festivals and major industry events including Screen Forever, Asia Pacific Screen Awards and from 2024, the ACTAA Awards.
For more information on funding programs, incentives, locations and facilities, visit screenqueensland.com.au.