MEDIA RELEASE
The second season of multi-award winning, Queensland-made hit animation series Bluey starts on ABC Kids today with the first of 26 new episodes released every day as well as four bonus episodes available now.
Kylie Munnich, Screen Queensland CEO, said the new series from Ludo Studio will build on Bluey's audience appeal as ABC iview's most popular show and extensive industry acclaim including an AACTA award, a TV WEEK Logie and a prestigious international Emmy® nomination.
"There's no doubt that children are experiencing an unusual time in the community right now, so it's welcome relief to be able to invite pure joy into our homes with the new adventures of Bluey," Ms Munnich said.
"The focus of fun and play with Bluey will be a wonderful distraction for families everywhere and we are so proud of this quintessentially Queensland story that is produced by a wildly talented local team led by the creative powerhouse of showrunner Joe Brumm, executive producers Charlie Aspinwall and Daley Pearson, producer Sam Moor and supervising director Richard Jeffrey.
"Bluey is a great example of Queensland creativity and business savvy that Screen Queensland has supported throughout its entire journey from script development, to travel and marketing support, through to production and post-production investment," Ms Munnich added.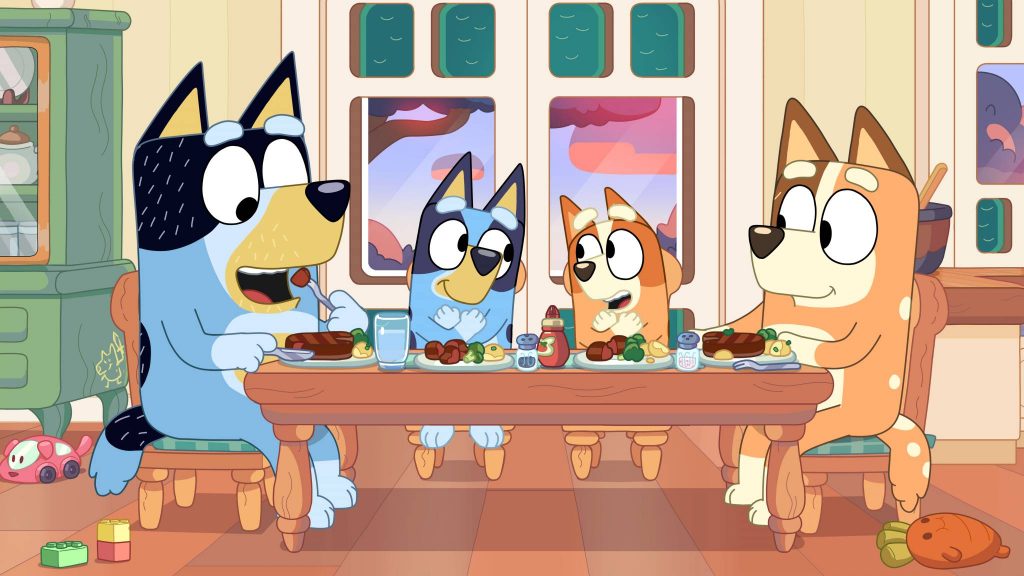 The second series of Bluey is estimated to have created 40 jobs, provided two training opportunities and injected approximately $5.8 million into the local economy.
Daley Pearson, co-founder of Emmy® award winning Ludo Studio and executive producer of Bluey, said the release of season two this week is happening when everyone is looking at spending more time at home, with social distancing rolling out in the community.
"We really hope everyone's keeping safe and we love hearing that this is helping in some small way to keep Australians happy," Mr Pearson said.

"We make Bluey at Ludo all under one roof in Brisbane. It was over half the studio's first job and they were trained up for season one. So now they've been doing it for years, they're even more brilliant at it. We just hope everyone loves it as much as we all love making it for them.

"We're all overwhelmed that audiences want to bring Bluey home with them. It's a real privilege. So, any spare time we've had from production this year has been spent making sure Bluey's sippy cups, underwear and socks are as high-a-quality as the show. We seriously care so much about our audience. It's actually the reason any of this stuff is happening at all," added Mr Pearson.
Watch a new episode of Bluey every day at 8am and 6.20pm on ABC Kids, the ABC Kids app and iview.
Bluey is a Ludo Studio production for ABC Kids. Principal production investment from BBC Studios, in association with Screen Australia. Post-production, digital and visual effects work undertaken in Queensland, Australia with funding from the Queensland Government through Screen Queensland and the Australian Government.
-ENDS-
Media contact: Bronwyn Fardon, bfardon@screenqld.com.au and 0414 327 576