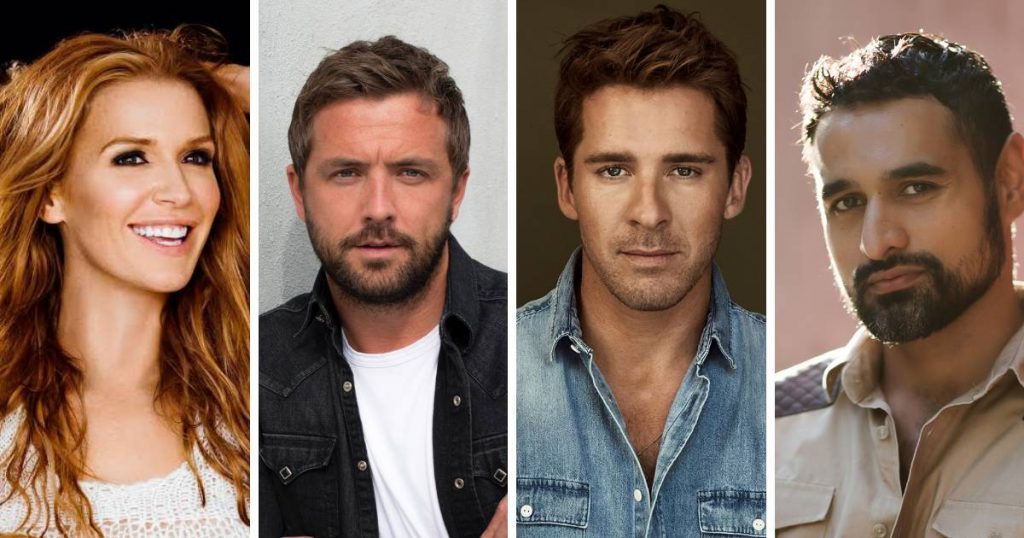 ---
A new Stan Original Christmas movie, produced in partnership with award-winning Brisbane-based production company Hoodlum Entertainment, will start production this week in Brisbane.
Supported by the Queensland Government via Screen Queensland's Screen Finance Fund, Christmas on the Farm will star Australian-American actress Poppy Montgomery (Reef Break, Unforgettable, Without A Trace), who is also an Executive Producer of the film, as well as Hugh Sheridan (Five Bedrooms, Packed to the Rafters), Darren McMullen (House Husbands, Doctor Doctor) and Nicholas Brown (Amazing Grace, Wakefield). Rounding out the formidable cast that will bring this tangled Christmas tale to life are Jeanette Cronin (Doctor Doctor, Secret City), Asmara Feik (Upright, True History of the Kelly Gang) and Demi Harmon (Home and Away, Winners & Losers).
Queensland Premier Annastacia Palaszczuk said the film, which will be filmed on various locations throughout Brisbane's outskirts, will deliver significant benefits for the state's thriving screen industry and recovering state economy.
"This 100 per cent Queensland-produced feature film is estimated to inject approximately $3.4 million into the state, create over 150 jobs for Queensland cast and crew, and provide a number of paid training placements for emerging filmmakers," the Premier said. 
"My Government's recent $71 million screen industry budget boost as part of our Economic Recovery Plan, includes investment in productions by home-grown producers like Hoodlum and aims at supporting the continued growth of a strong, sustainable local sector over the long term."
Screen Queensland Chief Creative Officer Jo Dillon congratulated Hoodlum Entertainment on their first partnership with Australian streaming giant Stan, following on from successful Network 10, ABC and Netflix commissions.
"Screen Queensland is committed to supporting Queensland-based producers to create premium content for global audiences, which is exactly why we are proud to invest in what promises to be a feel-good holiday hit for Hoodlum on Stan in Australia and other networks worldwide.
"We have supported all three seasons of Hoodlum's popular ABC crime series Harrow, their First Nations co-production All My Friends Are Racist which premieres on ABC this Tuesday 24 August, and their recently announced Netflix romcom feature starring Victoria Justice and Adam Demos.
"We are also pleased to announce that post-production for Christmas on the Farm will be completed by Cutting Edge in Brisbane," Ms Dillon said.
Clementine Jones (Montgomery) is an Australian author whose autobiographical book about life on a Queensland farm is snapped up by powerhouse publishers London & London. But the truth is, "Clementine" is actually Emmy Jones, a New York woman who based the book on her deceased mother's journals. When the publishers announce that they're travelling to Australia for an authentic 'Clementine' Christmas before signing off on the deal, Emmy must race back to the old family farm, roping in her cousin David (Sheridan) and his husband Miles (Brown) to help maintain the ruse. One problem: London & London CEO Ellison (Cronin) shows up with her handsome adult son Jack (McMullen) in tow – and if he remembers the night he met Emmy in New York, the game will be up!
Teaming up with Poppy Montgomery to executive produce the film are Tracey Robertson, Nathan Mayfield and Tracey Vieira from Hoodlum Entertainment, alongside US-based Ruthanne Secunda.
Poppy Montgomery was also star and Executive Producer of the U.S. crime series Reef Break, which filmed on the Gold Coast in 2019 with the support of the Queensland Government via Screen Queensland's Production Attraction Strategy.
"I am so excited to be back in Queensland, partnering with Hoodlum and Stan to bring our heartfelt and hilarious Christmas comedy to life," said Ms Montgomery.
Hoodlum Entertainment CEO and founder Tracey Robertson said, "We're thrilled to kick off our first Stan Original with this fun and festive feature, and a wonderful cast of characters that have come to play with us here in Queensland. We need to laugh and love now more than ever."
Christmas on the Farm is written by Jennifer Notas Shapiro (Christmas Lost and Found, Wrapped Up in Christmas), with additional writing by Australian Samantha Strauss (Nine Perfect Strangers, The End, Dance Academy), and Christopher Weeks directing.
The film will be available this Christmas on Stan in Australia and distributed worldwide, with international distribution by Entertainment One and presales to TF1 France.
Other Queensland Government-supported productions currently filming include Universal Studios Group's series Joe Exotic at Screen Queensland Studios in Brisbane, new ABC crime series Troppo, Netflix feature biopic True Spirit and teen series Rock Island Mysteries for Fremantle Australia.
-ENDS-
Media enquiries: media@screenqld.com.au