MEDIA RELEASE
FOR IMMEDIATE RELEASE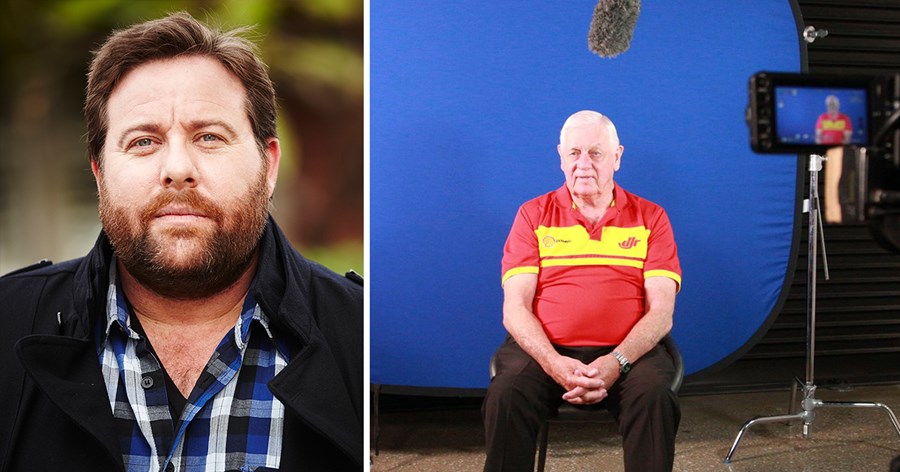 Pictured L-R: Narrator Shane Jacobson, behind-the-scenes photo of Dick Johnson interview for Ford vs. Holden. Download images here.
A feature documentary capturing Australia's passion for cars and the longstanding rivalry between iconic brands, Ford vs. Holden will be developed in Brisbane by local production company WildBear Entertainment for studio giant Universal Pictures Content Group.
Capping off a high-octane year for Queensland's screen industry, Premier Annastacia Palaszczuk said Brisbane will once again show why it is a world-class environment to produce screen projects of all kinds.
"The talented documentary producers from WildBear Entertainment have been hard at work in their Woolloongabba studio, blending fresh interviews with archive footage to bring the story of Ford vs. Holden to cinemas in mid-April 2022," the Premier said.
"The rivalry between the Ford and Holden brands is one familiar to Australians across all walks of life, so it is exciting to see Queensland play a key role in documenting it for a global audience.
"My government has thrown its support behind the screen sector and the production of this documentary through Screen Queensland's Screen Finance Program and I look forward to tracking the continued economic and cultural success – nationally and internationally."
Screen Queensland Acting Chief Creative Officer Belinda Burns said WildBear Entertainment was making quality content for the international market.
"This investment in Ford vs. Holden follows recent support for WildBear Entertainment's acclaimed documentary Hating Peter Tatchell and the popular factual series Aussie Mega Mechanics," Ms Burns said.
"At Screen Queensland, we are committed to supporting Queensland-based screen companies and producers to create compelling content, for both local and international audiences, and we're excited to invest in WildBear Entertainment's latest feature."
Narrated by actor Shane Jacobson, Ford vs. Holden (working title) follows WildBear Entertainment's 2020 Australian Academy of Cinema and Television Arts Awards (AACTA)-nominated feature Brock: Over the Top, directed by Kriv Stenders (Red Dog, Danger Close: The Battle of Long Tan).
The documentary feature will be produced out of WildBear Entertainment's Brisbane office under Principal and Producer, Veronica Fury.
"WildBear is so excited to continue working with Screen Queensland and Universal Pictures Content Group to tell the story of the rivalry between these two powerhouse brands and the impact they have had on Australian culture," Ms Fury said.
"Documentaries are an amazing way to reflect and deliver thought-provoking and captivating viewing experiences for audiences, and I am excited to bring this particular part out of history to the big screen."
For more information about Screen Queensland's Screen Finance Program, visit www.screenqueensland.com.au
-ENDS-
Media Contact:
media@screenqld.com.au