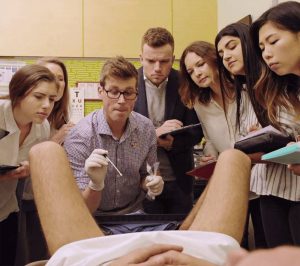 Metro Sexual to screen on 9Go and 9NOW late 2019
Metro Sexual, an eight-part comedy series by Brisbane/Melbourne production company Humdrum Comedy, will hit TV screens on 9Go and streaming network 9NOW in late 2019.
Set against the backdrop of a sexual health clinic, the series, jointly written, created and directed by Brisbane-based filmmaker Henry Boffin, received production investment from the Queensland Government through Screen Queensland.
Screen Queensland CEO Tracey Vieira says that the series comprising of eight, 10-minute episodes, delivers big laughs as well as important messages for the wider community.
"Bold and distinctive creative content that pushes boundaries and drives conversations is what Screen Queensland is always looking for and Metro Sexual delivers all of this in volumes," Ms Vieira said.
"With incredible talent both on screen and driving the creative vision, this new series brings taboo subject matter into the world of mockumentaries and our homes and Screen Queensland is proud to be supporting the series."
Filmmaker Henry Boffin says he is delighted that the show will finally be going to air, and that each bite-size episode will appeal to a broad audience.
"I'm extremely thrilled to be bringing the world of Metro Sexual to Australian TV.
"The show is simply a massive amount of fun, filled with mad cap characters and huge positivity that seeks to make the landscape of sexual health more accessible to Australians of all ages in a way that people will be eager to return week after week." 
Metro Sexual is a funny and insightful mockumentary reminiscent of Parks and Recreation, following the lives of two oddly paired clinicians – the aloof Stephanie and bubbly Langdon, as their workplace is threatened to be shut-down by budget cuts.
Accompanied by their well-meaning but predominantly useless receptionist Gwen, the unlikely duo meet a range of zany patients, including a group of randy octogenarians who keep reinfecting one another, a tough bikie gang leader who needs his prostate checked and an overly friendly patient in for a pap smear.
"This series has only been possible with Screen Queensland's help in my early career development and without their support I wouldn't have had the tools and networking links to bring together the marvellous cast and crew who will make the show a reality." said Mr Boffin.
Metro Sexual is a Humdrum Comedy production for 9Go and 9NOW. Principal production investment from Screen Australia, in association with Film Victoria. Financed with support from Screen Queensland with Yarraville Club, SKYN® and KNOBBY UNDERWEAR.