Nice Shorts: the sketch comedy out to save the world drops Thursday!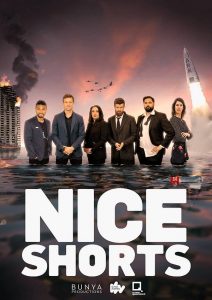 In just under a week's time Nice Shorts, the sketch comedy series that gets above the disorienting news cycle and wraps meaty problems into silly jokes, will hit Youtube, Instagram and Facebook.
Tackling big problems in a less than serious way, the first episode of Nice Shorts, produced by Nick Boshier (Bondi Hipsters, Beached Az, Soul Mates) and Sophia Zachariou (Bunya Entertainment), will hit the world wide web on Thursday, 12 September.
The production is the brainchild of Jazz Twemlow (The Roast, Tonightly) and Nick Boshier, who set out to save the world with a dazzling ensemble of writer-performers including Nazeem Hussain (Orange is the New Brown, Public Frenemy Netflix Special), Greta Lee Jackson (Skit Box, Wham Bam Thank You Ma'am), Bjorn Stewart (Black Comedy), and Penny Greenhalgh (Orange is the New Brown, The Checkout).
Nice Shorts is a Bunya Entertainment production which received principal production investment from Screen Australia, in association with SQ.
As part of SQ's involvement, a minimum of four of the episodes will be made in Queensland, with three emerging Queensland writers and three Queensland directors at the helm. Plus these episodes will use Queensland crew and feature Queensland cast, and are set to go into production in late October.
The show's creators assure us that '…with a great team on and off camera, it's most likely that by this time next year, thanks to Nice Shorts, we'll all be living in a blissful, egalitarian utopia.'
So make sure you tune into the series as new episodes drop weekly, catch them on Robot Army's YouTube, and the official Nice Shorts IGTV and Facebook page!
Keep an eye out for the Queensland episodes that will drop in later November – December!