CAIRNS
Wednesday 31 May
3:00pm–4:30pm
The Tanks Art Centre, Tank 5
FREE INDUSTRY EVENT

For those interested in documentary filmmaking and conservation, Screen Queensland in partnership with Screenworks presents an IN CONVERSATION panel discussion with the producers of locally filmed, Screen Queensland-supported Stan Original Documentary Revealed: Reefshot.
Produced by Queensland's WildBear Entertainment, Revealed: Reefshot tells the incredible true story of the modern-day race to protect the Great Barrier Reef from climate change, and the conservationists, scientists, Traditional Owners and everyday citizens on the forefront of its protection.
Screen Queensland's Acting CEO Dr Belinda Burns will facilitate a panel featuring Head of Stan Originals Amanda Duthie, CEO of WildBear Entertainment Michael Tear, CME Partners' Chris Chard and Yirrganydji man and Land and Sea Ranger, Tarquin Singleton to discuss the journey of bringing Revealed: Reefshot to stream on Stan — from its beginnings as a 'proof of concept' to its premiere in Cairns on Wednesday 31 May 2023.
Attendees will have the opportunity to schedule one-on-one meetings with Amanda Duthie, Michael Tear and Lisa O'Meara (CEO, Screenworks) the following morning on Thursday 1 June.
Amanda Duthie will also discuss future program openings and content trends for Stan and offer advice on how to pitch your projects. Register now for this invaluable panel discussion and audience Q&A.
Stan Original Documentary Revealed: Reefshot is directed by Matt Tomaszewski and produced by Chris Chard for CME and Michael Tear for WildBear Entertainment. The film was supported by Screen Queensland's Screen Finance Program with principal production investment from Screen Australia in association with Stan and financial support from Citizens of the Great Barrier Reef.
This initiative is part of Screen Queensland's Far North Queensland Screen Production Strategic Plan. Delivered by Screenworks.
---
GUEST SPEAKER BIOS:
Dr Belinda Burns, Screen Queensland Acting CEO
Belinda is a passionate advocate for the screen industry and the arts with a strong background in strategy development, marketing and communications, and leading creative teams. Prior to her appointment as Screen Queensland's Chief Creative Officer in 2022, Belinda held the position of Head of Marketing and Communications since September 2020. As Director with the global PR network Citigate in London, Belinda spearheaded creative accounts for blue-chip financial corporations, and as General Manager for a social marketing consultancy within the Ogilvy Group she led numerous award-winning federal and state government behaviour change campaigns. Prior to joining Screen Queensland, Belinda was Director of Communications and Engagement at Brisbane Girls Grammar School. Belinda holds an MA degree in Creative Writing from Bath Spa University in the UK, and a PhD in Writing from The University of Queensland, where she has lectured extensively and convened courses in creative writing (including screenwriting), literature and film studies. She is a published novelist and short fiction writer.

Chris Chard, Producer, CME Partners
Chris Chard is a Film and TV Executive, Producer and Executive Producer. Chris was Co-CEO (1996-2019) of Roadshow Films part of the Village Roadshow Group of companies. Board Director for US based producer and sales agent Film Nation (2015-2019). Experienced with financing, acquiring, producing and distributing studio and independent films and scripted TV series in ANZ Distributed major Hollywood film and TV series in partnership with Warner Bros, New Line, HBO, Lionsgate, BBC, ITV, Fremantle and the ABC. Chris was the CEO of Roadshows Aus TV distribution company (2004-2019) and production business units including Roadshow Rough Diamond (scripted) and BlinkTV (non-scripted).
Chris has produced numerous hours for network TV and streaming platforms including – Executive Producer Bump (10 x half hours for STAN, ITV, CW Network), Australian Gangster (2 x 2hrs for Ch7, Red Arrow), Les Norton starring Rebel Wilson (10 x 1hr for ABC, Sonar) and the award winning Romper Stomper (6 x 1hr for STAN, BBC3, AMC-Sundance). Executive Producer feature documentary Skategoat and Producer feature doc Reefshot (STAN and WildBear International). Executive Producer on upcoming feature film Switzerland produced by Oscar winning producer Gaby Tana, directed by Anton Corbijn, starring Helen Mirren. Chris is Managing Director of CME Partners.

Amanda Duthie, Head of Stan Originals
Amanda covers scripted, entertainment and factual projects including the Revealed investigative Documentary slate. Stan Originals has an ambitious brief to be delivering 30 Originals by 2025. Well on track, titles include Wolf Like Me, The Tourist, Bad Behaviour, Black Snow, Transfusion, Caught, Last Light, Ten Pound Poms, Totally Completely Fine, Nude Tuesday, Year Of and Bump.
Across her career in screen, Amanda has been the Creative Director/CEO of the Adelaide Film Festival, leading both the festival and its investment fund; supporting 58 projects, which included award winning documentaries, immersive projects and features. She was Head of Arts & Entertainment at ABC TV as well as acting Head of Drama at SBS and Head of Production, Development and Studios at the South Australian Film Corporation (SAFC). Not all at once.

Michael Tear, WildBear Entertainment CEO
Michael was Managing Director and co-founder of Bearcage before becoming CEO of WildBear. As Producer and Executive Producer, Michael's career spans award-winning feature films, television, government and commercial productions.
Michael has been a Producer or Executive Producer of over 250 hours of film and television. His recent productions include commissions for Netflix, ABC, History, Nine Network, Discovery, Arte, ZDF, Prime NZ, National Geographic, CCTV, and Beijing TV. Michael was also an Executive Producer on the feature film The Babadook. Michael served as President of Screen Producers Australia from 2016-2021.
Tarquin Singleton, Land and Sea Ranger
Tarquin Singleton is a saltwater bama (person) from Cairns to Port Douglas. He is Yirrganydji and grew up on Gunggandji Country, Yarrabah. He has been a Land and Sea Ranger for the last 7 years and since 2015 has been working on the Great Barrier Reef. During this time, he has had many enjoyable experiences while developing the right skills to look after Sea Country. This includes Scuba Diving, Vessel Driving, Compliance, Reef Health Monitoring, Archaeology, Cultural Heritage, Community Engagement and Education and promoting the values of the World Heritage Great Barrier Reef. Tarquin enjoys telling people about the local history, both modern (last 100 years) and traditional (pre-European) and is proud to be involved with Stan's Revealed: Reefshot, both in front of and behind the camera.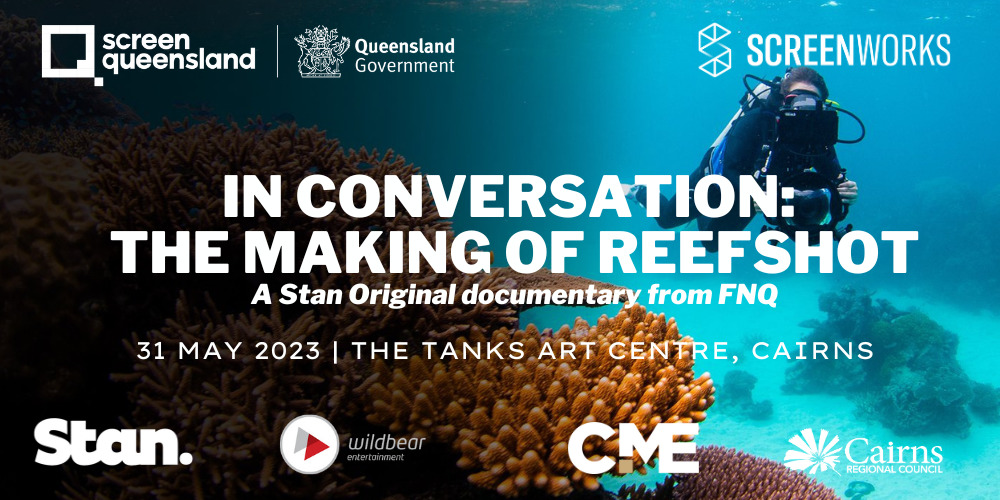 ---
Image courtesy of WildBear Entertainment and Stan