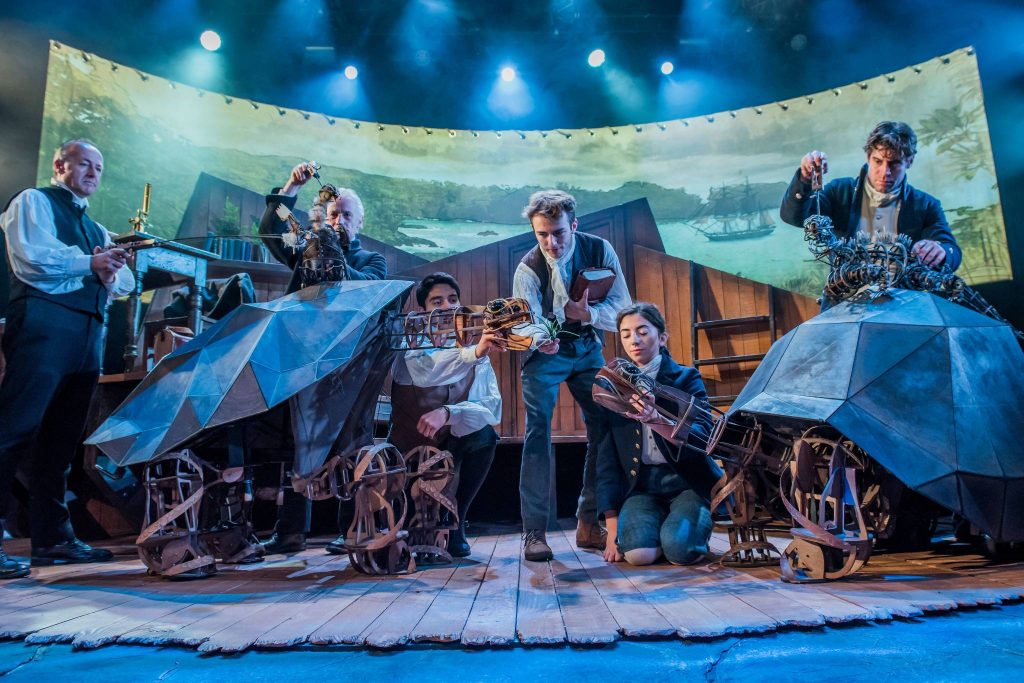 ---
---
Screen Queensland and Brisbane Festival are delighted to offer 25 screen practitioners the opportunity to see Dead Puppet Society's The Wider Earth and join an exclusive post-show Q&A with the show's Projection Designer Justin Harrison and Co-Founder and Director David Morton.
Containing projection design by a Queensland-based sound and video designer, this experience is the perfect opportunity to gain insight into the technical screen aspects of the show, and explore how performing arts and screen connect.
10.30 am Guest arrival
11.00 am Show commences
1.00 pm Show concludes
1.00 pm Reserved food & drink area in foyer
1.30 pm Q&A session with DPS
The Wider Earth tells the story of rebellious young voyager Charles Darwin and the gripping story behind one of the most important discoveries in history, combing an ensemble cast, remarkable puppetry, cinematic projections and an original score.
Practitioners must apply to be considered for this opportunity.
HOW TO APPLY

To apply, practitioners must complete the application form and tell us why they would like to attend. Screen Queensland will assess and notify successful applicants.
ABOUT THE Q&A PANELLISTS

Projection Designer: Justin Harrison

Justin is a sound and video creative for theatre, film and television. His Dead Puppet Society credits include Ishmael, The Wider Earth (UK 2018; Sydney 2018; Brisbane 2016), and Laser Beak Man (AUS Tour 2019/2020, Brisbane 2017). He has created visual and sound designs for Queensland Theatre, MTC, STC, Belvoir St, La Boite, and is the resident designer of Grin and Tonic Theatre since 2009. His recent credits include Caesar for LaBoite, Fangirls (AUS Tour 20201) for Belvoir St, Storm Boy for MTC, and Death of a Salesman for Queensland Theatre. In 2016, he won the inaugural Matilda Award for Projection Design.

Director and Co-Designer: David Morton

David is a writer, director and designer, and the Creative Director of Dead Puppet Society. Over the last decade he has led DPS in the creation of large-scale visual theatre works developed with international teams. The Wider Earth (DPS, Queensland Theatre, Trish Wadley Productions, Glass Half Full Productions) was conceived in residence at St Ann's Warehouse, and recently closed a six-month run in a custom-built theatre in London's Natural History Museum. Laser Beak Man (DPS, La Boite, Brisbane Festival, PowerArts) was a collaboration with Tim Sharp developed at the New Victory Theater in NYC. Additional works include Ishmael (QPAC, Brisbane Festival), The Riddle of Washpool Gully (Terrapin, DPS); Argus (DPS, Lincoln Centre, Queensland Theatre, Brisbane Powerhouse); Trollop (Queensland Theatre); The Harbinger (DPS, La Boite, Critical Stages). David has been nominated for five Helpmann Awards and an Olivier Award. He holds a PhD from Queensland University of Technology.
ABOUT THE WIDER EARTH

The award-winning drama The Wider Earth tells the story of the rebellious young Charles Darwin.

Audiences join the twenty-two year old Darwin on HMS Beagle's daring voyage to the far side of the world and will discover the gripping story behind one of the most important discoveries in history.

An ensemble cast, remarkable puppetry, cinematic projections and an original score by Lior and Tony Buchen all combine to bring to life uncharted landscapes and incredible creatures in this highly ambitious theatrical event.

Director and Co-Designer David Morton
Creative Producer Nicholas Paine
Associate Director Matt Seery
Co-Designer Aaron Barton
Composers Lior & Tony Buchen
Sound Designer Tony Brumpton
Associate Sound Designer Brady Watkins
Projection Designer Justin Harrison
Original Lighting Designer David Walters
UK and Tour Lighting Designer Lee Curran
Associate Lighting Designer Christine Felmingham
Puppet Fabrication Savannah Mojidi
Dramaturg Louise Gough
Cast Tom Conroy, Anthony Standish, Frances Berry, Jaime Ureta, Barbara Lowing, Liesel Zink, Alex Kaan, Kevin Spink
COVID-SAFE POLICY

Per the current Queensland Government health guidelines, all attendees will need to check-in via the Government Check In Queensland app .

All attendees must show proof of vaccination status prior to the event.

In accordance with Queensland Government guidelines, patrons, staff and artists above the age of 16 must be fully vaccinated with an approved COVID vaccine to enter the venue.

Please do not apply for this opportunity if you will not be fully vaccinated by the stipulated performance date. You will need to provide proof of double vaccination upon arrival at the venue and patrons who fail to do so will be refused entry.
---
The Wider Earth