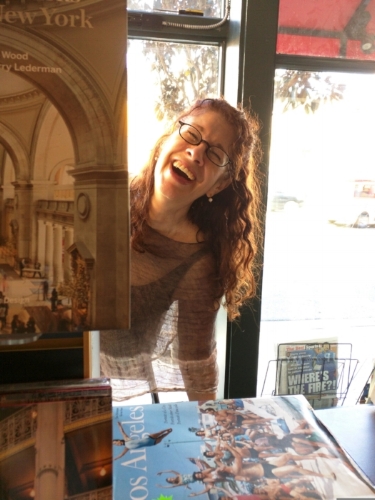 Screen Queensland is proud to be hosting a three-day screenwriting lecture series by UCLA Graduate Film School lecturer Wendall Thomas, 17 – 19 September at BEMAC.
Wendall Thomas teaches in the Graduate Film School at UCLA and has worked as an entertainment reporter, script consultant, and film and television writer for companies including Disney, Warner Brothers, and Showtime. She has provided lectures, workshops, and script consultation for Arista, Screen South, Northern Film and Media, and the Northern Ireland Film Commission, the New Zealand Film Commission, Script to Screen, Screen Australia, Film Victoria, Screen Queensland, and the Melbourne International Film Festival.
Her first Cyd Redondo novel, Lost Luggage, was nominated for Lefty and Macavity Awards for Best Debut Mystery of 2017 and the second, Drowned Under, was named a "Best Read of 2018" by Criminal Minds and The Reading Room. Her short fiction has appeared in Ladies Night (2015), Last Resort (2017), and Murder-A-Go-Go's (2019).
We caught up with Wendall to chat more about her career background and what she thinks are the components of a great script.

What gave you your first "big breaks", in terms of opening pathways to working with renowned companies such as Disney, Warner Bros. Paramount, Universal and Showtime?
I was very lucky to get an agent with my first script. She helped get that script optioned, then got me an uncredited dialogue polish at Warner Brothers and a series of "trial by fire" studio pitch meetings around town. Everything else pretty much sprang from that.
Which projects in your career have been a highlight for you, and why?
Although it didn't get made, I loved doing an adaption of Kipling's Just So Stories for Disney and Elton John's Rocket Pictures. I also wrote a "Hitchcock-esque" anthology pilot for Showtime where all the episodes were inspired by rock songs. Probably the most fun was selling a children's movie pitch about Humpty Dumpty and getting sent to England for four weeks for paid research.
As a lecturer, consultant and mentor, what are the main pieces of feedback you often give to screenwriters on their scripts?
There are many common issues, but here are two I think are particularly important to address. One is that screenwriters, especially early on, fail to effectively externalize a character's emotions and thoughts so that they will exist on screen. In fiction, you can go into a character's head and describe their feelings and thoughts, but in screenwriting, you can't— unless you use a voice over.
Externalizing everything is one of the most difficult aspects of screenwriting, but it is paramount, because if anything in the script isn't written to be seen or heard on screen, it won't be in the film. When a script includes a lot of character emotions, backstory, and thoughts written into the descriptive passages ("She realized she'd never loved her father." "Bob's the kind of guy who always knows what everyone's thinking because he minored in psychology," "They both felt the attraction," etc.), I always feel the piece needs more work, so I focus on that with a lot of my student and clients.
I would also say that many writers try to include more backstory and set-up then they need in the first 30 pages of the script. That's part of why I developed the "Vital First Act" lecture I'm doing on the 18th, to show examples of how to focus and trim those pages. Having a "flabby" First Act can result in a reader or producer putting your script down and never finishing it, so it's crucial to make smart decisions about exactly what the audience needs to know to get to the next scene or plot point and what makes them want to keep going.
What do you believe to be the common thread between scripts and/or ideas that eventually make it into the production stage?
The ideas that get made are often the ones which are the most clear, either in terms of concept or of emotion, because they are easiest to explain/share/pitch and easiest for producers, executives, financiers, etc. to pitch up the chain themselves. Still, even with a strong, clear concept or vision, it's still down to craft, persistence, and luck. Other than that, as William Goldman said "Nobody knows anything."
In your view, how important is it to get formal qualifications in writing, in order to be successful in the competitive film industry?
When I started out, there were only about three screenwriting books and only three or four US universities which offered real filmmaking programs. Now there's so much information available online and elsewhere, that it's much easier to educate yourself. I do think filmmakers can benefit from formal training, since it focuses all that information and you have the rigor of practice and deadlines. But probably the most valuable thing about a film program is the connections and relationships you can develop in the industry, among fellow students, faculty, and alumni.
That being said, all my formal training is in literature, not film, and there are plenty of successful and innovative filmmakers whose study in other fields really informs their originality. In the end, I think it depends on how much structure you need to get your work done and whether you have the resources – both in terms of time and money – to afford a degree.
You are a novelist as well as a screenwriter. In your experience, what is the difference in approach to writing a script as opposed to writing non-fiction novels?
Time! Granted, screenwriting is much tougher than it looks and takes endless rewrites— more than you might think—to get it right. Still, there are far fewer words in screenplays than there are in novels, and you have to consider and fix ALL those extra words. It just takes forever to do it properly. I also think that there's much more flexibility in fiction in terms of possible structures, points of view, page count, etc., so you have to make more decisions up front and as you go along and that can take more time as well.
We're looking forward to seeing you in Brisbane this September! What benefits do you hope the attendees will gain from completing the 3-day series?
I love Brisbane and have a long and very happy relationship with all the terrific people at Screen Queensland, both past and present. I've also had the privilege of meeting and working with a number of Queensland filmmakers. So I'm thrilled to come, every time.
In terms of the lectures, when a film works, I'm always trying to figure out "how did they do that?" so I hope I can offer a series of practical— rather than theoretical— tips and questions writers can use and ask when creating and reconsidering their stories. I've found over the years that the more varied film clip examples I use, the easier it is for participants to apply the concepts to their own projects, so the lectures are very clip heavy. Participants may also develop a new appreciation of ancient VHS technology…
Last one just for fun – What are your top 3 favourite movies/TV shows?
Three! Oh, come on. I'm a film and television professor and movie nut, that is just too hard! I'm including upwards of 70 of my favorites over the three days, so that might narrow it down a little.
Wendall Thomas's 3 day lecture series will be at BEMAC (Brisbane Multicultural Arts Centre), 17 – 19 September. A 1 Day tickets costs $38.01 and a 3 Day ticket is $106.59. BOOK HERE
If you'd like to read more interviews with Wendall, please find a selection on her website: www.wendallthomas.com/articles-and-interviews