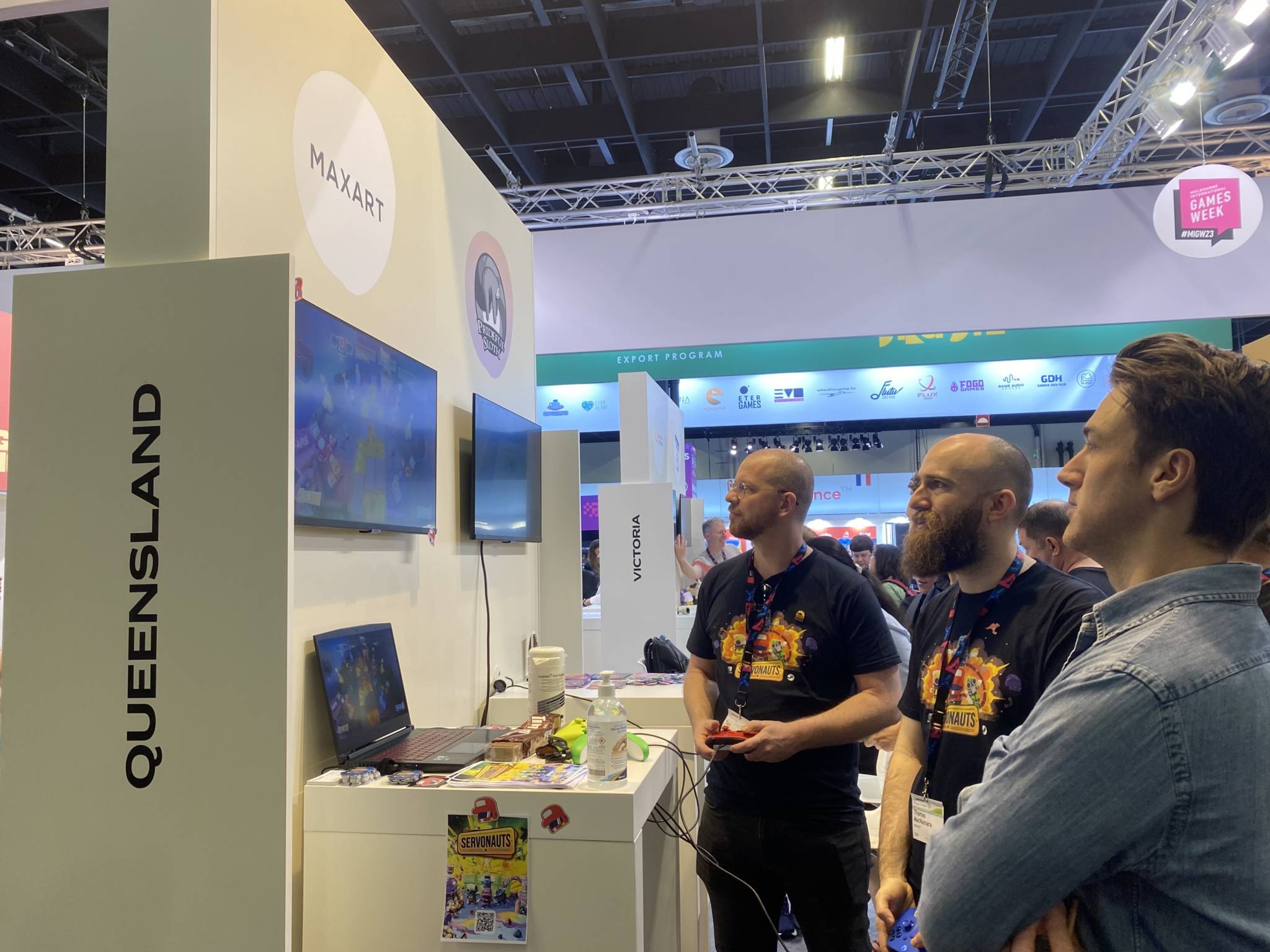 ---
Screen Queensland and Trade and Investment Queensland (TIQ) this week are supporting eight local game studios to attend the world's largest and most influential industry event, Gamescom in Germany.
Queensland's Actuator Digital, Ardacious, Layer Licensing, MAXART, Prideful Sloth, Spitfire Entertainment, The Orphanage and Toast VR have arrived in Cologne to pitch their digital and services to leading global publishers and platforms.
The partnership between Screen Queensland and TIQ in 2022 similarly supported a delegation of local start-up studios to attend Gamescom, resulting in millions of dollars in publishing deals, increased sales revenue and upscaling of local operations through international investment.
Investment by the Queensland Government through Screen Queensland has ensured the state has been able to harness the economic, industry and employment benefits of the rapidly expanding digital games sector.  
Following the introduction of the government's Digital Games Incentive and Games Grants through Screen Queensland, last year the state achieved an 11 per cent increase in the number of full-time games jobs. 
In an industry worth more than $284 million in Australia, this equated to more than 300 new local positions — almost half of all games development jobs created nationally, according to the 2022 Australian Game Development Survey. 
The State Government's 15 per cent Digital Games Incentive is the most competitive games incentive in Australia and is now bolstered by the Federal Government's new 30 per cent Digital Games Tax Offset.
Last year the incentive's allocation of almost $2 million across seven projects generated more than $11 million in local expenditure and helped secure the establishment of new AAA games studio Tantalus North, part of global giant Keywords Studios group, in the sunshine state.
Screen Queensland's Games Grants program supports Queensland-based developers with funding of up to $90,000 for projects at varying stages including experimental development, prototype and early access, through to full launch.
In 2023, eight new games projects were supported and generated more than $1.3 million in local expenditure. Applications for the next round of Games Grants funding close on Friday 1 September.
Screen Queensland also launched the first-of-its-kind Games Residency program this year, in partnership with Birdifi Bridge — providing co-working space, industry mentoring, business development, project management and income support for 15 emerging practitioners over 12 months.  
Representatives from Screen Queensland and Trade and Investment Queensland, the nine supported studios and Griffith University are currently at the Australian Pavilion, curated by the Interactive Games and Entertainment Association (IGEA) at Gamescom.
Quotes attributable to Screen Queensland CEO, Jacqui Feeney: 
"Queensland is home to some of the world's most talented and imaginative games developers, and Screen Queensland is proud to support them. 
"Our funding enables creative Queenslanders to develop digital games that intrigue and entertain fans across the globe — bringing the benefits of a multi-billion dollar industry into our state, while contributing to our reputation as a leading hub for innovation and technical advancement.
"We look forward to seeing more local success on the international stage at this year's Gamescom."
Quotes attributable to CEO Trade and Investment Queensland, Justin McGowan:
"Queensland is fast becoming a global hub for digital game development.
"Queensland not only offers attractive incentives and a thriving creative industries sector, our amazing lifestyle and ideal time zone, make Queensland a preferred destination.
"We hope to secure more investment and partnerships from game publishers and platforms, to create even more jobs for Queensland games professionals."
More information about the Digital Games Incentive, Games Grants and Games Residency program is available at screenqueensland.com.au/games.
DIGITAL GAMES SUPPORTED BY SCREEN QUEENSLAND 2022–23
Digital Games Incentive
5lives Studios, unannounced project
Broadside Games, Bears in Space
emergeWorlds, Dros
Gameloft Brisbane, The Oregon Trail
Protostar Games, Sling Kong and Super Starfish
Tantalus North, Cities: Skylines – Remastered
Team WIBY, Phantom Abyss

Games Grants
Actuator Digital, On Point
Chinfinger, Squidge
Half Sun Studios, Starscribe
Moonlit Journeys, AMYGDALA: Prelude
Luke Muscat, Feed the Deep
Lemon Jolly, The Apothecary of City X
MAXART, Servonauts
Protostar Games, Mowing Mazes

-ENDS-
Media Contact
Amanda Lawson, Head of Marketing and Communications
media@screenqld.com.au
07 3248 0500