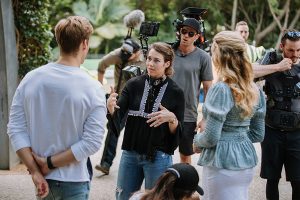 This month, Cairns local Hayley MacFarlane will return to her home state to direct her first feature – the young adult film Swimming for Gold, which commences filming in Brisbane this week.
Hayley has been directing reality TV all over the world since 2014 following the success of her early shorts Hummingbirds (2012) and Growing Young (2015), and is thrilled to be back home working on such an exciting project.
"Having directed projects around the world, I'm delighted to be shooting my first feature back on home soil," said Hayley
"I instantly felt connected to this story of young athletes training competitively at the top of their game.
"With intelligent female characters and compassionate male roles, Swimming for Gold is an uplifting story that will inspire courage and friendship in viewers both young and old."
The project is being produced by The Steve Jaggi Company, which relocated to Queensland from Sydney in early 2019 to join the thriving Queensland film sector – expanding to support post-production and domestic distribution in order to service the rapidly expanding industry.
"We're thrilled to be shooting our latest feature here in Brisbane. We've been welcomed by the local industry with open arms and hope this is the first of many productions we film here," said company director Steve Jaggi.
Swimming for Gold follows the story of Claire Carpenter (played by Peyton List from Disney's Jessie and Bunk'd), a 17-year-old who was an elite swimmer until a jet ski accident left her with a fear of water, who is sent to Australia to coach an elite boys swim team.
The film is currently shooting in Brisbane and will be released exclusively through Event Cinemas in 2020.
SQ is proud to support this project which embodies our commitment to diversity by employing a female director and featuring a strong female lead. Additionally, the project will employ 65 local crew and is injecting $2 million into the local economy.
For more information about what types of projects SQ invests in please take a look at our investment guidelines.