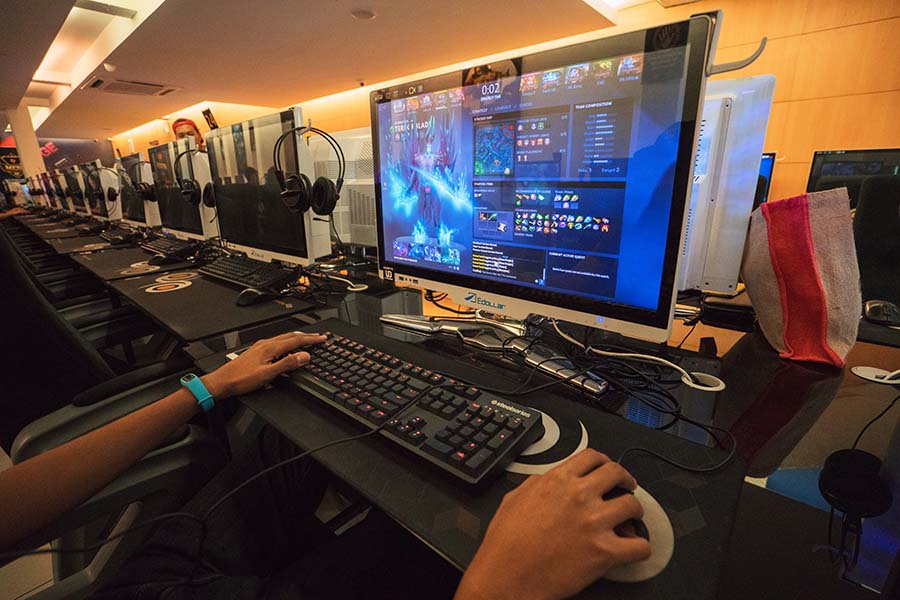 This week a delegation of game developers supported by SQ's MARKET program will head to Melbourne International Games Week. The group of seven screen industry practitioners are taking a range of projects in various stages of development to promote at both GCAP and PAX in Melbourne 5 – 13 October.
The SQ supported game developers and their games headed to Games Week are:
Click the arrows to learn more
Lexi Townsend – Runaway Mage

Lexi Townsend – Runaway Mage

Runaway Mage is a single-player VR experience designed to help those who suffer from anxiety and mental illness. It focuses on exploration, immersion, and relaxation.

The purpose of Runaway Mage is to provide players with a fantastical sanctuary to retreat to when suffering from episodes or high-stress situations. Runaway Mage provides a magical, personalised space with a simulated therapy/companion creature that is always accessible, making it feel like home.

Players are rewarded for exploration, maintaining the environment, casting spells, gardening, interacting with your companion character and reading – with the main objective being to relax.
Screwtape Studios (Megan Summers and Anthony Wood) – Damsel

Megan Summers – Scewtage Studios

Cause distress in this challenging fast-paced action platformer. Experience a dark cartoon world come to life as frenetic gameplay meets comic book visuals and storytelling. Dash through beautiful arenas vanquishing vampires, rescuing hostages, disarming bombs, hacking servers and much more.
André Read – The Fertile Crescent

The Fertile Crescent is a real-time Strategy game set during the Bronze Age in the Ancient Near East. Inspired by the rise and fall of Bronze Age civilizations, you must manage the delicate balance between food surplus and the maintenance of your army.
Orcun Nisli – Anytown Game

Anytown Game from Binary Zero is an Indie-RPG that builds a completely reverse moral of the genre: instead of being a game about ranking up and collecting better stuff, it is about growing up and leaving everything behind.
Trick Shot Development (James Bowling and Michael Thompson) – Saily Ships and Sky Squadron

Saily Ships is a hybrid of 3D arcade action seen in classic games like Star Fox, and modern endless runners found on mobile devices such as Subway Surfers. Designed for one-handed play, single-touch input game control is used to steer the boat and fire upon your enemies.

Sky Squadron is a one-touch arcade shooter inspired by the arcade classic Starfox and fantasy WW2 era animations such as Studio Ghibli's "Porco Rosso".
Witch Beam Games (Wren Brier and Tim Dawson) – Unpacking

Unpacking is a zen puzzle game about the familiar experience of pulling possessions out of boxes and fitting them into a new home. Part "item Tetris", part home decoration, you are invited to create a satisfying living space while learning clues about the life you're unpacking. Over the course of eight house moves, you are given a chance to experience a sense of intimacy with a character you never see and a story you're never told.

Unpacking has been selected in the PAX AUS Indie Showcase
TBD Game Company (Mitchell McEwan and Jimmy Ti) – Endless Runner X

Endless Runner X is the first game from TBD Game Company, a Brisbane-based independent game company. Endless Runner X is not just another iOS infinite runner game instead it offers players the chance to corrupt the code and escape the loop, find new meaning and free the helpless hero! Run, jump, die, repeat
A number of Queenslanders are also sharing their expertise at GCAP, helping others in the industry to lift their game including SQ Hub residents Zander Hulme from Supertonic and Mel Taylor from Mellow Games.
Zander will be sharing his expertise in sonar solutions for accessible gaming, while Mel will be delving into the architecture of designing story focussed games – lighting the way through the narrative.
Wren Brier will also be presenting at GCAP, walking through the design of her game Unpacking which uses no fail states or score, while Cheryl Vance from Queensland's Prideful Sloth studio will be speaking on how to pitch games to publishers. Andrew Curnock from Beat Therapy is also talking Emotional Architecture – understanding Audio as part of the massive GCAP program.
SQ's very own games expert Caitlin will be in town for the duration of Melbourne International Games week – so make sure you reach out and come say hi!