MEDIA RELEASE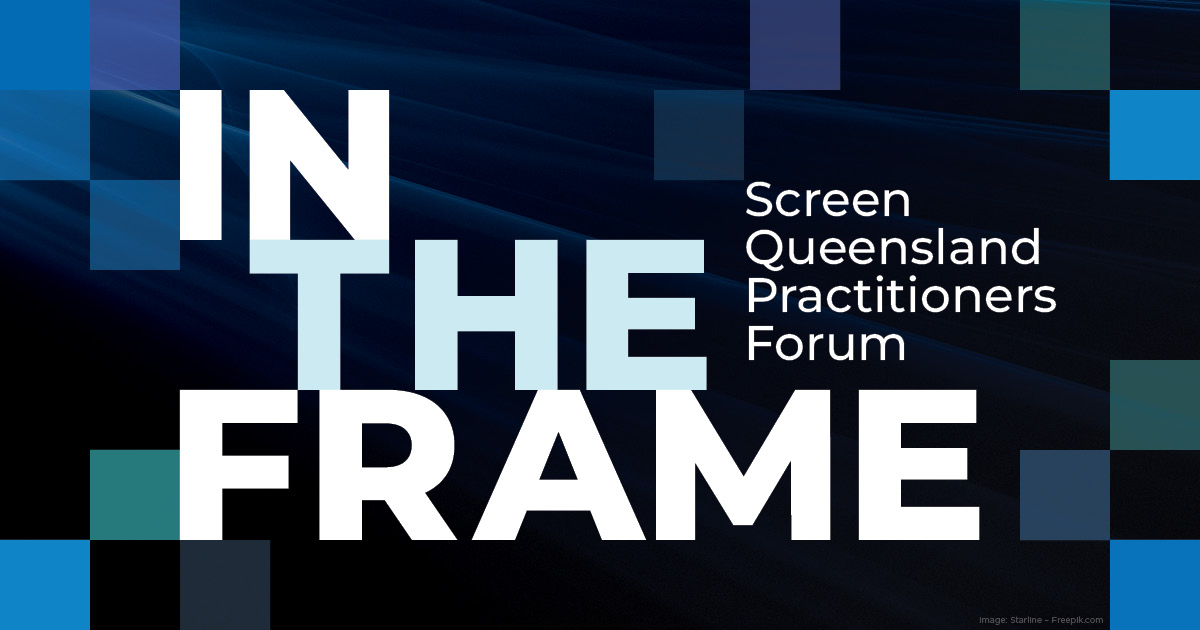 ---
Screen Queensland today announced the line-up of panellists for In the Frame: Screen Queensland Practitioners Forum, to be held on Thursday 24 August at State Library of Queensland.
Tickets are selling fast for the full-day event featuring seven sessions exploring local screen production through a variety of lenses, as well as industry networking opportunities.
Jacqui Feeney, Screen Queensland CEO said that the agency has been delighted by the sector's enthusiasm to connect and build to the future.
"In the Frame is all about bringing the state's screen sector together to connect and focus on sharing our stories and championing our local practitioners against the industry realities," Ms Feeney said.
"Queensland has a global reputation as a leading production hub, and our cohort of wonderful panellists will bring special perspectives to help leverage the unique strengths of our local production companies, and spark conversations about ways to bolster the state's capacity for bringing more homegrown stories to screen."
Dr Belinda Burns, Chief Creative Officer said that In the Frame is a platform for exploring creativity and representation, as well as how local businesses have built up their operations.
"Queensland's community of screen practitioners is as diverse and impressive as the stories they produce for audiences here and around the world, and In the Frame has been designed to reflect this.
"The Screen Queensland team is looking forward to an inspiring day of discussion, and to celebrating local talent and locally made screen content."
In the Frame: Screen Queensland Practitioners Forum will run from 9am to 5:30pm, with tickets $35 (plus booking fee) including lunch and networking refreshments via screenqueensland.com.au.
IN THE FRAME: SCREEN QUEENSLAND PRACTITIONERS FORUM – PROGRAM
In Limbo: The power of dramedy features Queenslanders producer Jennifer Cummins, cast member Aaron Fa'Aoso and writer Lucas Taylor breaking down the Brisbane-made ABC series from Bunya Productions and its nuanced exploration of mental health and grief, using humour and heart to engage audiences and spark important conversations.
Getting down to business with Jaggi Entertainment explores the international success of this award-winning production company. Steve Jaggi and Kylie Pascoe share their steps to scaling up an annual roster of films and series—including Love is in the Air, Mistletoe Ranch and ground-breaking documentary Beyond the Reef—while also establishing thriving post-production house, Serve Chilled and a newly-formed co-financing division.
Building a broad slate: benefits for a diversified approach with Orange Entertainment Co will unpack their approach to producing must-see stories across a range of formats and genres, including scripted series, feature films, documentaries, reality and short-form content. Dan Lake, Head of Content and Diya Eid, Development Producer, will break down Orange Entertainment's brilliantly broad slate covering comedy to crime and all that's in-between.
Access all areas: focus on factual dives into how to achieve authentic and meaningful access through building trust and seeking permission. Local factual filmmakers Veronica Fury (WildBear Entertainment), Shontell Ketchell (Sistas in Mining), Mandy Lake (Flickchicks), and Nick Piper (Onion TV) unpack why taking the time to understand the true reality of their subjects and exploring the often-deep complexities at the heart of an issue is always time well-spent.
Like a Photon Creative gets scary with co-founders Kristen Souvlis and Nadine Bates from the award-winning Queensland production company discussing the global appeal of uniquely Australian animated feature films for audiences of all ages—including Combat Wombat and new fantasy favourite, Scarygirl—and how they have found new markets for their productions.
HerStory: Aboriginal and Torres Strait Islander women telling Truth on screen sees proud Aboriginal and Torres Strait Islander women and screen practitioners— Kaylene Butler, Shontell Ketchell, Rhianna Malezer and Chantelle Murray—take to the stage for an insightful discussion about empowering First Nations women and girls to tell their stories by listening and acknowledging their lived experience and unique perspectives that are played out on our screens.
Diversity on and off screen features Steph Dower (Screen Queensland Equity and Diversity Taskforce), Aaron Fa'Aoso (Lone Star), Dan Lake (Orange Entertainment Co.), and Tracey Vieira (Hoodlum Entertainment) delving into their commitment to representation and authenticity, as well as creating safe spaces for cast, crew and creatives on productions.
-ENDS-
Media Contact
Amanda Lawson, Head of Marketing and Communications
media@screenqld.com.au
07 3248 0500