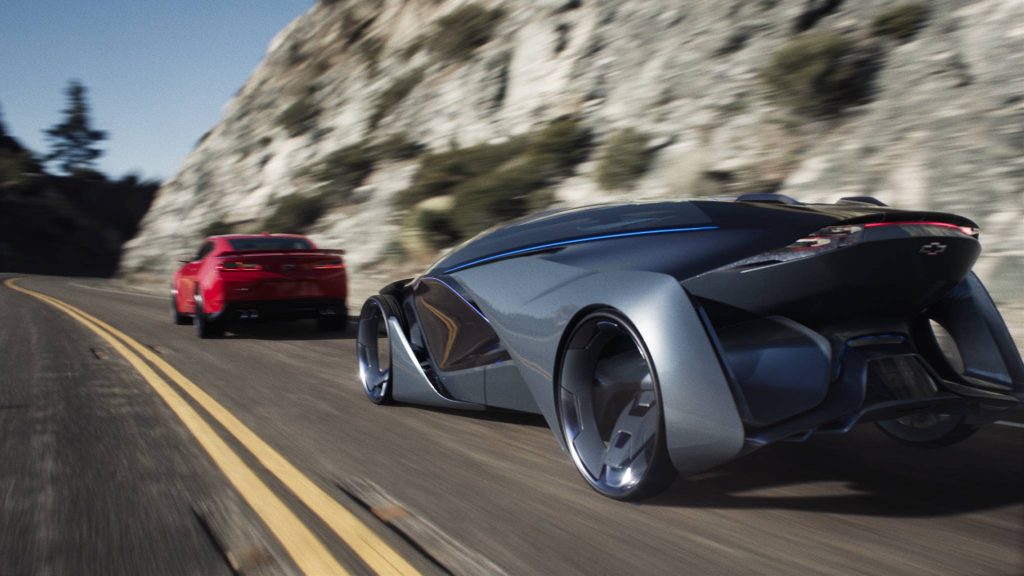 IMAGE:Chevrolet, The Mill, Epic Games, The Human Race
---
APPLICATIONS DUE: 5:00pm, 31 August 2020
CONTACT
Call 07 3248 0500 or email content@screenqld.com.au.
---
In partnership with Epic Games, Screen Queensland, Film Victoria, Screen NSW, Screen Tasmania, South Australian Film Corporation and Screenwest and will provide funding towards the production of short films that utilise the Unreal Engine software.
At least 15 projects will be funded across Australia, with up to three projects to be selected from Queensland based creators. Each project will receive $20,000 production funding to create a short film up to five minutes that utilises Epic Games' Unreal Engine software.
Unreal Engine is an open, real-time 3D creation platform that allows filmmakers to conceive and execute complex visual storytelling without having to leave their homes!
This initiative will allow Queensland content creators to explore new forms of storytelling through experimenting with emerging technology. These short films have the potential to be used as a proof of concept for a larger project and may be eligible for additional funding for further development.
All completed short films from around Australia will compete for a Grand Prize of $50,000, to be awarded by Epic Games.
---
Guidelines
Who can apply

The initiative is open to Queensland content creators whose projects are able to be delivered whilst adhering to government restrictions around social distancing during COVID-19. The creators must also be able to finish and deliver their projects by 30 November 2020.

The intellectual property must be owned by a bonafide Queenslander and the entire budget must be spent in Queensland on Queensland elements.

In addition to meeting the requirements of this funding program, all applicants must adhere to the Screen Queensland Terms of Trade

To be eligible to apply you must:

Live and work in Queensland (and has been a resident of the state for more than six months);
Not be employed by a state or government screen agency.
Not be employed by a broadcaster.
Not be a full-time student.
Not have any projects in default with Screen Queensland.
Have no key creatives attached to this project that are in default with Screen Queensland
Have an Australian Business Number (ABN)
Own the rights to the story they are telling.

If this project is an Aboriginal or Torres Strait Islander story, some or all intellectual property are owned by members of this community

Aboriginal and Torres Strait Islander screen practitioners are encouraged to apply. Additionally, we are committed to ensuring diverse representation across all aspects of the production and development process, including differences in gender; age; Aboriginal identity; cultural and linguistic diversity; disability; sexuality and gender identities, including lesbian, gay, bisexual, transgender, queer and intersex (LGBTQI+), location (including regional and remote areas); and socio-economic status.
What you can apply for

A short film using either partly or fully computer–generated graphics with final output rendered from Unreal Engine. (Unreal Engine must be used exclusively for final rendering, including composited live-action footage if incorporated)
Projects are to be a minimum of 90 seconds and a maximum of five minutes in length.
Works can be fiction or documentary
New voices and talent from across the film, television and games sectors
Story must have a narrative

We are not looking for

Projects that are designed primarily for educational or training purposes
Projects commissioned by either government or private entities
Projects that can be classified as, infotainment, reality television, magazine shows, variety, light entertainment, how to, sports telecasts, news, current affairs, corporate or promotional media, training videos or community television shows
Projects where the applicant team does not own the IP rights, licenses, or necessary materials to produce the project.
How much you can apply for

$20,000 per project. Funding is offered as a grant.
What you need to provide

Project details, including: Project Title; Genre; Logline and Synopsis.
A risk plan of how you will produce and deliver your project whilst adhering to the government restrictions and regulations regarding COVID-19.
Relevant creative materials including a short film script.
Proposed Timeline – noting the final product must be delivered by 30 November 2020
A basic budget for the short-form production that outlines costs, your contribution, third party contribution (if applicable) and Screen Queensland Contribution.
Statements outlining the benefits to Queensland and a statement outlining any facilities being used during production and any relevant deals
CVs and bios for all team members.