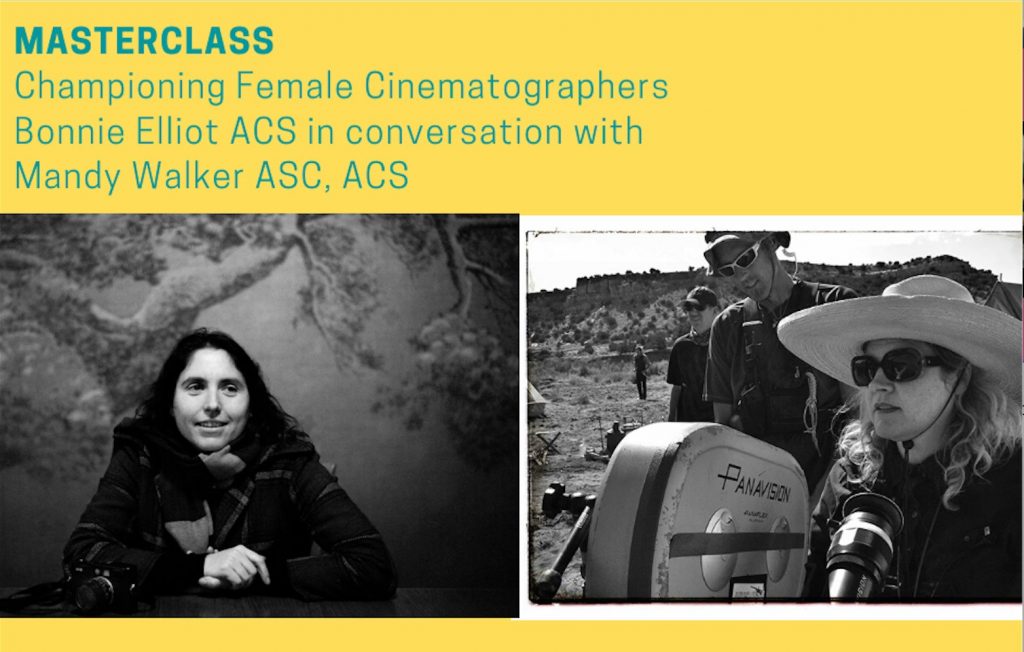 FREE zoom event
Friday 5 June 2020, 6:00pm
Registration is essential
Screen Queenslnd is please to sponsor this event by WIFT (Women in Film) Australia.
wiftaustralia.org.au
---
SQ CINEMATOGRAPHY MENTORSHIP
Attend this event to boost your application to the SQ Mentorship for a female/non-binary cinematographer, (sponsored by Lemac)
---
WIFT presents a conversation with Bonnie Elliott ACS and Mandy Walker ASC, ACS
During this difficult time in the Film and TV Industry in Australia, WIFT Australia is offering a series of virtual sessions where the community can talk to professionals about the pressing issues at hand.
This session is open to all. To members and non-members.
Virtual WIFT continues with a set of four webinar sessions focusing on excellence in craft.
WIFT will be speaking to internationally renowned cinematographer Mandy Walker ASC, ACS. Known for films such as Australia, Tracks, Hidden Figures and the upcoming Disney remake Mulan, Mandy will be shooting Baz Luhrmann's Elvis biopic on the Gold Coast.
Bonnie Elliott ACS, is an award-winning cinematographer who works across drama, documentary and video art. Her unique talent expresses itself in a boldly poetic and emotionally resonant aesthetic. She is a brilliant collaborator and works intensively with the director to realise a vision for the screen. Bonnie's work has screened at major international festivals, including Cannes, Berlin, Venice, Toronto, Tribeca, Rotterdam, Sydney & Melbourne. She has received recognition from the Australian Cinematographer's Society on numerous occasions.Her most recent drama projects include STATELESS, a six-part series created by Cate Blanchett, Tony Ayres and Elise McCredie for the ABC, that will premiere at the 2020 Berlin Film Festival alongside John Sheedy's debut feature, H IS FOR HAPPINESS. Bonnie's collaboration with director Ana Kokkinos continued on THE HUNTING in 2019, for SBS, after the acclaimed SEVEN TYPES OF AMBIGUITY, 2016, a six-part series for Matchbox Pictures/ABC, directed by Glendyn Ivin, Matt Saville and Ana Kokkinos. For this she won an AACTA Award for Best Cinematography in Television, becoming the first female cinematographer ever to win this award.
This session is a collaboration with ACS – Australian Cinematographers Society and WIFTI. This will be WIFT Australia's first appearance and contribution to the WIFTI's global webinars as a new membership chapter.