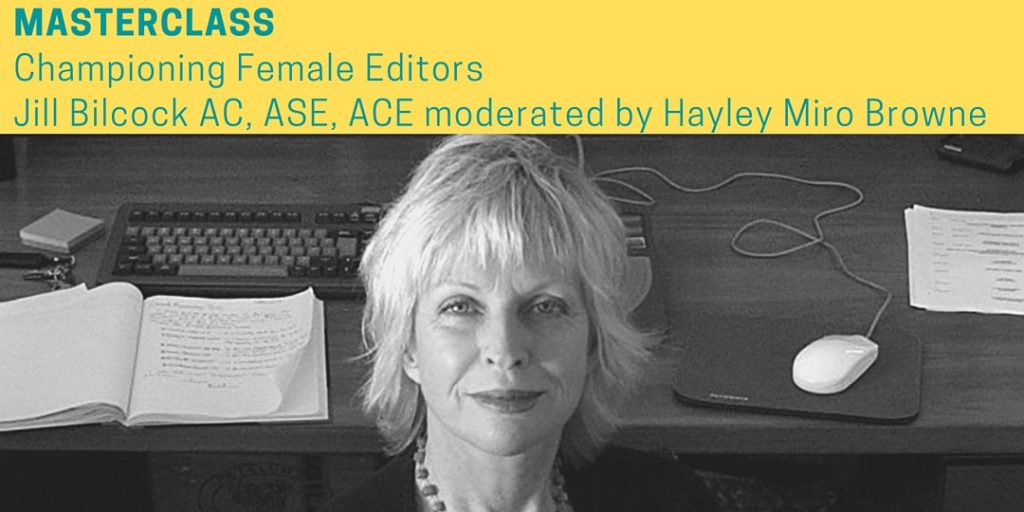 ---
The ZOOM link will be sent to you on the date of the event.
---
Supported by the SQ Screen Culture funding program
---
WIFT VIRTUAL is an initiative created and produced by WIFT AUSTRALIA, created out of necessity during the Covid-19 lock-downs. It offers a series of virtual sessions where the screen industry community can continue to gain knowledge and stay connected.
This session is open to all. To members and non-members.
Virtual WIFT continues with a set of four webinar sessions "Focusing on excellence in craft".
The second episode is with legendary editor Jill Bilcock AC, ASE, ACE and to be moderated by Jill's former assistant editor, Hayley Miro Browne. This episode is a collaboration with Screen Queensland, ASE and Avid. Free for all members, and open to the rest on donation.
Avid is contributing with one license free software product to one lucky WIFT Australia member.
Jill Bilcock, Australian Order (AC) is an Australian film editor, a member of the Australian Screen Editors Guild (ASE) , as well as the American Cinema Editors Society (ACE) and has edited films such as Romeo+ Juliet, Moulin Rouge! and Road to Perdition. She occasionally gives seminars at the Victorian College of the Arts in Melbourne, of which she is an alumna.
Bilcock was born in Melbourne, Victoria, Australia. She is a graduate of the Swinburne College of Technology and won the 2002 Eddie Award (best edited comedy or musical feature film) for Moulin Rouge!, for which she also received a nomination for the Academy Award for Best Film Editing. She has been nominated four times for the BAFTA Award for Best Editing. Three of these nominations were for the first three films directed by Baz Luhrmann: Strictly Ballroom (1992), Romeo+ Juliet (1996), and Moulin Rouge! (2002). The fourth BAFTA nomination was for Elizabeth (1998), directed by Shekhar Kapur.
The documentaries Jill Bilcock: The Art Of Film Editing for ABC TV and the cinema-released Jill Bilcock: Dancing the Invisible, both in 2017, explore her life and work.
Hayley Miro Browne is a Melbourne based Film Maker and Photographer, who has specialised in the areas of film editing and colour darkroom printing for over ten years. Hayley's training has been formalised by long term mentorships with creative heavyweights Jill Bilcock (Australian Film Editor) and Bill Henson (Australian Photographer). Feature films include SHANGHAI NOIR (Clara Law), DRIVING MISS DAISY (Angela Lansbury & James Earl Jones), LIFE ON EARTH (Angelo Salamanca), ROBERT THE BRUCE (Richard Gray, Edinburgh International Film Festival 2019) and High Ground (Berlin Film Festival 2020).
Hayley has also cut TV series such as Adam Zwar's AGONY, several short films and many video clips. Collaborators include Bill Henson, Paul Kelly, Paul Goldman, Troy Galvin, PVT, McLean Stephenson, Catherine Britt, Andrea Keller, Sam Anning, Barney McCall, TQX, SIA and more.