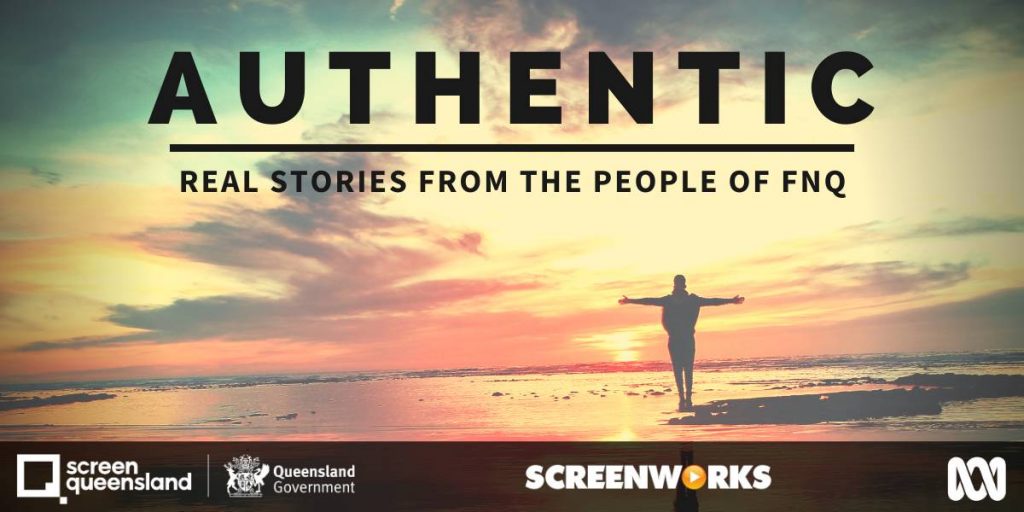 ---
APPLICATIONS DUE
Midnight Sunday 29 November 2020

CONTACT:
screenculture@screenqld.com.au
3248 0500
or louise@screenworks.com.au or 0415 092917
AUTHENTIC IS A SHORT FILM INITIATIVE DELIVERED IN PARTNERSHIP WITH SCREENWORKS AND THE ABC.
The Authentic program will support Far North Queensland filmmakers to profile local personalities in short documentaries for ABC Online exhibition.
Authentic will provide funded opportunities for three filmmaking teams living in Far North Queensland and its surrounding region (please see map of eligible areas here) to create a short documentary film about a significant and distinctive character/s from their region.
The films will shine a spotlight on accidental heroes, bighearted characters and colourful legends.
Each selected filmmaker will be provided with a grant of $4,000 and will work closely with an appointed local ABC Producer to develop their idea before filming and exhibition on ABC online platforms.
At least one of the three opportunities will be provided to an Aboriginal or Torres Strait Islander filmmaker and their team.
We are seeking proposals for short documentary profiles that are under 5 minutes in length and tell the story of a local and unique personality or group of people . The ideal subjects will make compelling and novel screen content.
An individual can submit or be attached to multiple applications; however, we recommend that you always put your most competitive projects forward.
Please read through the guidelines and complete the online application materials to submit your proposal
---
COMMITTMENT TO DIVERSITY
Aboriginal and Torres Strait Islander screen practitioners are encouraged to apply. Additionally, we are committed to ensuring diverse representation across all aspects of the production and development process, including differences in gender; age; Aboriginal identity; cultural and linguistic diversity; disability; sexuality and gender identities, including lesbian, gay, bisexual, transgender, queer and intersex (LGBTQI+), location (including regional and remote areas); and socio-economic status.
---
GUIDELINES
Eligibility

Authentic applicants will be required to meet the following criteria:

Be an Australian citizen or permanent resident, aged 18 or over.
Demonstrate that you have been living in Far North Queensland or the surrounding region (please see map of eligible areas here) for a minimum period of 6 months prior to submitting your application.
Have at least one short-form credit (i.e. music videos, television commercials, short films, online content or corporate films commissioned and paid for by a third party).
Have an active ABN and be able to provide certificates of currency for public liability insurance (min. $10 million) and WorkCover Queensland policy.
Be available to produce your film to these broad and key deadlines (subject to change)

Early February 2021 – Shooting script delivery.
March 2021 – Shoot period
Early April – Rough cut delivery
End May – Final Delivery
How to apply

Supporting documentation within the application form includes:

A current CV/resume
Links to previous work
An Authentic storyplan – STORYPLAN TEMPLATE AVAILABLE HERE
An outline budget – BUDGET TEMPLATE AVAILABLE HERE
A option to upload a 1-2 min video pitch to camera describing your subject: Who are they? What makes them Authentic? Why do you want to tell their story? How will you execute it? Include your subject if you'd like to.

One of the three funding opportunities will be allocated to an Aboriginal and Torres Strait Islander filmmaker and their team.
Applicants can be individuals or teams. Teams are required to include at least one female key creative. People with disability, culturally and linguistically diverse people are also strongly encouraged to apply.
Assessment Process

Screenworks will manage the online application process and check initial applications for eligibility. All applications will be assessed by a panel including representatives from Screenworks, Screen Queensland and the Australian Broadcasting Corporation (ABC) against the following criteria:

The strength and distinctiveness of the subject and their story.
The quality of materials submitted.
The skills, achievements, experience and track record of the applicant(s) and the quality of their previous work.
The potential of the project to contribute to a robust screen industry in FNQ.

Applications close at midnight on Sunday 29 November 2020 AEST and final decisions will be made by mid-December 2020.
Next steps for successful applications

Each successful filmmaker will be allocated a budget of $4,000 excluding GST to produce their short film up to a maximum length of 5 minutes.
All projects must be produced and post-produced entirely in QLD and have a maximum Australian Classification of MA 15+
Funding will be provided as a grant. If you are successful Screenworks will enter into a written agreement specifying the terms of the funding and what you will need to deliver in order to receive payments
All projects selected for production will be subject to editorial guidelines and feedback provided by Screenworks, Screen Queensland and the ABC. Any feedback will be consolidated and communicated to each filmmaker through their local ABC Producer.
The successful filmmaker teams will be required to grant Screenworks, Screen Queensland and the ABC a non-exclusive, worldwide, royalty-free licence to publish and broadcast the short film across any media for perpetuity this will include ABCTV, Radio, Digital and social media platforms.
The ABC reserves the right to the first broadcast window of the films. If successful filmmakers choose to submit their Authentic films into domestic or international film festivals, any entry fees will be their responsibility.
The successful content creators will be required to credit Screenworks, Screen Queensland and the ABC in their project.
Each key deliverable stage e.g.: shooting script, edits and fine cut will require the approval of the project partners before progressing to the next stage.
The project partners intend to promote this project through multiple channels including promotion via press releases and on social media channels. Each selected participant will be expected to support and co-operate with this to ensure that it is able to achieve the project promotion objectives set out above.