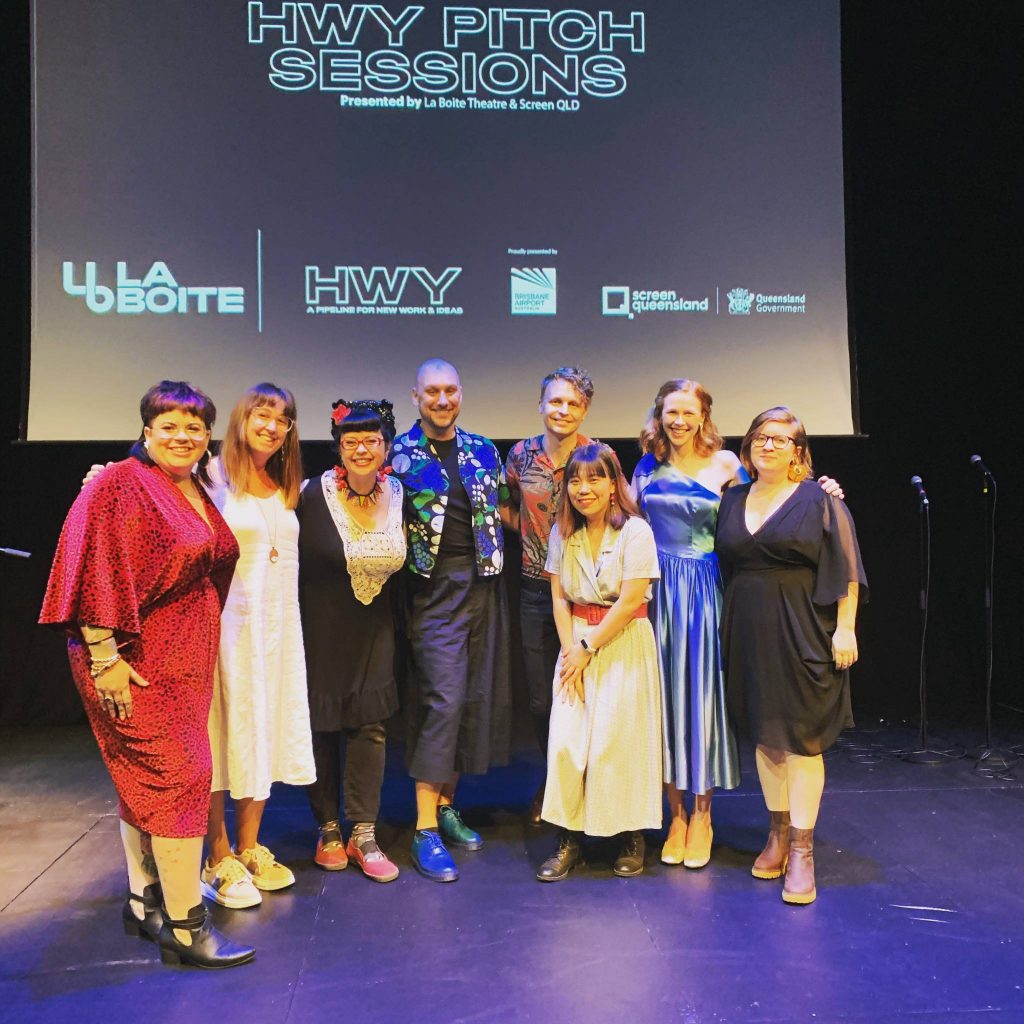 ABOUT THE INITIATIVE
Screen Queensland and La Boite Theatre Company partnered to deliver an exciting intensive program for six Queensland playwrights and/or screenwriters as part of La Boite's HWY Live program in November 2020. Writers worked to adapt a theatre text (public domain or original IP-owned) to a feature film, under the guidance of industry mentors and experts, during a two-week incubator program.
Writers took part in a program of subsidised workshops and mentor sessions as a part of the incubator series, and received a contribution of $2,000 for their participation in the two-week program.
The six writers pitched their adaptation for feedback and consideration from the RIDE Feature Film Fund partners, including SBS's Head of Scripted Amanda Duthie at an event for the HWY Festival on Saturday 21 November 2020.
At the conclusion of the pitch, three projects were selected for development through the RIDE Feature Film Fund slate, and three were awarded development support through the Ideas investment program.
Screen Queensland congratulates the following recipients.
---
RECIPIENTS
RIDE FEATURE FILM SLATE:
Nathan Stoneham, Jeremy Neideck and Younghee Park
지하 Underground
Adapted from the original stage play of the same name
A strange and beautiful underground bar, three misfits, and a love song that never ends.
Anna McGahan
The Ghost Light
An intertextual adaptation of Macbeth, The Seagull, Medea, and Hedda Gabler
An actor sidelined by motherhood returns to the stage to understudy Lady Macbeth. When she is haunted by the ghosts of three damned female characters she never got to play, she invokes a theatre curse to claim the lead role for herself.
Claire Christian
Kings of the World
Adapted from her play Lysa and the Freeborn Dames
An idealistic teenager accidentally shoots her ignorant Dad…twice…and their cross-country drive to save his life, might just end up saving their relationship.
---
IDEAS INVESTMENT PROGRAM:
Annelies Kavan
Committed
Adapted from The Importance of Being Earnest
Earnest has two lives and a wife to go with each. When his wives uncover the truth, they form a diabolical plan to make him pay.
Maddie Nixon
The Bin
Adapted from her play Binnavale, 2020 finalist for the Queensland Premier's Drama Award
Sam Murphy is 17, queer, and lives in Binnavale. Population: 5. When Sam discovers a new government policy could erase the town forever, she has two choices: save her family or save herself.
Katrina Irawati Graham
Siti Rubiyah
Adapted from her play of the same name.
Ira, haunted by a malevolent presence, is dragged into the jungles of Sumatra with her grandmother where she must learn the dark family secrets embedded within the magical Indonesian tale of Siti Rubiyah.