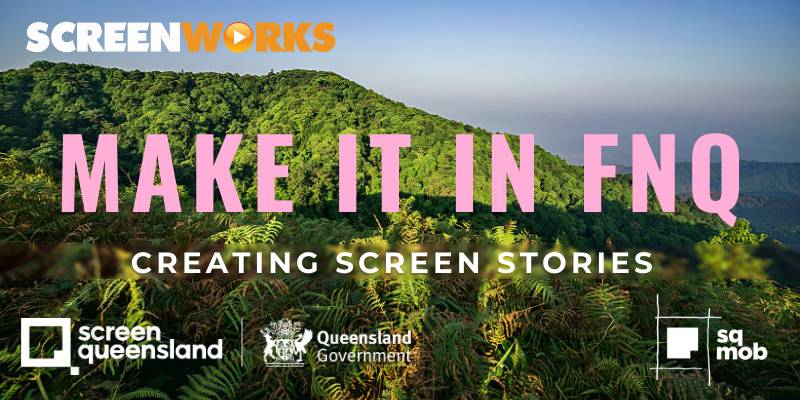 Registration is not necessary – door registrations on the evening are also available. All welcome.
Screen Queensland in partnership with Screenworks are inviting all Aboriginal and Torres Strait Islander creatives with an interest in screen stories and filmmaking to come along to a community consultation evening to find out more about the Make it FNQ: Creating Screen Stories initiative.
Make it in FNQ: Creating Screen Stories is a free, six-month program of Indigenous-led storytelling and concept development workshops, open to emerging Aboriginal and Torres Strait Islander participants.
Come along to find out how to get involved in the program. You'll hear from Douglas Watkin (SQ Content Director, Aboriginal & Torres Strait Islander Program) and independent film producer Dena Curtis of Inkey Media and be able to ask them questions and pass on your suggestions.
Make in FNQ: Creating Screen Stories aims is to support emerging FNQ Aboriginal and Torres Strait Islander screen creatives to identify and prepare their stories for screen and foster key networks in the Australian screen industry for them.
Participants will be encouraged to develop their screen story idea, collaborate with others and work on their project pitch materials. At the conclusion of the program, participants will present their story ideas and pitch materials to National Indigenous Television (NITV) for live and confidential feedback.
Please come along to find out more, rub shoulders with fellow filmmakers, meet your hosts and ask your questions. We're looking forward to seeing you there.
---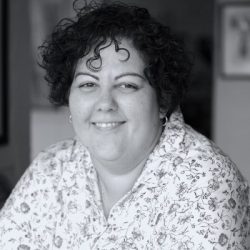 Dena Curtis
Producer, Inkey Media
Based in Brisbane, Dena is experienced in development and production with writing, directing, editing and producing credits. Throughout her career, Dena also worked at National Indigenous Television, and the Australian Broadcasting Corporation. In 2015 Dena established her production company Inkey Media.
Passionate about telling Indigenous, LGBT+ and strong female stories, Dena's directing credits include award- winning short films Hush, Jacob and Nan and a Whole Lot of Trouble. Comedy TV series, 8MMM Aboriginal Radio, documentary series', Shadow Trackers, Colour Theory Underground and Children's Television Series, Thalu.
Her producing credits include the Logie nominated Children's Television Series, Grace Beside Me, Short Films Walters Ghost and Shed and documentary, Belonging. Dena is also facilitating Screen Australia's Indigenous Producer Program, a National program aimed at developing ten emerging Indigenous Producers.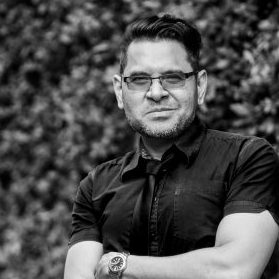 Douglas Watkin
Content Director, Aboriginal & Torres Strait Islander Program, Screen Queensland
Born on  Yidinji Country (Cairns), Douglas currently resides and is professionally based on Turrbal/Yuggara Country (Brisbane).
Douglas has been actively working in the film and television industry for over 25 years, including producing and directing multiple series for the ABC and NITV. He established the film and video production unit, Double Wire Productions in 2000, and has written and produced dramas that have screened at film festivals around the world. His award winning feature documentary ELLA premiered at the Melbourne International Film Festival 2016, and screened nationally at Cinefest OZ WA, Canberra International Film Festival, Brisbane Asian Pacific Film Festival, theatres Australia-wide, Virgin Inflight and SBS on demand. His VR experience, A Thin Black Linewas featured in the 2018 Adelaide Biennial, and also showcased at AIDC 2018. He is currently Content Director (Aboriginal & Torres Strait Islander Program) at Screen Queensland and is working on his next Feature Documentary, ALICK & ALBERT, set for release in 2021.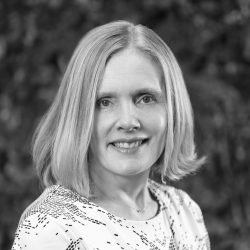 Jo Dillon
Chief Creative Officer, Screen Queensland
In addition to being SQ's Chief Creative Officer,Jo Dillon is co-chair of the Screen Diversity and Inclusion Network (SDIN) alongside Benjamin Law. Jo has worked in Development & Production, overseeing investment in Australian and co-produced fiction and factual screen stories for all platforms, and the development of projects and creative talent. She has developed screen stories in Australia and the UK for more than ten years, most recently as a Development Executive for Screen Australia. In the UK, Jo was Head of Development at Emmy-winning production company Yipp Films, responsible for developing factual narratives for network television and establishing the company's first drama slate. She worked in development for independent feature film producers including Ipso Facto Productions and Vita Nova Films, as a script and story consultant working on feature films, shorts and documentaries, and as an assessor for a number of UK investors and screen agencies.