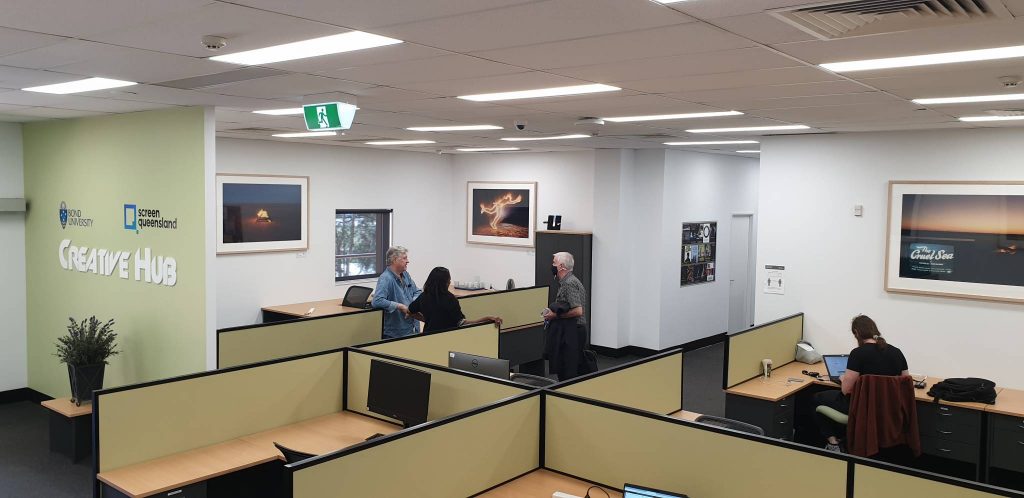 Hire this space
Casual bookings are available. The meeting room is $60 a day and hotdesks are $20 a day.
Building 1A (Arch Building) Bond University, 14 University Dr, Robina
Launched in June 2019, The Creative Hub is Screen Queensland's exciting and functional co-working space located at Bond University, Gold Coast,
The facility is run as part of Screen Queensland's SQhub program, in collaboration with Bond University.
The campus is conveniently equipped with a number cafes and eateries, as well as a picturesque lake and relaxing green spaces.

The space has 24 hour secure access, free parking, end of trip facilities and includes Internet, electricity, meeting room, screening room and kitchenette.
---
Best parking: Parking General 2 (PG2)

---
SQ / BOND UNIVERSITY CREATIVE HUB RESIDENTS 2021/22

Nathan Christoffel 

Director Nathan Christoffel is an award-winning feature and commercial director originally from Byron Bay. In 2015, after becoming an established TVC Director in Melbourne, he started production company, Picture Co. He has since gone on to direct major national and international commercials for brands such as Mercedes, BMW and Tag Heuer. He also co-founded screen finance company Rosella Films and has developed a slate of feature films which are now in various stages of development. Now a Queenslander and resident at the Creative Hub, Nathan will be working on this slate, namely one feature film project titled Ratta Tatt, a thriller set in Queensland. 




Josh Hale 

Josh Hale is a multi award-winning writer, director and producer. Josh's debut feature film Digital Athletes, a mockumentary comedy, had its world premiere at the 2017 Gold Coast Film Festival and won various awards at film festivals across the UK and USA. After being awarded 'Gold Coast Screen Professional of the Year' earlier in 2021, Josh went on to launch a successful festival run for his sophomore feature, a horror film entitled House of Inequity. Premiering at the Gold Coast Film Festival, House of Inequity has gone on to win over 20 awards and official selections worldwide including Chicago Horror Film Festival, LA International Horror Fest and Sin City Horror Fest. Josh's company 550 Studios Pty Ltd also assisted in the development of indie film The Lost One, making it the third in a slate of independent films made in south east Queensland. Josh is currently a resident at the Creative Hub working on pre-production for his latest film Between the Horizon and Here, scheduled to be shot on the Gold Coast in 2022. 

Troy Jones 

Troy is Owner and Manager of film production and distribution company, Evolvee. Evolvee and Troy worked on and/or partnered with multiple documentaries, corporates and TVCs, at varying levels of production. Evovlee distributed niche independent DVDs for around five years. The most notable project to date was Overfed & Undernourished (2014) produced by Evolvee and directed by Troy. Over the last few years Troy has been developing multiple feature and narrative projects, with multiple creatives. 

Shirley Pearce 

Shirley has written for films with a cumulative box office gross of over half a billion dollars worldwide. She has written projects budgeted from $1 million to $200 million. From comedies and dramas to thrillers, her work stretches across genres in film, TV and other platforms. She has written projects for major studios and producers in the U.S., Australia, Japan and Spain. Known for her talent to reach a global marketplace, Shirley has worked for MGM Studios, Columbia, 20th Century Fox, Sony Pictures and the Walt Disney Studios where she worked on over two dozen projects. John Henry, a short she wrote for Disney, won international film festivals and was shortlisted in its category for the Academy Awards. As a writer and producer, Shirley's other shorts have been official selections at international film festivals, including festivals in Los Angeles, Melbourne and New York. Shirley also lectures on screenwriting online and at film festivals, film schools and universities.  

Ben Saravia

Ben is a writer and co-founder of Live Differently Productions, a niche film company that specialises in human-focused social impact stories.  Ben is currently working on a series of mental health films as well as a short musical animation. As a newcomer to the film industry, Ben's dream is to write and present a heartwarming feature documentary that evokes discussion and creates real change. 
SQ / BOND UNIVERSITY CREATIVE HUB RESIDENTS 2020/21

Shirley Pierce, River Dreaming Entertainment/New Corporate Management Pty Ltd (writer/producer) – part time
Nicholas O'Hara-Boyd (writer) – part time
Nikki Organ, 8 Slice Media (content creator, producer) – part time
Daniel Way (writer/director/producer) – full time
Nance Haxton (podcast producer) – part time
SQ / BOND UNIVERSITY CREATIVE HUB RESIDENTS 2019/20

Daniel Way
(with Acacia McCauley & Berry Salem)
Daniel is an early-career director, writer and producer. He is currently in production on his first independent feature film in collaboration with Pangaea Motion pictures and Lotus Production Company. Daniel likes to work with other burgeoning creatives all helping each other to kick start their careers. He will be sharing the creative space with his close friends and frequent collaborators Acacia McCauley & Berry Salem.

Rebekah O'Sullivan – Rankin Business Lawyers

Entertainment, Intellectual Property and Immigration Lawyer
Fellow, Royal Society of Arts FRSA, Juris Doctor (Law); Masters (Legal Practice); B.A Hons; B.A Hons.
Registered Migration Agent (1568412)

Rebekah is a Senior Associate Lawyer at Rankin Business Lawyers – a law firm which provides the full suite of legal services for film, television, theatre, music, art, and digital media. Rebekah has represented clients such the 2018 Commonwealth Games, Thor: Ragnarok, Westworld, Pirates of the Caribbean: Dead Men Tell No Tales, San Andreas and Tidelands.
Linkedin
rankinbusinesslawyers.com

Annelies Kavan
Annelies is a screenwriter and script editor working on several projects with both Queensland and international companies. She is currently working on a thriller feature film commission and developing dark drama returning tv series.

Shirley Pierce – River Dreaming Entertainment
Writer/producer Shirley Pierce is working with laurel-winning River Dreaming Entertainment on a slate of projects in varying stages of development and production. RDE is continuing its successful partnership with Evolve Film Productions and is in pre-production on a feature film to be shot on the Gold Coast. The RDE motto: Touching the Human Spirit.
http://riverdreamingentertainment.com
http://shirleypiercewriter.com
http://evolvefilm.net

Shannon Morris – Green Leaf Entertainment
Shannon has worked in television, radio, newspapers and public relations/communications for nearly 20 years. He recently produced a kids primetime special for NITV and plans to produce, write and direct more film and television content for both traditional and streaming digital partners.

Salvador Cantellano – Studio Luma
Salvador Cantellano is Gold Coast filmmaker with multiple documentary projects in production and a television series in development. He specialises in directing and editing, as well as consulting for video content marketing projects. Recently Salvador has begun to adapt his unique cinematic style of filmmaking to experiment with video art installations and projection mapping for a theatre stage.

Svetlana Angus
Svetlana Angus is a filmmaker, writer, illustrator and dressmaker. She recently released two children books, and is pursuing further opportunities in the film industry. As an empowered member of the deaf community, she is passionate about how film is a storytelling medium accessible for all.

Dylan "D.L." Gorman
Dylan has had a passion for stories and storytelling for as long as he can remember. Inspired by the intriguing story of Australia's only known queer bushranger Captain Moonlite, he has written a one act play which has been featured in a number of festivals in South East Queensland. The play has attracted a number of accolades and awards including "Best Australian Script" and "Best Original Work". Dylan wants to bring this fascinating story to a wider audience and is currently in the process of writing a full-length script.

Nance Haxton – The Wandering Journo
Nance Haxton, The Wandering Journo, is a two-time Walkley Award winner. Nance produces three regular podcast series as well as other intermittent projects. Her series Streets of Your Town is an audio slice of life of Australia, highlighting the people she meets while travelling around the wide brown land in Mildred, her cantankerous VW kombi.
www.nancehaxton.com.au
http://soyt.substack.com/
---
---