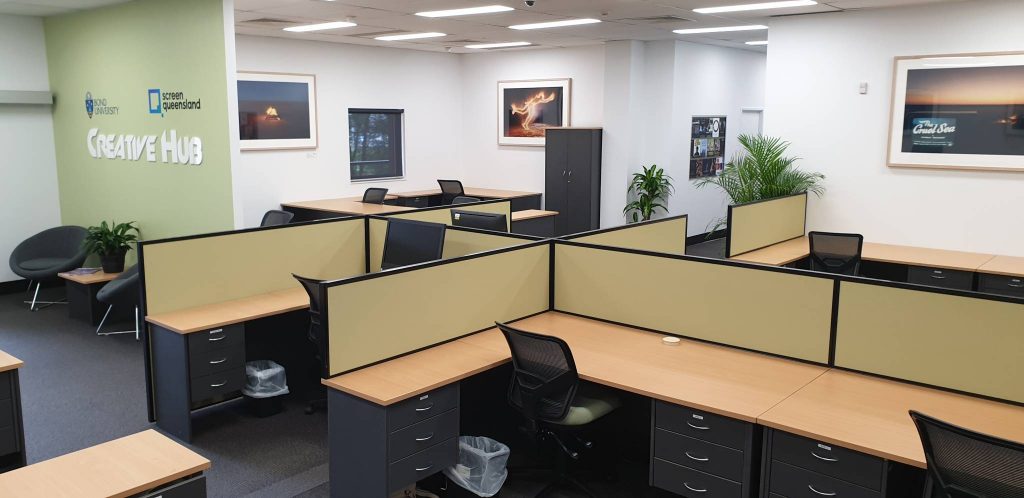 Hire this space
Casual bookings are available. The meeting room is $60 a day and hotdesks are $20 a day.
Building 1A (Arch Building) Bond University, 14 University Dr, Robina
Launched in June 2019, the Screen Queensland / Bond University Creative Hub is an exciting and functional working space located at Bond University Gold Coast.
The campus is conveniently equipped with a number cafes and eateries, as well as a picturesque lake and relaxing green spaces.

The space has 24 hour secure access, free parking, end of trip facilities and includes Internet, electricity, meeting room, screening room and kitchenette.
---
Best parking: Parking General 2
---
SQ / BOND UNIVERSITY CREATIVE HUB RESIDENTS 2020/21

Shirley Pierce, River Dreaming Entertainment/New Corporate Management Pty Ltd (writer/producer) – part time
Nicholas O'Hara-Boyd (writer) – part time
Nikki Organ, 8 Slice Media (content creator, producer) – part time
Daniel Way (writer/director/producer) – full time
Nance Haxton (podcast producer) – part time
SQ / BOND UNIVERSITY CREATIVE HUB RESIDENTS 2019/20

Daniel Way
(with Acacia McCauley & Berry Salem)
Daniel is an early-career director, writer and producer. He is currently in production on his first independent feature film in collaboration with Pangaea Motion pictures and Lotus Production Company. Daniel likes to work with other burgeoning creatives all helping each other to kick start their careers. He will be sharing the creative space with his close friends and frequent collaborators Acacia McCauley & Berry Salem.

Rebekah O'Sullivan – Rankin Business Lawyers

Entertainment, Intellectual Property and Immigration Lawyer
Fellow, Royal Society of Arts FRSA, Juris Doctor (Law); Masters (Legal Practice); B.A Hons; B.A Hons.
Registered Migration Agent (1568412)

Rebekah is a Senior Associate Lawyer at Rankin Business Lawyers – a law firm which provides the full suite of legal services for film, television, theatre, music, art, and digital media. Rebekah has represented clients such the 2018 Commonwealth Games, Thor: Ragnarok, Westworld, Pirates of the Caribbean: Dead Men Tell No Tales, San Andreas and Tidelands.
Linkedin
rankinbusinesslawyers.com

Annelies Kavan
Annelies is a screenwriter and script editor working on several projects with both Queensland and international companies. She is currently working on a thriller feature film commission and developing dark drama returning tv series.

Shirley Pierce – River Dreaming Entertainment
Writer/producer Shirley Pierce is working with laurel-winning River Dreaming Entertainment on a slate of projects in varying stages of development and production. RDE is continuing its successful partnership with Evolve Film Productions and is in pre-production on a feature film to be shot on the Gold Coast. The RDE motto: Touching the Human Spirit.
http://riverdreamingentertainment.com
http://shirleypiercewriter.com
http://evolvefilm.net

Shannon Morris – Green Leaf Entertainment
Shannon has worked in television, radio, newspapers and public relations/communications for nearly 20 years. He recently produced a kids primetime special for NITV and plans to produce, write and direct more film and television content for both traditional and streaming digital partners.

Salvador Cantellano – Studio Luma
Salvador Cantellano is Gold Coast filmmaker with multiple documentary projects in production and a television series in development. He specialises in directing and editing, as well as consulting for video content marketing projects. Recently Salvador has begun to adapt his unique cinematic style of filmmaking to experiment with video art installations and projection mapping for a theatre stage.

Svetlana Angus
Svetlana Angus is a filmmaker, writer, illustrator and dressmaker. She recently released two children books, and is pursuing further opportunities in the film industry. As an empowered member of the deaf community, she is passionate about how film is a storytelling medium accessible for all.

Dylan "D.L." Gorman
Dylan has had a passion for stories and storytelling for as long as he can remember. Inspired by the intriguing story of Australia's only known queer bushranger Captain Moonlite, he has written a one act play which has been featured in a number of festivals in South East Queensland. The play has attracted a number of accolades and awards including "Best Australian Script" and "Best Original Work". Dylan wants to bring this fascinating story to a wider audience and is currently in the process of writing a full-length script.

Nance Haxton – The Wandering Journo
Nance Haxton, The Wandering Journo, is a two-time Walkley Award winner. Nance produces three regular podcast series as well as other intermittent projects. Her series Streets of Your Town is an audio slice of life of Australia, highlighting the people she meets while travelling around the wide brown land in Mildred, her cantankerous VW kombi.
www.nancehaxton.com.au
http://soyt.substack.com/
---
---