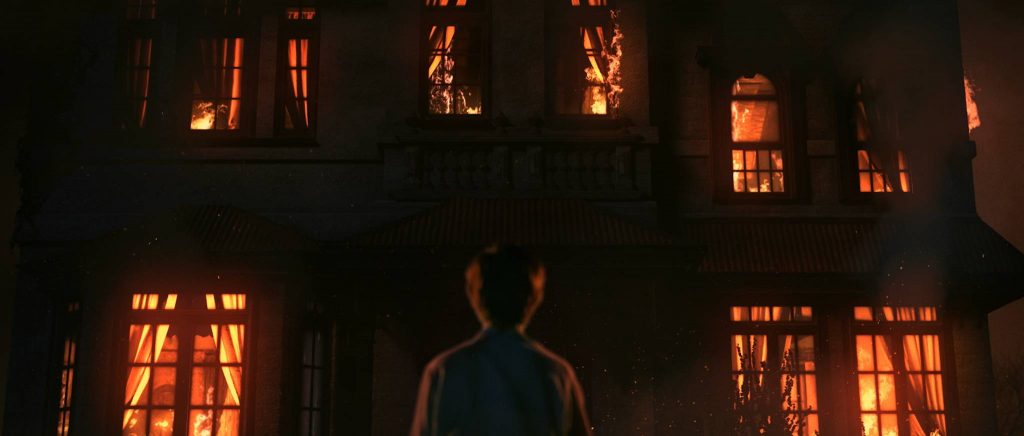 SQ-supported short film Inferno, funded as part of the 2019 SQ Proof of Concept initiative, will tour Australia as part of Flickerfest's Best of Australian Shorts program for 2021.
Inferno centres around a family man who tears down the remains of his burned-out childhood home in an attempt to bury his family's tragic past. Amongst the emotional turmoil he finds himself tormented by something sinister uncovered in the demolition.
The 15-minute horror is produced by Brenton Pinsent and Dean Law, written by Katherine Chediak Putnam and Dean Law, with Putnam making her directorial debut.
"Because we both draw a lot of our work from our life experiences, we began to unpack difficult personal stories. And Inferno, being a horror film, needed to resonate to our personal fears," said Ms Putnam and Mr Law.
The film was shot over five days in Beaudesert, Law's hometown, with internal scenes shot on set in the Griffith Film School sound stage in Brisbane.
"Inferno was an incredibly challenging film to make, and it was the first time we worked with a professional special effects team for the pyrotechnics and prosthetics.
"We also had a lot of stunt work completed by the team at Extra Specialists, with visual effects which needed to be carefully planned in pre-production and principal photography, so you can imagine what a complex logistical challenge the film was to achieve in just five days," they said.
Ms Putnam and Mr Law, who are partners in film and life, said they began developing Inferno as a feature film prior to the announcement of the SQ Proof of Concept Initiative.
"When it came up we just had a great feeling that this was the right opportunity for us to take the project to the next level.
"It is an incredible thing to have the team at Screen Queensland in your corner."
Ms Putnam and Mr Law said they were thrilled to be selected for Flickerfest, admiring their curatorial vision and acknowledging the important role screen culture events play in the local film industry.
"Film festivals like Flickerfest are fundamental to a healthy film industry. It's an opportunity not only to share the work with a diverse group of people who love cinema, but to build connections and give visibility for filmmakers, in particular, emerging ones that really need visibility."
"A touring film festival like Flickerfest visiting Dean's home town in his teenage years was a huge part of what made him pursue a life in filmmaking, which just goes to show how life-changing something like this can be."
Bronwyn Kidd, Festival Director of Flickerfest said she is delighted to have programmed the Queensland short.

"Inferno is a unique, thrilling, excellent example of the genre, with high production values. It's a real standout, and we are proud to program it in the Flickerfest Best of Australian Shorts Tour for 2021."
The Flickerfest Queensland tour, supported by the Screen Queensland Screen Culture Funding program, begins in Brisbane Thursday 4 March, and will hit a total of 14 venues across the state until September 2021 Learn more and book on www.flickerfest.com.au/tour