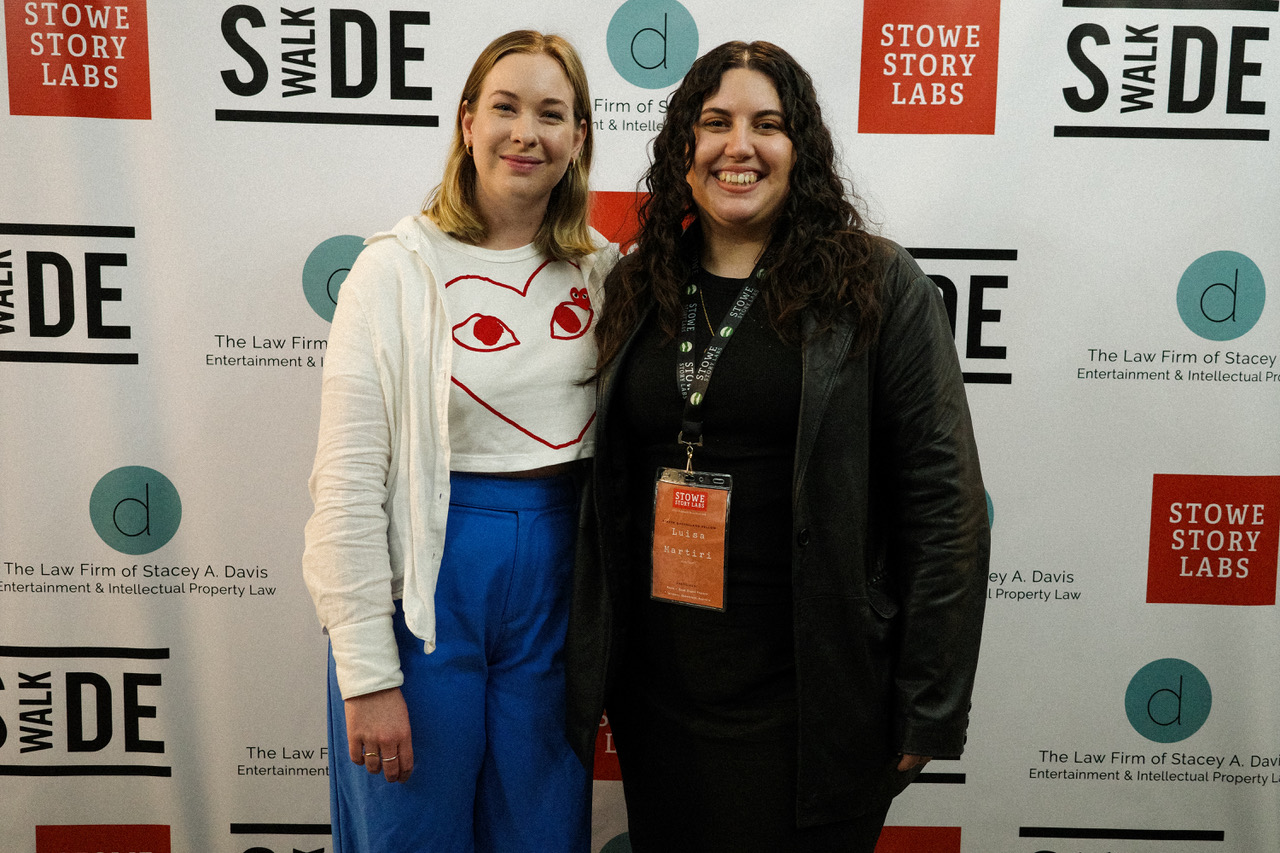 L-R Recipients Alex Philp and Luisa Martiri at the Stowe Story Labs Narrative Sidewalk lab in Birmingham Alabama
---
The 2023 Screen Queensland and Stowe Story Labs Fellowship Program supported two Queensland-based teams to attend  Stowe's Sidewalk Narrative Lab in August, at the Sidewalk Film Festival in Birmingham Alabama, followed by an industry mentorship.
We asked Brisbane-based team Alex Philp and Luisa Martiri about how the fellowship benefitted their careers and further progressed development of their feature film Pools.
---
What inspired you apply for the Sidewalk Narrative Lab with Stowe Story Labs?
Luisa: We are currently at the first draft stage of our project, Pools. Since this is our first feature film endeavour, we have been really craving mentorship and a structured framework to develop our script. As the producer/director, I was also eager to participate in an international lab to effectively test how the project would be received in an international scale. The Stowe Story Lab was perfect for this, as it gave us exposure to the US market, creatives and industry professionals.
Alex: Pools is the first time that I've written a feature screenplay. I come from a prose background and so I know the huge value that feedback and being immersed in craft alongside a group of passionate creatives brings to a project's development.
Tell us more about the project you were developing at the lab 
Luisa: Pools is a feature film adaptation of our short film of the same name, which had its world premiere at Flickerfest in 2021. Pools is a road trip drama concerned with a complex mother and daughter relationship.
Alex: Cherie is a young woman from regional Queensland in need of a surgical abortion. To get the abortion, she must orchestrate a road trip to Brisbane with her erratic mother, who is led to believe that they've won an all-expenses paid holiday through a radio competition.
How would you summarise your experience in Birmingham, Alabama? 
Luisa: The whole experience was truly invaluable. The Stowe Story Lab offered us a wide array of learning opportunities and experiences. We had the chance to pitch our project to industry professionals for feedback, forge new friendships, attend panels featuring established filmmakers, and benefit from screenwriting lectures and guidance provided by Stowe co-founders David Pope and David Rocchio. The entire Stowe team was remarkably kind and supportive. Stowe also offer incredible support for Alumni, making it extra valuable in the long term.
Alex: It was so creatively invigorating. We worked on our projects through structured writing exercises, but also got great feedback from our matched peer groups and we practised pitching the project to industry mentors. We made friends with writers from around the globe that we could picture collaborating with in the future. That the Sidewalk Film Festival was happening at the same time was icing on the cake. It meant that downtown Birmingham was bustling with the energy of filmmakers and the local community coming together to celebrate great films—and that energy was a pleasure and privilege to experience.
How has your project changed following your time in the program?
Luisa: Our participation in the program enabled us to delve deeply into our project. It was the perfect timing for us to be part of the lab, as it provided us with an excellent starting point for the second draft. At this stage, our project will primarily undergo changes from a storytelling perspective. Alex will now focus on writing the second draft and further refining the story world and characters.
Alex: We have a clarified understanding of theme and of structural decisions that I can implement to strengthen the narrative. The lucidity around theme also paves a clearer path for us to raise the stakes for the central relationship in Pools—Cherie's relationship with her mother, Emily.
What did you take away from the program that you would pass on to other practitioners?
Luisa: Broaden your horizons and explore film and television markets beyond Australia. For filmmakers, it is equally critical to adopt a strategic, business-minded approach to the development of your project and your career as it is to master your craft.
Alex: The importance of being generous when giving and receiving feedback. Giving your genuine time and attention to someone else's creative vision is not only an important part of being in a creative community— it's also how you can gain some of your clearest realisations about storytelling craft.
What advice would you give to someone considering applying for a Stowe Story Labs program?
Luisa: Don't hold back, even if it feels daunting. Once you're accepted, fully immerse yourself in the experience—participate in everything and forge new friendships. View it as an opportunity to cultivate genuine and meaningful connections.
Alex: Do it! Working on a familiar project in a new place—surrounded by new, inspiring people—is truly brilliant.
What is next for your project?
Luisa: We're eager to integrate the valuable feedback we received from industry professionals and peers at the Stowe Story Lab into our second draft. Thanks to Screen Queensland, we have six one-hour mentor sessions lined up with a Stowe mentor, and we'll be commencing these sessions soon to guide us in developing the second draft.
Alex: We're so excited and grateful for this process. A huge thank you to Screen Queensland for selecting Pools for this fellowship program. It's made an immense difference to the development of the project and to ourselves as practitioners.