MEDIA RELEASE | FOR IMMEDIATE RELEASE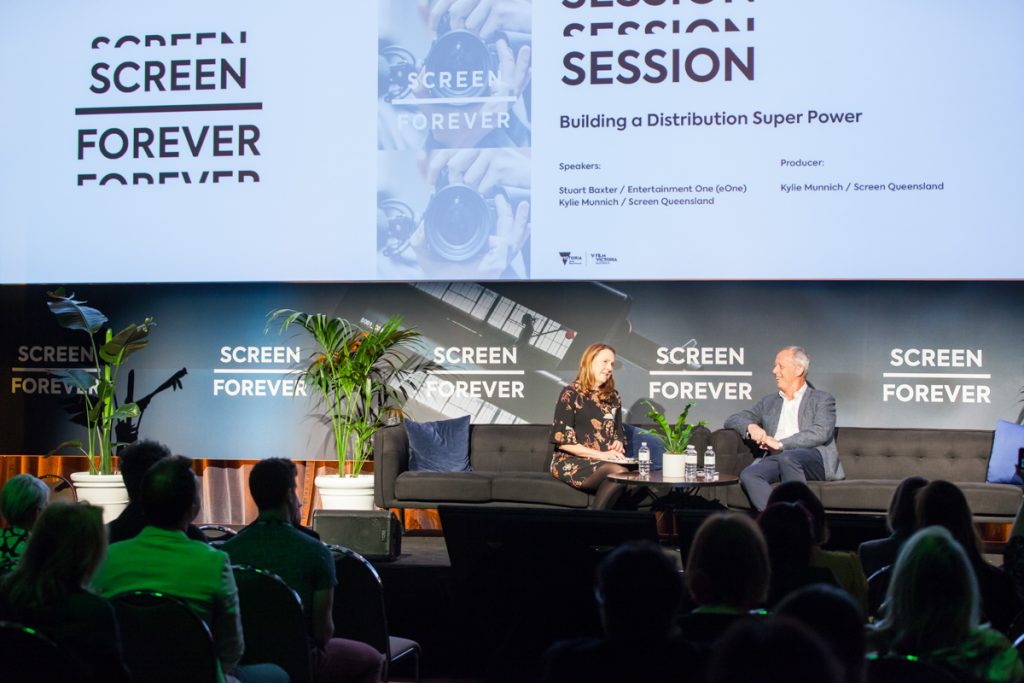 Screen Queensland CEO Kylie Munnich facilitating at Screen Forever 2019. Image Courtesy of Screen Producers Australia
---
Screen Producers Australia (SPA) today announced that the upcoming SCREEN FOREVER conference will be pivoting to a digital offering from 16-18 February 2021.
Assisted by SCREEN FOREVER's interactive digital platform, delegates will have increased chances to do business with a greater range of national and international industry leaders than ever before. Recognised as contributing to over $100 million in deals for local screen businesses each year, SPA Connect's Ready, Steady, Pitch! and Screenrights' Roundtables will now run across all three days of the digital event, presenting further opportunities for networking and deal making.
Moreover, the full program of engaging and inspiring panel and keynote sessions will be broadcast via the digital platform for delegates to watch, participate in Q&As and engage with ongoing conversations with peers.
SPA CEO Matthew Deaner said "Given the current environment and the need to prioritise the health and safety of our industry and the wider community, we are committing to cultivate business opportunities and connections for Australia's screen practitioners through the establishment of SCREEN FOREVER's new interactive digital platform.
"I would like to thank our Partners – especially Principal Partner Screen Queensland – for adapting with us through this ever-changing environment. Thank you also to the outstanding speakers, moderators and producers who are committing their valuable time and knowledge to helping us build such a strong and vital program for the industry. We look forward to announcing more of our incredible program and market hosts in the upcoming weeks.
"We will continue to work with the sector over the coming weeks as we bring Australia's premier screen industry event to life online and look forward to welcoming the screen production community to our new home at the Gold Coast in the near future."
Screen Queensland CEO Kylie Munnich supported the decision to transition SCREEN FOREVER to digital delivery.
"Although we are disappointed not to be able to welcome Australia's screen industry in-person to the Gold Coast for SCREEN FOREVER next month, we respect the decision to migrate the conference online for everyone's safety and wellbeing," Ms Munnich said.
"We are confident SPA will deliver a compelling, conversation-starting program, boasting a strong line up of Australian and international producers, broadcasters, distributors and screen practitioners.
"Equally, we look forward to showcasing everything that Queensland has to offer in terms of locations, facilities, crew and creative capabilities."
Interested screen professionals can purchase their SCREEN FOREVER pass here and begin their digital networking straight away, with delegate-to-delegate meetings open from today and the full conference program launching shortly.
– ends –
For media enquiries, please contact:
Georgia Kinninmont
Communications and Publicity Manager, Screen Producers Australia
georgia.kinninmont@screenproducers.org.au | 02 8076 5886
About Screen Producers Australia:
Screen Producers Australia unites screen businesses to campaign for a healthy commercial environment. For over 60 years we have supported the interests of large and small enterprises from across the nation with a diverse production slate of feature film, television and immersive content. Our 500+ members employ hundreds of producers, thousands of related practitioners and drive more than $1.2 billion worth of annual production activity for the independent production sector.
The Queensland Government and Screen Queensland are the Principal Partner of SCREEN FOREVER.
---