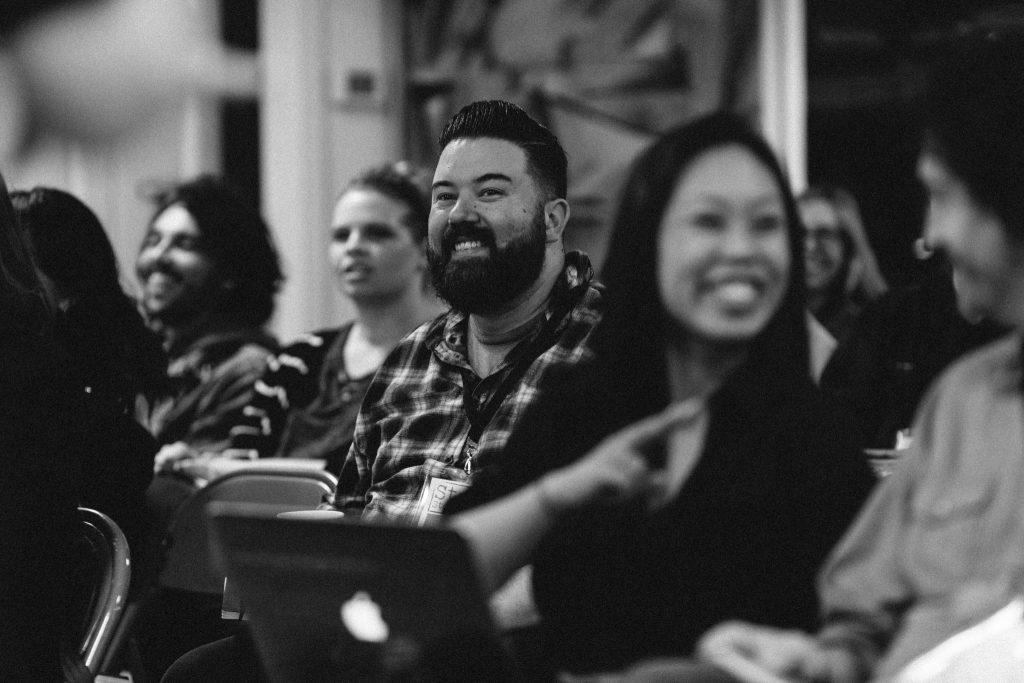 ---
Applications for supported Queenslander places open soon.

Register to be alerted when applications open
MEDIA RELEASE
For immediate release
11 February, 2021
---
Screen Queensland and U.S-based screenwriters' incubator program Stowe Story Labs are pleased to announce a new partnership, supporting up to three Queensland filmmaking teams of writers, filmmakers, and/or creative producers, to attend Stowe's upcoming remote Narrative Lab and Writers' Retreat.
The Stowe Story Labs and Screen Queensland partnership will cover fees for each selected Queensland-based creative to attend Stowe's upcoming remote August Sidewalk Narrative Lab from 25-28 August and Stowe's Remote Fall Writers' Retreat in October.
Stowe's 4-day intensive Narrative Story Lab is the cornerstone of Stowe Story Labs' programming. It brings selected participants together with top industry mentors to workshop, collaborate, network, skill share, and demystify the international film and television industry.
Stowe's Writers' Retreats provide small groups of writers workshop content, structured social and recreation time, and the focus of the program is on three one-on-one script notes meetings with three different industry mentors top in the field.

Jo Dillon, Screen Queensland's Chief Creative Officer, said the agency is excited to embark on this journey with Stowe Story Lab, for the benefit of Queensland screen practitioners.
"For over eight years, Stowe Story Labs has built an esteemed reputation as a premiere source of creative guidance and industry know-how for film practitioners around the world to take their ideas from script to screen," said Ms Dillon.
Mr Rocchio said he was "extremely pleased" with the partnership, through which Stowe will offer the two online programs within accessible time zones for Australian and New Zealand participants for the first time.

"The team at Screen Queensland is aligned with our mission to support top emerging screenwriters and filmmakers, no matter their background, gender, or race, as they work to bend the world a bit through story.
"It is a wonderful testament they are pleased to work with us, and working with their team has already been a pleasure.
"We cannot wait to meet the teams of creatives they send our way."
Based in Vermont, the non-profit Stowe Story Labs was founded in 2013 to help top emerging screenwriters, filmmakers and creative producers from around the world get work made and seen.
Applications for supported placements for Queensland-based practitioners will open soon. Visit www.screenqueensland.com.au for current program and mentor details, and register to be notified when applications open.
Emerging screenwriters and filmmakers across Australasia can apply online until 28 February for Stowe's range of labs, retreats, fellowships and partial scholarships, through Coverfly or Submittable. Learn more at www.stowestorylabs.org
ENDS
---
MEDIA ENQUIRIES
(Please note, application enquiries for Queenslanders should be directed to content@screenqld.com.au 3248 0500. For general enquiries for Stowe Labs, email  info@stowestorylabs.org)

Liana Cantarutti
Marketing and Communications Coordinator, Screen Queensland
media@screenqld.com.au
+61 7 3248 0524
ABOUT SCREEN QUEENSLAND Screen Queensland is a Queensland Government owned company that invests in talent and production to grow a creative, innovative and successful screen industry with a focus on stories and audience, secures production and post, digital and vfx to Queensland, and delivers an active screen culture through festivals and events funding across the state. Screen Queensland invests in stories and talent through a range of mechanisms including development, production investment, initiatives, SQhub and mentorships. Screen Queensland is deeply committed to increasing diversity in the screen industry to reflect the Australian community. For more information visit screenqld.com.au
ABOUT STOWE STORY LABS Stowe Story Labs is a 501 (c)(3) nonprofit based in Stowe, Vermont, offering labs, writers' retreats and mentoring programs throughout the year to top emerging screenwriters, filmmakers and creative producers from around the world. The labs are presented with support from the National Endowment of the Arts and the Vermont Arts Council; fellowship sponsorship through Screen Scotland, SAGindie, Champlain College, the University of Vermont and the International Screenwriters' Association; with in-kind fellowship support from the PAGE International Screenwriting Competition, Final Draft, NewEnglandFilm.com, Maven Screen Media and Tangerine Entertainment; and with product contribution from Final Draft, Storyboard Quick Power Production Software and Stacey Davis.
---