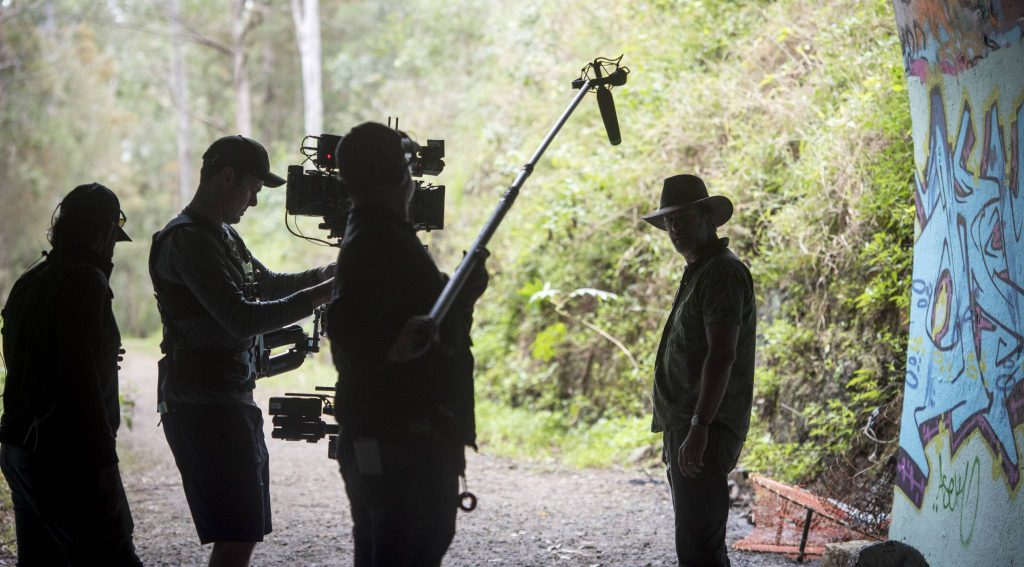 DATE: Wednesday 9 March 2022
TIME: 2pm AEST
LOCATION: Online (Zoom)
Screen Queensland is delighted to present Troppo Writers, Yolanda Ramke (Creator/Writer) and Jane Allen (Writer/Producer) in conversation with Screen Queensland Head of Content, Mags Scholes on Wednesday 9 March.
Screen practitioners are invited to hear Ramke and Allen discuss their latest project Troppo, secured via Screen Queensland's Production Attraction Strategy and premiering on ABC TV and ABC iView on Sunday 27 February.  
Based on the bestselling Australian novel Crimson Lake by Candice Fox, the eight-part series centres on disgraced ex-cop Ted Conkaffey (Thomas Jane), who is recruited by an ex-con turned private investigator, Amanda Pharrell (Nicole Chamoun), to solve the disappearance of a tech pioneer.
Ramke and Allen will share insights about Troppo's production and writing the screenplay, highlights from set and bringing the backdrop and story to life on the Gold Coast.
This FREE in conversation event will be hosted online.
Troppo was secured by the Queensland Government via Screen Queensland's Production Attraction Strategy.
---
ABOUT THE WRITERS

YOLANDA RAMKE

YOLANDA RAMKE
CREATOR / WRITER / DIRECTOR / PRODUCER 

Yolanda Ramke is an award-winning screenwriter and director. Most recently, Yolanda created, wrote and directed the crime series Troppo, based on Candice Fox's bestselling novel Crimson Lake. The series is due to be release on ABC and ABC iview in 2022. Yolanda wrote on the 2021 SBS drama series New Gold Mountain, for which Yolanda won an AWGIE award for Best Television-Telemovie or Miniseries. Yolanda's first foray into television was on the second season of the Netflix horror series, The Haunting of Hill House: Bly Manor, alongside her Cargo co-director Ben Howling.  

In 2013, she wrote, co-directed and performed in the short film Cargo (co-directed with Ben Howling) which went on to be a finalist at Tropfest. The film became a viral success, garnering an international festival run. Two years later, Yolanda's screenplay for the feature adaptation of the short was announced as the inaugural winner of the Australians in Film 'Gateway LA Script Prize'. In 2017, Yolanda made her feature co-directing debut on the film adaptation of Cargo, starring BAFTA award-winning actor Martin Freeman. The film premiered at the 2018 Tribeca Film Festival to critical acclaim and was released globally on Netflix as the first Australian Netflix Original feature. Yolanda won her first Australian Writer's Guild Award (AWGIE) for Cargo, Feature Film (Adaptation), and was nominated for an Australian Academy of Cinema & Television Arts (AACTA) Award. Yolanda was nominated for an Australian Director's Guild Award (ADG) alongside co-writer/director Danielle Baynes for their short film, Cold Hearts.  

She is currently working on several film and television projects. 
JANE ALLEN

JANE ALLEN
WRITER / PRODUCER / SCRIPT EDITOR 

Jane produced and was lead writer for the ABC legal drama, Janet King – the first Australian prime time drama to feature a lesbian lead character. She produced and led the writing team on Crownies, the prosecution drama from which Janet King was a spinoff. She was also writer and producer of the ABC's Indigenous sci fi series Cleverman. 

Her recent work includes writing and script producing Troppo for the ABC and IMDB TV; writing AACTA nominated drama Halifax: Retribution for Nine Network; The Heights Season Two for ABC; Netflix's The New Legends of Monkey, and The Unlisted which won the 2020 Prix Jeunesse International award for Outstanding Children's Television. 

Jane was the 2018/19 Australian Antarctic Division artistic fellow, spending three months living as a summer expeditioner at Mawson Research Station where she developed a TV series about living and working in Antarctica, and wrote an Antarctica-based two-hundred-page chapter book for kids. 

Previous writing credits include Secret Daughter, Love Child, The Doctor Blake Mysteries, Tricky Business, McLeod's Daughters, The Secret Life of Us, Blue Heelers, Stingers, MDA and children's series Sam Fox: Extreme Adventures. Jane was the script editor on the US series Hunters for Gale Anne Hurd (The Terminator, Aliens, The Walking Dead).