With SQ's Games Development Funding round open now, we caught up with Affable Games co-director Jed Dawson about their recently launched SQ-funded game, Speaking Simulator.
---
SQ: Who is in the Affable Games team?
JD: Affable Games is a core team of two, consisting of myself as Game Designer and Programmer Jordan Comino. We met each other when we worked at Halfbrick Studios on the mobile game, Jetpack Joyride. Some time ago, we left Halfbrick and decided to go the path of Indie Game development. We started off working in my sun-room at home, but when that got too hot and steamy we started sneaking into libraries, cafes, restaurants – wherever we could find air-con and wifi. Eventually we moved into a creative share space and haven't looked back. It's got a chilled water tap!

SQ: How would you describe Speaking Simulator ?
JD: Speaking Simulator is the awkwardly hilarious physics game about an android struggling to infiltrate human society. You must move your robotic tongue and lips into the right positions to make your words come out and have a conversation. Try not to make any mistakes, or your face will explode, and humans find that kind of suspicious.
There are 10 levels of tricky social scenarios such as job interviews, first dates, and eulogies. As you progress, you will upgrade your robot and have to juggle more complex social tasks, like eyebrow movement, and smiling or frowning. Finally, if you can master the ability to have basic human interactions, you will be ready to give your speech to the nation as their new president/robot overlord.

SQ: Speaking Simulator is a very unique concept. What sparked the idea?
JD: I came up with the idea after watching The Dark Knight and noticing that Two-Face was still able to speak properly, even after losing half of his mouth. This bugged me so much that he decided to create Speaking Simulator as a way to call out Christopher Nolan.

---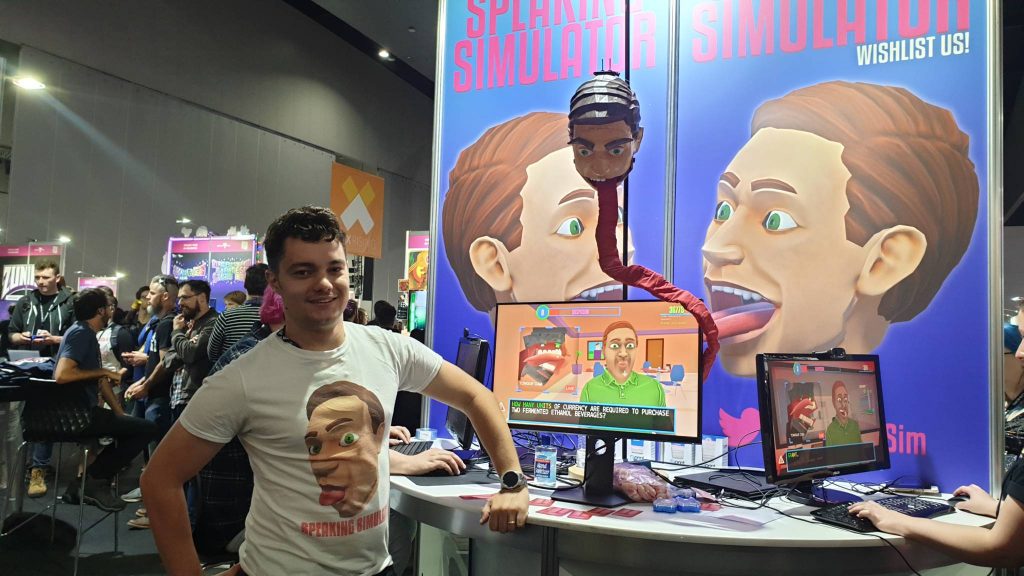 ---
SQ: How would you summarise your overall journey of developing and launching Speaking Simulator?
JD: It's been a long journey creating Speaking Simulator. We started out prototyping two years ago, and for a lot of development we have been working as part-time university Lecturers to pay the bills as we go. Some of our biggest milestones include receiving our Screen Queensland funding. Taking the game to E3 where it was played by Jack Black. Our first big influencer playing the demo with 300k+ views. Most recently, it's been getting the game approved on Nintendo Switch for launch, a huge accomplishment for us.

SQ: Describe your experience of taking Speaking Simulator to markets.
JD: Speaking Simulator has been to PAX Aus 2018-19, Pax East 19, Pax South 2020, and E3 2019. The reaction of people approaching our game is always the same. They see our poster and are disgusted, which then turns into confusion, and then when they see some of the gameplay they start laughing and pull their friends over to see.

Most of these shows were supported with Screen Queensland's Market travel grants, and have been extremely important in marketing the game, and pursuing business opportunities. If we hadn't attended these shows, we wouldn't be launching on Nintendo Switch. There are a lot of influencers and game press who wander these shows, and if you're organised, you can get a lot of appointments with them to maximise the effectiveness here. With these methods we've managed to get coverage in top tier gaming, and mainstream media outlets.

SQ: What advice would you have to game developers interested in applying to SQ funding?
JD: Get ready to spend some time on your application. We spent weeks making sure that our market analysis and audience breakdown was competitive. We asked industry heads for advice along the way, and made sure that we spoke to Screen Queensland staff themselves to check that we were providing them with what they needed.

---
Speaking Simulator is available now on Nintendo Switch and Steam

To read more and apply for Screen Queensland Game Development funding, visit https://screenqueensland.com.au/investment-support/investments/finance-program/. Applications close Friday 3 April.