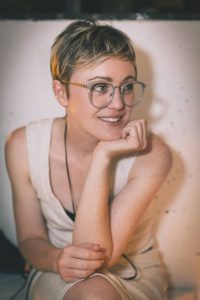 Q&A with SQ Mentorship Recipient, Meg O'Connell
Part of Screen Queensland's commitment to diversity and gender parity in the screen industry, The SQ Mentorship program provides outstanding early to mid-career practitioners $20,000 each to support them to undertake a self-structured mentorship program.
Current recipient Meg O'Connell is a mid-career producer who has worked previously with Ludo Studio and WildBear Entertainment. Through the SQ Mentorship, Meg is strengthening her understanding of the global market, as both a developer and a producer, at Fremantle in the UK(FremantleMedia Group has produced American Gods, The Young Pope, My Brilliant Friend, Deutschland 83, and many more).
We caught up with Meg about how her mentorship is going.
Hi Meg, congratulations on receiving the SQ Mentorship! Tell us more about your mentor and what your mentorship involves.
My mentor is Sarah Doole, the director of global drama at FremantleMedia and encompasses spending time with her, her global drama department team, as well as other producers in the Fremantle family. In the UK I'm spending time with Duck Soup Films, Castelfield, Euston Films, Hare and Tortoise, as well as Bend It Networks, and in Germany I'm visiting UFA in Berlin and Cologne. The mentorship runs June 10 – July. It's only just begun really but I've learned so much already.
How do you work with your mentor? What sort of guidance do they provide?
It's very much an immersive experience. Learning by osmosis. I described it to someone as a bit like a research project — but my research is into how different production companies operate within the Fremantle family.   
How did you meet your mentor? Why do you think this individual's skills and experience would help your career?
I was introduced to Sarah at a networking event. She had previously run the Greg Coote Scholarship (a Screen Queensland initiative)  and taken Lucas Taylor on as mentee for a couple of months. Lucas must have given us Australians a good name because they welcomed me with open arms to do the same thing! 
Can you describe any particular experience or situation that stood out for you during the mentorship?
I've loved my time with the company Duck Soup. I've read scripts from their development slate, sat in on meetings with upcoming talent, brainstormed XR experiences to accompany their productions, and chatted through treatments in development. It's been wonderful to watch how a company like them operate, and being based in Leeds they feel oddly akin to us in Brisbane (not quite a major city, but still punching well above their weight).
What do you think are the short and long-term benefits you gained from the mentorship?
So far, I've gained an understanding of the inner workings of a giant media company like Fremantle, and how their global drama department supports their independent producers. From the perspective of the producers, I've learned about the industry in the UK and in what ways it differs from or is similar to the Australian industry. The connections I've made are invaluable. They will set me up to work with UK producers in the near and long-term future. I'm so grateful for Screen Queensland for this opportunity. It's an incredible gift, and will pay dividends for years.
What sort of costs did the mentorship funding cover for you, and why was this valuable?
Flights, accommodation, per diems and insurance to live in the UK (and travel internally in Europe) over six weeks.

What advice would you give to other practioners who are considering applying for the mentorship program?
Be bold in your goal setting and honest in your writing. Think big and brave and don't be scared to reach out to big names. There's a lot you can give them in return! 
Applications for the SQ Mentorship program are currently closed. Stay tuned for more information in this space shortly.