8-15 November

Share your screen career story with us on social media –
#SQmobNAIDOC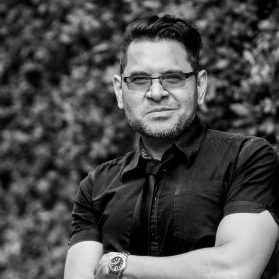 Douglas Watkin
Content Director (Aboriginal & Torres Strait Islander Program)
SQmob are creative, SQmob are passionate and SQmob are making waves in our industry.
Blackfellas have communicated stories through songlines, dance and yarning circles. Our stories have lasted the test of time because our methods of storytelling have moved through the millennia, adding film, TV, digital and games to the mix. What we do in this sector is in our DNA.
Being a responsive state screen agency is about fostering new and established First Nations talent and providing platforms to share our stories of joy, pain, hope and wisdom, far beyond our communities. These stories are universal and these stories are, and should be, highlighted and celebrated. That's what we aim to do this NAIDOC Week, and all year round, at SQ. Our Aboriginal and Torres Strait Islander program creates equitable initiatives that support real, active change in our industry, to get more mob working on screen and behind the scenes.  
 This NAIDOC Week keep an eye out on social media for some inspiring 2020 stories and deadly screen talent. Say "hi" and give a "like", and don't forget to share your story by hashtagging  #SQmobNAIDOC. Acknowledging talent and opening your mind is what NAIDOC is all about.   
If you have any questions about our programs, please do not hesitate to contact me or the SQ team, by emailing content@screenqld.com.au or calling 07 3248 0500.
Douglas
Kylie Munnuch
CEO
Today, on the first day of NAIDOC Week, I acknowledge the Aboriginal and Torres Strait Islander peoples as the traditional custodians of this country and recognise their connection to land, sea and community. At Screen Queensland, we pay our respects to First Nations people and their cultures, and to their elders past, present and emerging. We are committed to empowering Aboriginal and Torres Strait Islander screen practitioners to share their rich culture and varied perspectives with the Queensland and global community through screen storytelling.
After what has been a challenging year for everybody, NAIDOC Week is truly a welcome time to celebrate, acknowledge achievements and discover new and inspiring screen stories. Screen Queensland is proud to support Aboriginal and Torres Strait Islander practitioners through many programs aimed at building careers and generating original and diverse screen content for a local and global audience.
This NAIDOC Week 2020, I'm delighted we are showcasing some of the talented Aboriginal and Torres Strait Islander screen practitioners from throughout our state, whom Screen Queensland has supported, across our social media channels — Facebook, Twitter, Instagram and LinkedIn.
I invite our First Nations practitioners to share a screen career story on social media using #SQmobNAIDOC. Show us snippets of your projects. Take a photo of yourself and your team at work. Tell us what inspires you, what you find important, and what you love most about working in this dynamic and creative industry. I then encourage our supportive and generous Queensland screen community to engage, share and connect.
On behalf of the SQ team, we wish you all well this NAIDOC Week. Visit naidoc.org.au to discover NAIDOC activities in your area.
Kylie