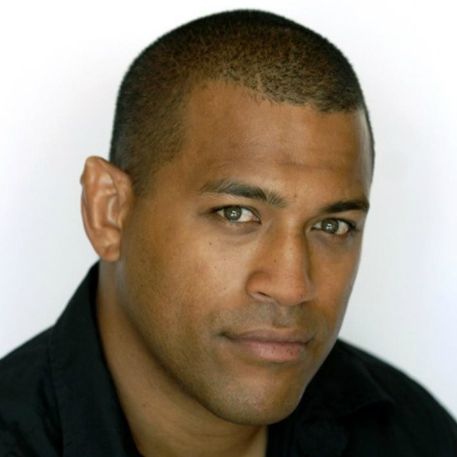 Free online zoom webinar
Wednesday 10 June, 1:30pm
A video upload of the completed session will be made available on the Screen Queensland YouTube channel.
---
Join us at 1:30pm Wednesday 10 June for an online In Conversation event producer and actor Aaron Fa'Aoso as he reveals insights into his career and craft.
---
Aaron is an owner of Lonestar – a production company based in Cairns, Queensland. Aaron (through Lone Star) is active across a range of projects. He has just recently completed filming his new series Strait to the Plate food documentary series for the SBS/NITV network. He is also the producer and writer of the landmark series Blue Water Empire, 3 x 1hour dramatised history documentary series for the ABC network.
In 2012, Aaron produced and starred opposite UK actor Brian Cox in the ABC crime drama, The Straits. The series is based on his original idea and Produced by Matchbox Pictures.
In 2015-16 Aaron was the producer attachment with Bunya Productions on Goldstone which won 10 out of 16 nominations at various festivals including Best Film at the Film Critics Circle of Australia awards.
Aaron's other producer credits include Yatha Pathway: Coming of Age and The Dinghy Girls: It's All About Girl Power for ABC iView; producer/director and writer on Gubaw Gizul of Saibai an episode of the Elements 4 x 30mins documentary series – a co- production with Wild Bear for the SBS/NITV network which explores the Aboriginal and Torres Strait Islander traditional connection with the elemental forces of earth, wind, fire and water. Director of Every King Tide for Bunya Productions a VR initiative for the SBS Network and Screen Queensland, producer of Deserve Desire, a short film funded by Screen Queensland and co-produced the Winds of Zenath, Cultural Festival 2018 (Torres Strait Island Cultural Festival) for SBS/NITV.