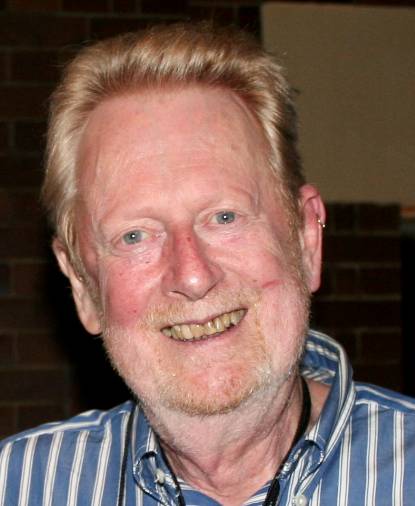 We are so very saddened at passing of our friend and colleague, Jock Blair who was a big part of the SQ family.
Jock was a TV writer, producer, director and production executive, and worked at SQ (formerly PFTC) for 11 years.
The team at SQ shared a few of their thoughts and memories of Jock.
'He had a great sense of humour, endless stories of his escapades in the industry and an infectious laugh.  He really was one of a kind and will be greatly missed,'… 'Many will remember Jock was a strong leader and mentor in our local industry'…'He was a joy to work with and I'll always remember his booming laugh that you could hear from down the hall'…'He was such a vibrant person. The Australian Screen Industry has indeed lost a legend'. 'One of my greatest joys was driving Jock home to the Gold Coast after events in Brisbane and hearing so much about his private life and what he considered the greatest accomplishment of his life, his family.'
This article below was published in Inside Film by Don Groves on his retirement from SQ in 2014 where he reflected on his outstanding screen industry career.
Vale Jock Blair.
---
Jock Blair reflects on an illustrious career
05 August, 2014 by Don Groves
Published originally by If.com.au .
Re-published with permission from Inside Film.
As Jock Blair reflects on a 55-year career as a writer, producer and production and development executive, he identifies the two biggest changes he's witnessed in the screen industry.
One relates to money, the other to creativity.
"It's incredibly difficult to finance production," says Blair, who retired last week after 11 years as director – development at Screen Queensland.
"Television drama is now very conservative as networks are playing it safe," he tells IF. "In the 1980s things were pretty wild and you could produce things you can't do now. As an industry we seem to have lost our edge creatively."
Blair initially joined SQ's predecessor, the Pacific Film and Television Commission, for six months to help out in development but he liked the role so much he stayed.
He is proud to have helped the careers of multiple creative types and companies including Tracey Robertson and Nathan Mayfield's Hoodlum Entertainment and writer Stephen M. Irwin; the agency funded two short films by Irwin and the development of Secrets & Lies.
He mentored Daley Pearson and the creative team at Ludo Studio, whose #7DaysLater won an International Digital Emmy®; and Carbon Media, which produced 5 Kangaroos, a mixed-media film starring Jessica Mauboy and five Aboriginal kids, for Sesame Street.
A year after leaving school against his parents' wishes Blair began his career at 17 as Graham Kennedy's assistant on In Melbourne Tonight and stayed for five years. Kennedy encouraged him to write gags, working with head writer Mike McColl-Jones. "I got £5 if a gag got a laugh and nothing if it didn't," he recalls.
He sold his first three scripts for cop show Homicide, written on spec, to Crawford Productions, the start of a long career with Hector Crawford's famous company.
After penning scene breakdowns for the TV station satire The Box he was summoned to Crawford's office where he was told, "Congratulations, you are now the producer of The Box."
A stunned Blair confessed, "I knew nothing about producing. I had to run around asking people what a producer did." He co-created The Sullivans (which the Seven network turned down, to its eventual regret, and a year later was picked up by Nine), Bluey and Skyways.
In the early 1980s he joined the John Morris-led SAFC as head of production and remained there for 11 years, overseeing projects including Sara Dane, The Shiralee, Playing Beatie Bow and Robbery Under Arms.
After the SAFC decided to cease in-house production he moved to Queensland to produce the series Paradise Beach for former Crawford's colleagues Michael Lake and Nick McMahon at Village Roadshow Pictures, followed by Snowy River: The McGregor Saga for Becker Entertainment.
The tale of three teenagers who leave the drabness of the suburbs in search of sun, surf and fun, Paradise Beach ranks among his career highs and lows. "The cast were not great actors but they tried very hard and the crew were very inexperienced," he says. "The publicity was so bad but everyone who worked on the show adored and gave their hearts to it."
And the low? "Having to walk into a studio and tell the cast and crew the network had decided not to renew a show." That happened on The Box and Paradise Beach.
Blair counts himself lucky to have had such a long and varied career, observing, "I have had one of the greatest rides that anyone could hope for."
---