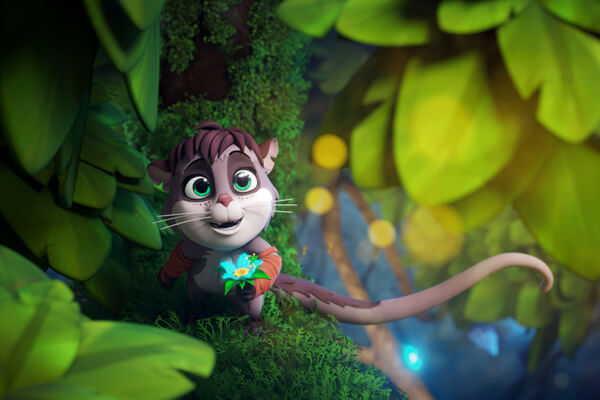 The Wishmas Tree, the first feature film on slate deal for Universal Content Group and Brisbane studio Like A Photon Creative to premiere Saturday, October 5 at the Brisbane International Film Festival
Brisbane International Film Festival will hold the world premiere of the much-anticipated children's animated film The Wishmas Tree this Saturday October 5. The film produced by Brisbane animation studio Like A Photon Creative and distributed by Universal Content Group marks the first feature film slate deal for the company.
The deal which has three movies in production under The Tales of Sanctuary City franchise; The Wishmas Tree, Combat Wombat and Daisy Quokka, is the first time three feature films have been financed at once in Australian history.
Premier of Queensland Annastacia Palaszczuk said Like A Photon Creative was a Queensland screen success story: "This innovative screen business is producing screen content right here in Brisbane for young audiences all over the world. During production of The Wishmas Tree, Like A Photon Creative created approximately 50 local jobs and injected more than $2.7 million into the local economy. Queensland has become the location of choice for all kinds of screen and stream productions and my government is proud to continue to support this industry through Screen Queensland because it creates jobs, boosts tourism and promotes our international reputation."
The film starring award-winning Australian actress Miranda Tapsell, Brisbane's Kate Murphy and international comedian Ross Noble has already been sold to multiple territories internationally and is set for release across Australia and New Zealand on February 13, 2020.
The film with support from Screen Queensland and Screen Australia will continue to be distributed internationally by Odin's Eye Entertainment.
The film marks the start of an exciting partnership for Like A Photon Creative and Universal Content Group.
Like A Photon Creative Co-CEO Digital, Kristen Souvlis said: "We are pumped and ready for The Wishmas Tree to leave our humble Brisbane studio and get up on the big screen this weekend. Creating fun but educational and purposeful children's content is at the core of all our business projects. The Wishmas Tree is just the start of some daring, courageous and inspirational characters and stories we hope will delight and inspire our young audiences."
The Wishmas Tree follows Kerry (Tapsell), a young, rebellious ringtail possum. On Wishmas Day while the other children in Sanctuary City pluck seeds from the Wishmas Tree to make wishes of generosity and unity, Kerry plucks the last seed head in defiance of the city's strict laws and wakes the next morning to a city blanketed in snow and ice and a dying Wishmas Tree. Yarra the Frilled-Neck Lizard (Noble) along with a raft of other Australian animals calls Sanctuary City home. He takes Kerry on a wild adventure to the fabled Sister Tree to make a new wish and reverse the damage that has been done to Sanctuary City.
Chair of Screen Queensland Linda Lavarch said: "Like a Photon Creative is led by two formidable women in the screen industry, Nadine Bates and Kristen Souvlis. They are paving the way for the next wave of diverse screen industry talent to break into the sector by providing training opportunities on their productions including three attachments on The Wishmas Tree. We look forward to the film launching in cinemas next year and eagerly await the next two instalments of The Tales of Sanctuary City franchise."
The Wishmas Tree will hit cinemas February 13, 2020.
The Wishmas Tree is a Like A Photon Creative production, distributed locally by Universal Content Group and internationally by Odin's Eye Entertainment and financed with support from Screen Queensland and Screen Australia.
Media Contacts:
Like A Photon Creative Publicity Contact:
Feature Communications Director – Lisa Poisel
lisa@featurecommunications.com.au, 0412 151 664
Screen QLD Publicity Contact:
Bronwyn Fardon
bfardon@screenqld.com.au, 0414 327 576