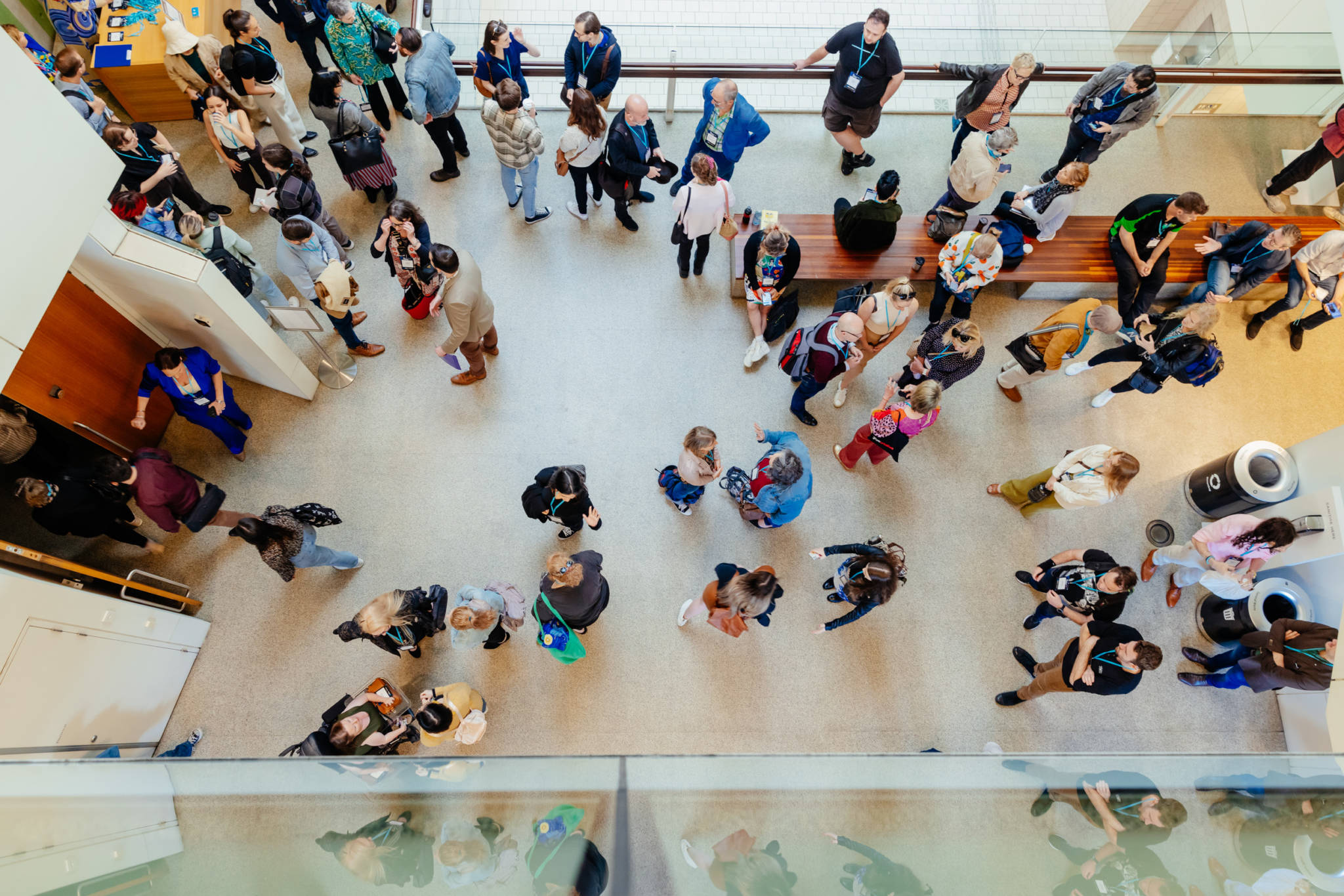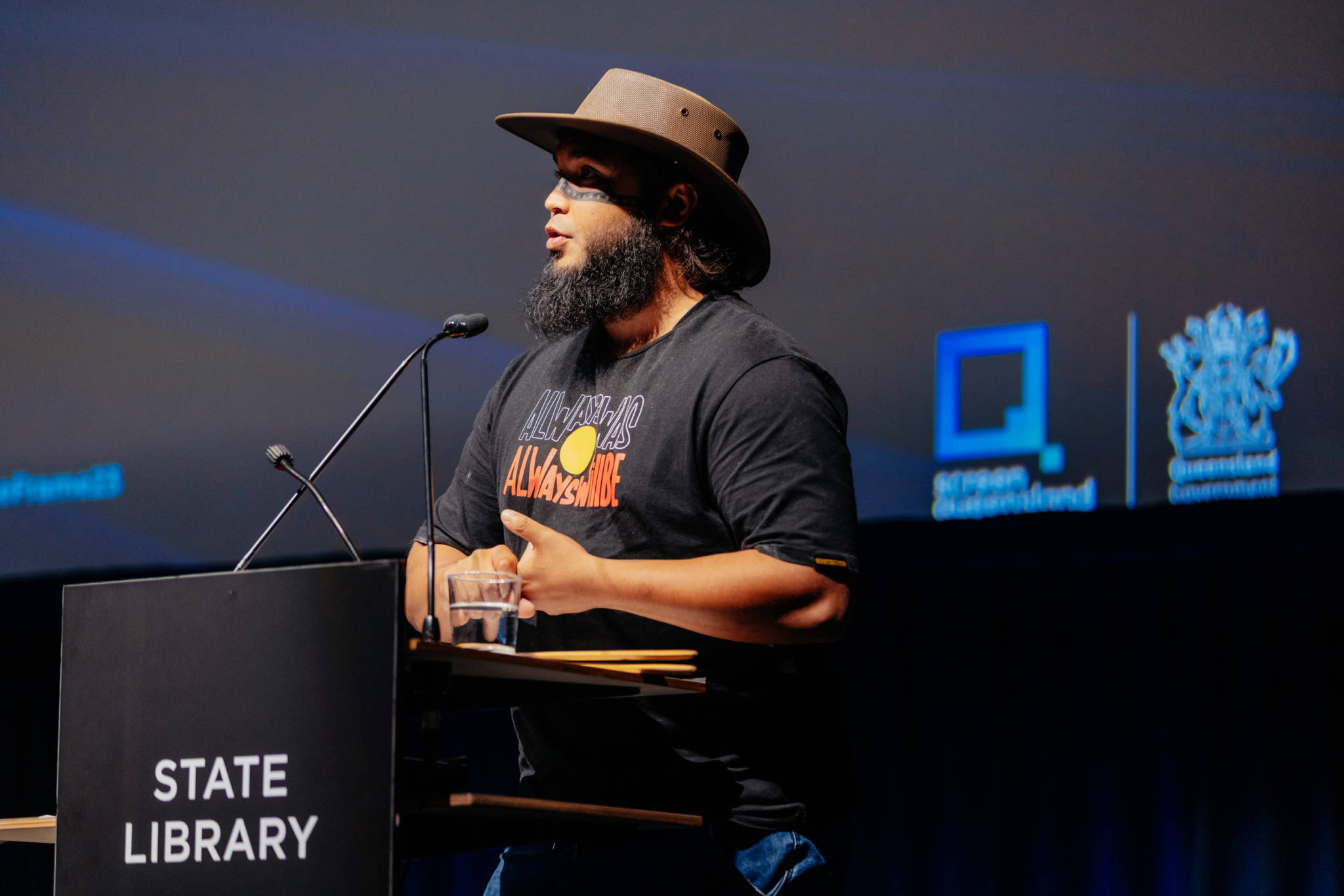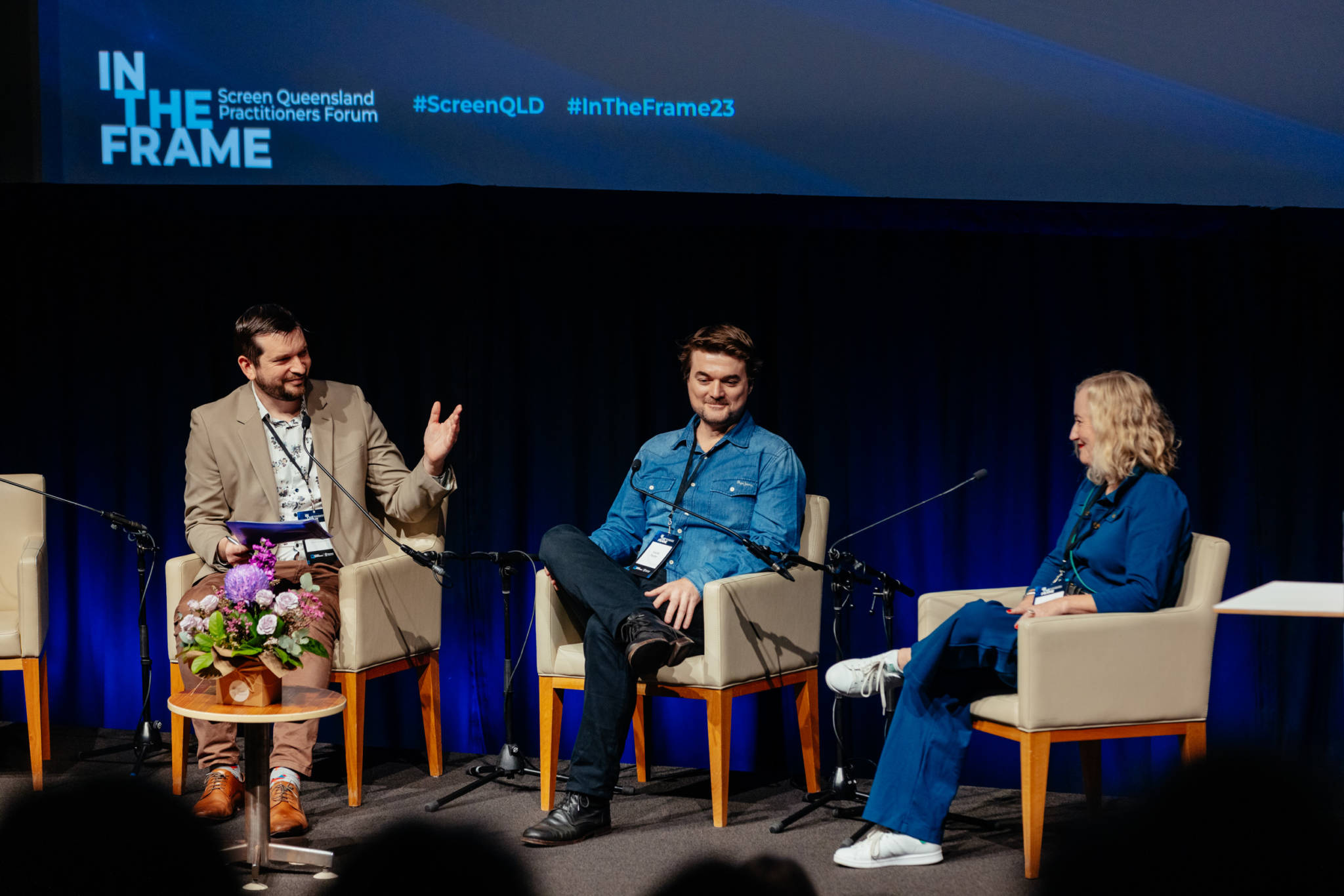 Session One
In Limbo: The Power of Dramedy
Moderator: Phil Enchelmeier (Content Director, Screen Queensland)
Panel: Lucas Taylor (Writer/Executive Producer, In Limbo), Jennifer Cummins (Producer, In Limbo)
First up we heard from Lucas and Jennifer who reflected on their experiences creating and selling the ABC series In Limbo. "Not everybody got the pitch… it was a brave leap," said Jennifer. Lucas said he approached the project as, "a comedy about friendship and grief, and a drama about suicide."
The pair emphasised the importance of creating a safe space on set and that a mental health induction at the start of production helped prioritise this for cast, crew and creatives throughout the project.
"Because of the nature of the material, we knew we wanted to make sure everyone on set felt safe… if you feel safe, you can do your best work," Jennifer said.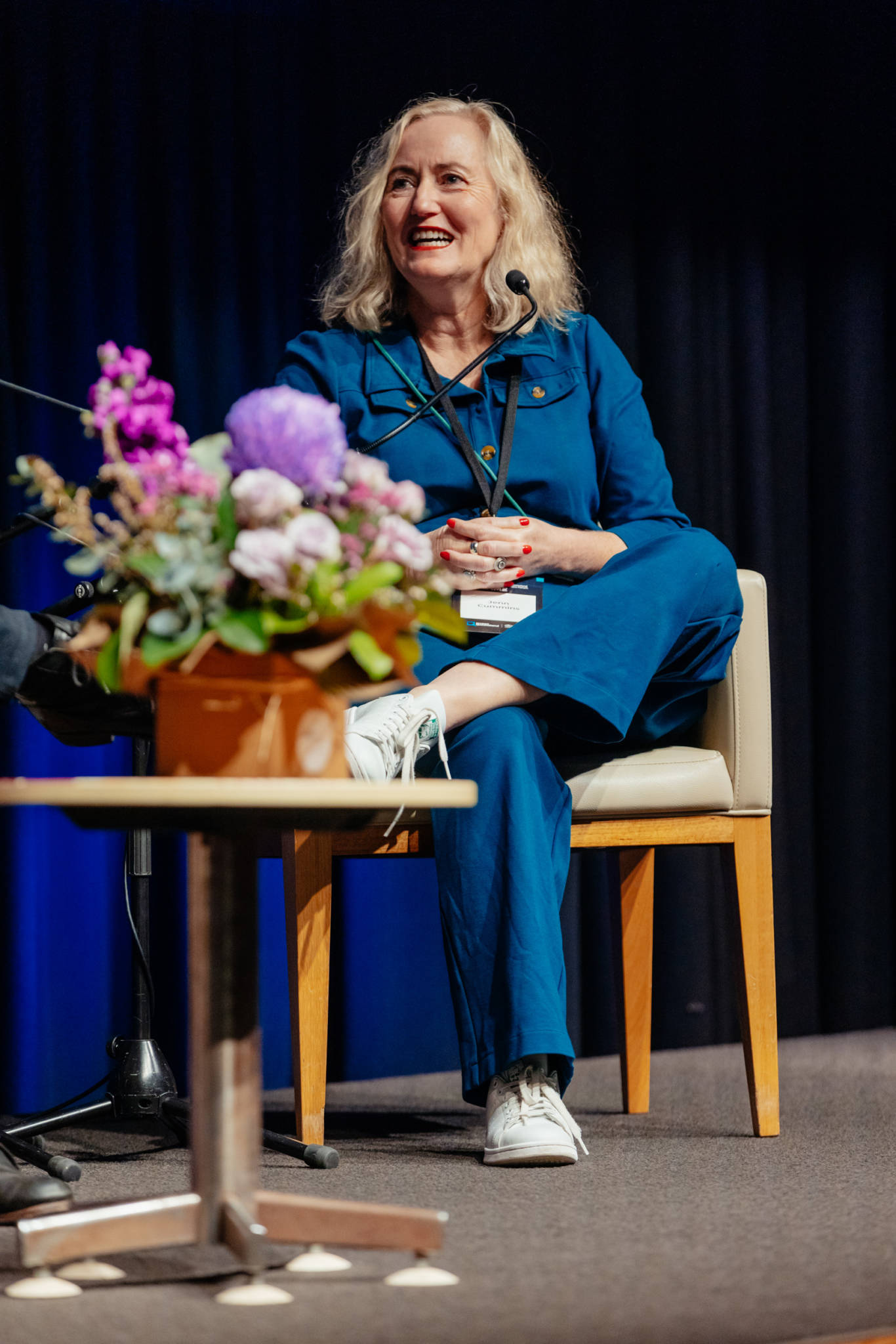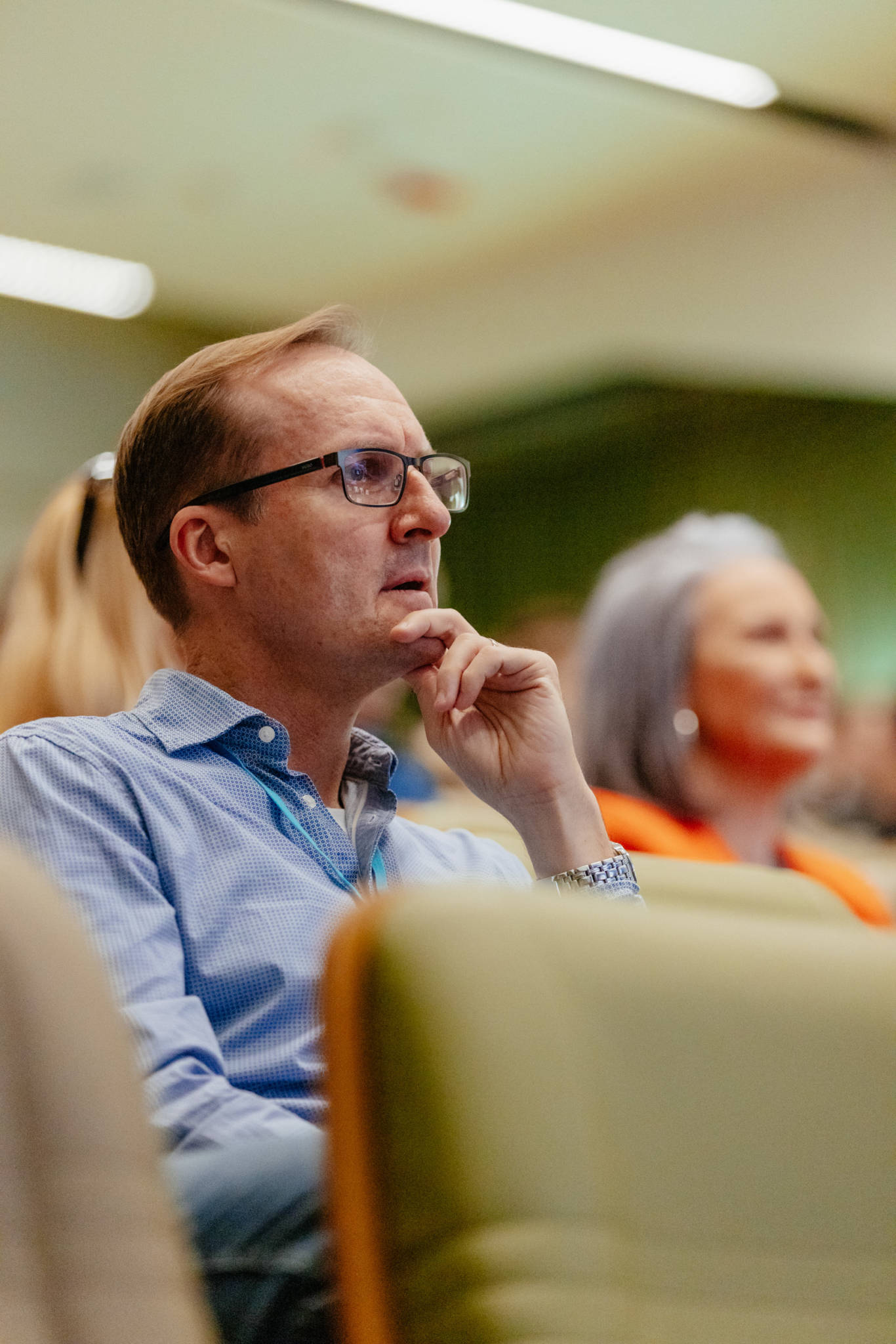 Session Two
Getting down to business with Jaggi Entertainment
Moderator: Tanya Ellen (Head of Content, Screen Queensland)
Panel: Steve Jaggi (CEO, Jaggi Entertainment), Kylie Pascoe (Producer, Jaggi Entertainment)
Next, we delved into the business of filmmaking and creating a fruitful production line, with Jaggi Entertainment unpacking the benefits of the studio model and looking to international industry for ways to improve our practice locally.
Through a consistent pipeline of projects, Jaggi Entertainment have built up a team of in-house practitioners across a range of roles, acquired their own equipment assets and established their own post-production arm with Serve Chilled. Taking a scaled approach to growth has ensured that the team can deliver a range of projects for international audiences within quick production timelines, while also supporting work/life balance for their team. "It's important to be prepped… it's all about planning," Steve said about his company's significant output of content.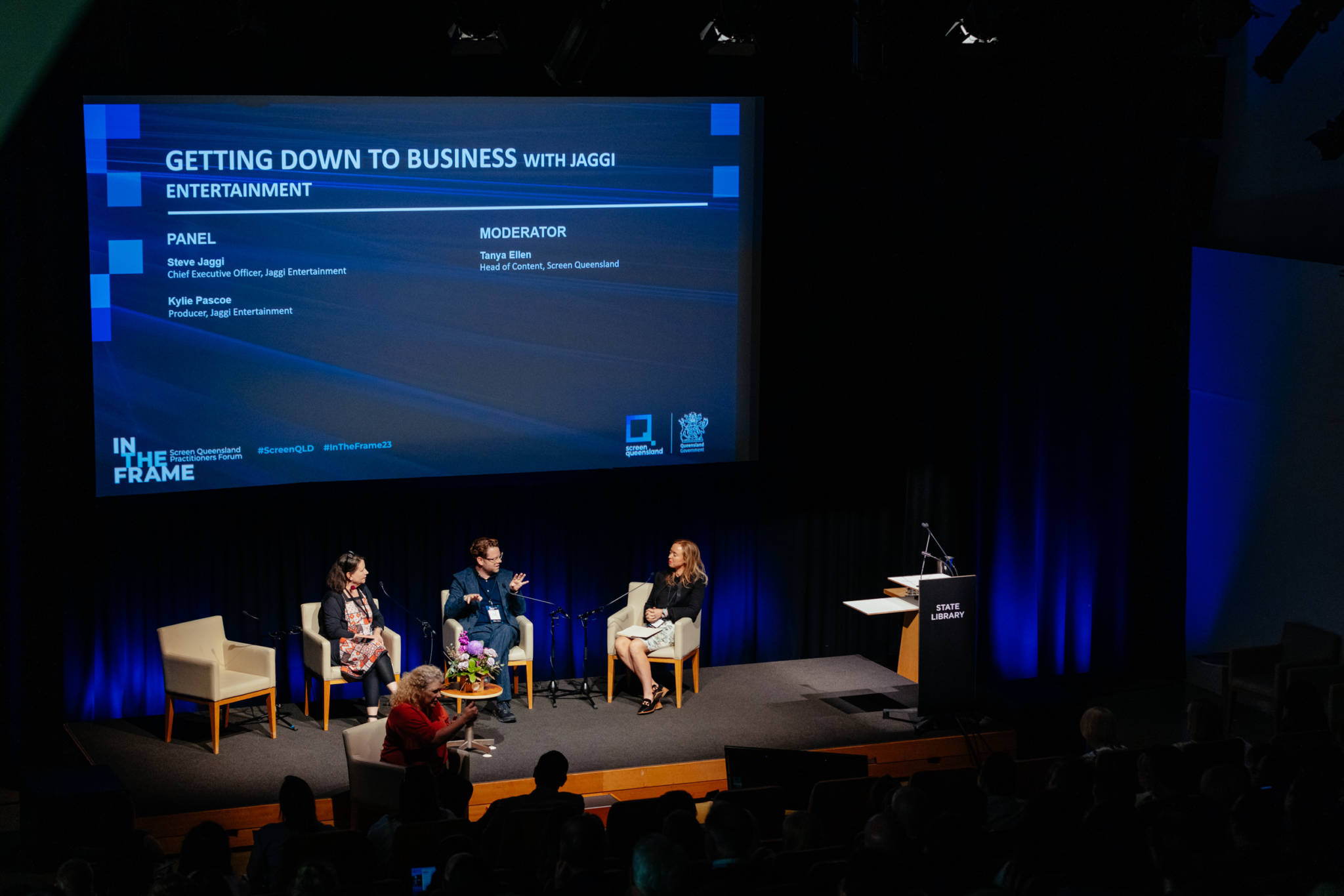 As for the reason for their success: "We've always looking to elevate and make the best in class, but we're not trying to compete. We find the gaps."
By applying this studio model Jaggi Entertainment has formed their catalogue including upcoming Love is in the Air, Dive Club, Mistletoe Ranch, The Curious Case of Dolphin Bay, Beyond the Reef, A Royal in Paradise and many more.
For those looking to find their niche, Kylie encourages others to "be bold."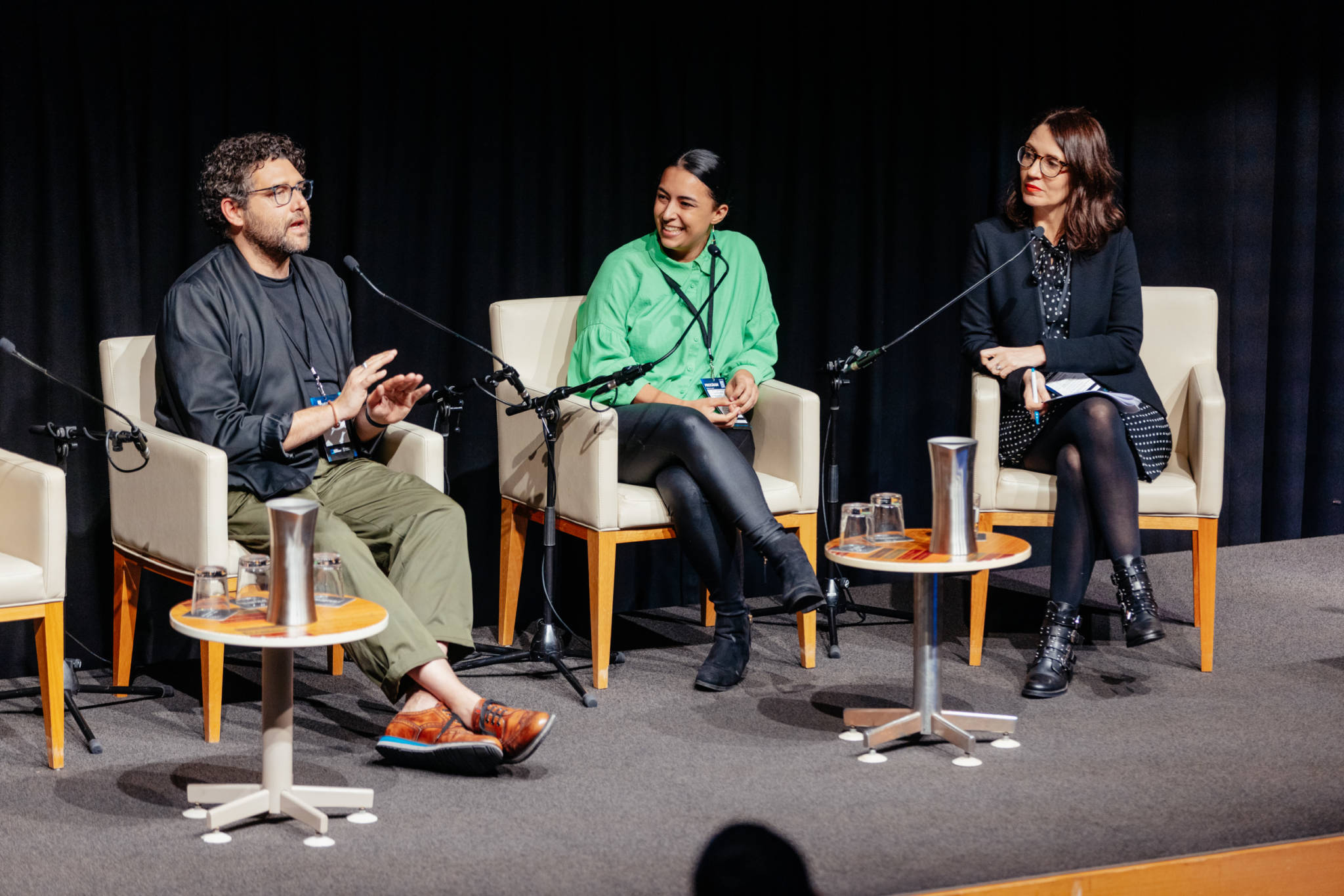 Session Three
Building a broad slate: benefits of a diversified approach with Orange Entertainment Co.
Moderator: Dr Belinda Burns (Chief Creative Officer, Screen Queensland)
Panel: Dan Lake (Head of Content, Orange Entertainment Co.), Diya Eid (Development Producer, Orange Entertainment Co.)
Dan Lake and Diya Eid joined us for this panel to discuss their varied slate of co-production projects from a factual true crime series with Southern Pictures (Missing Persons Investigation) to an upcoming dramedy feature with Invisible Republic (Audrey).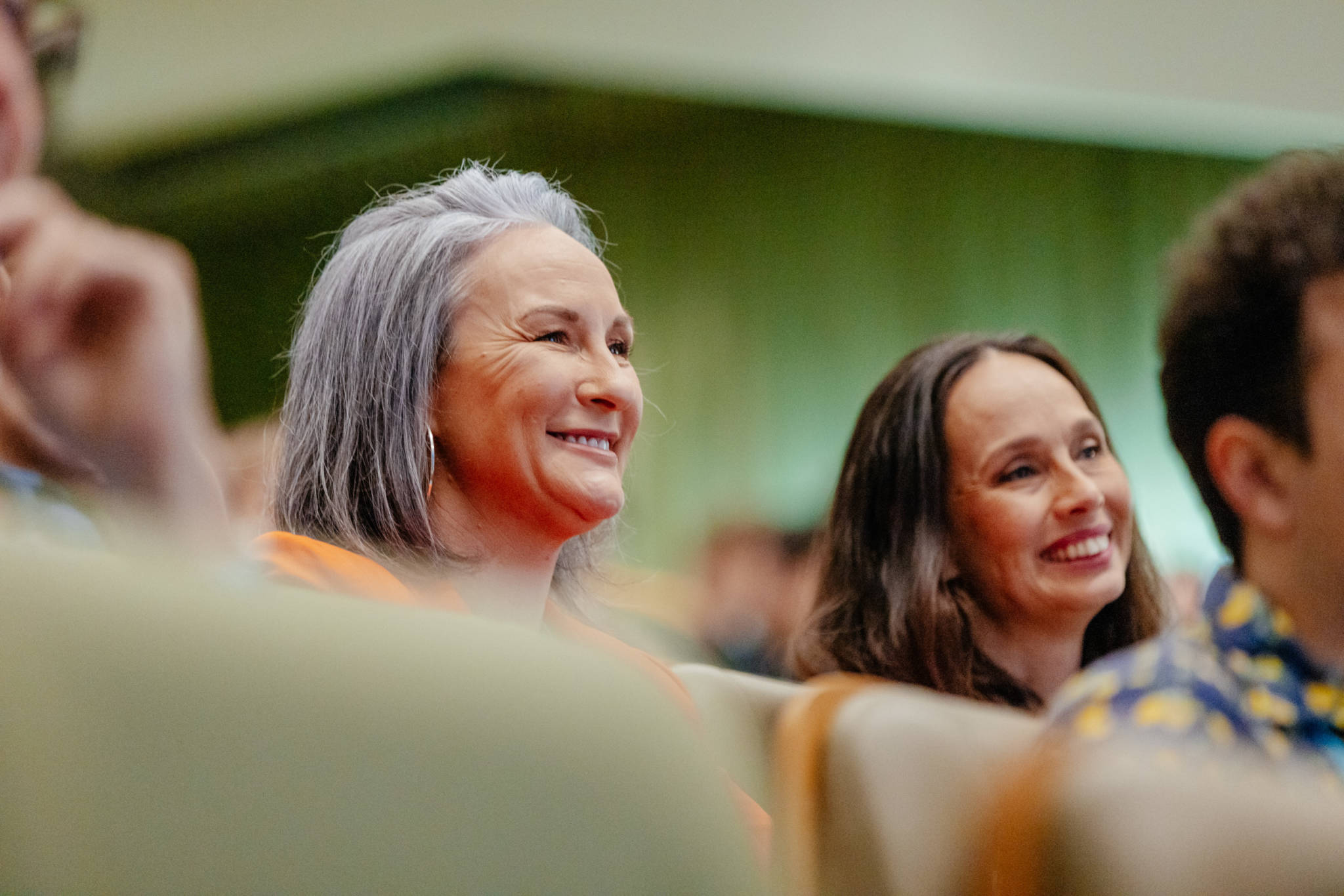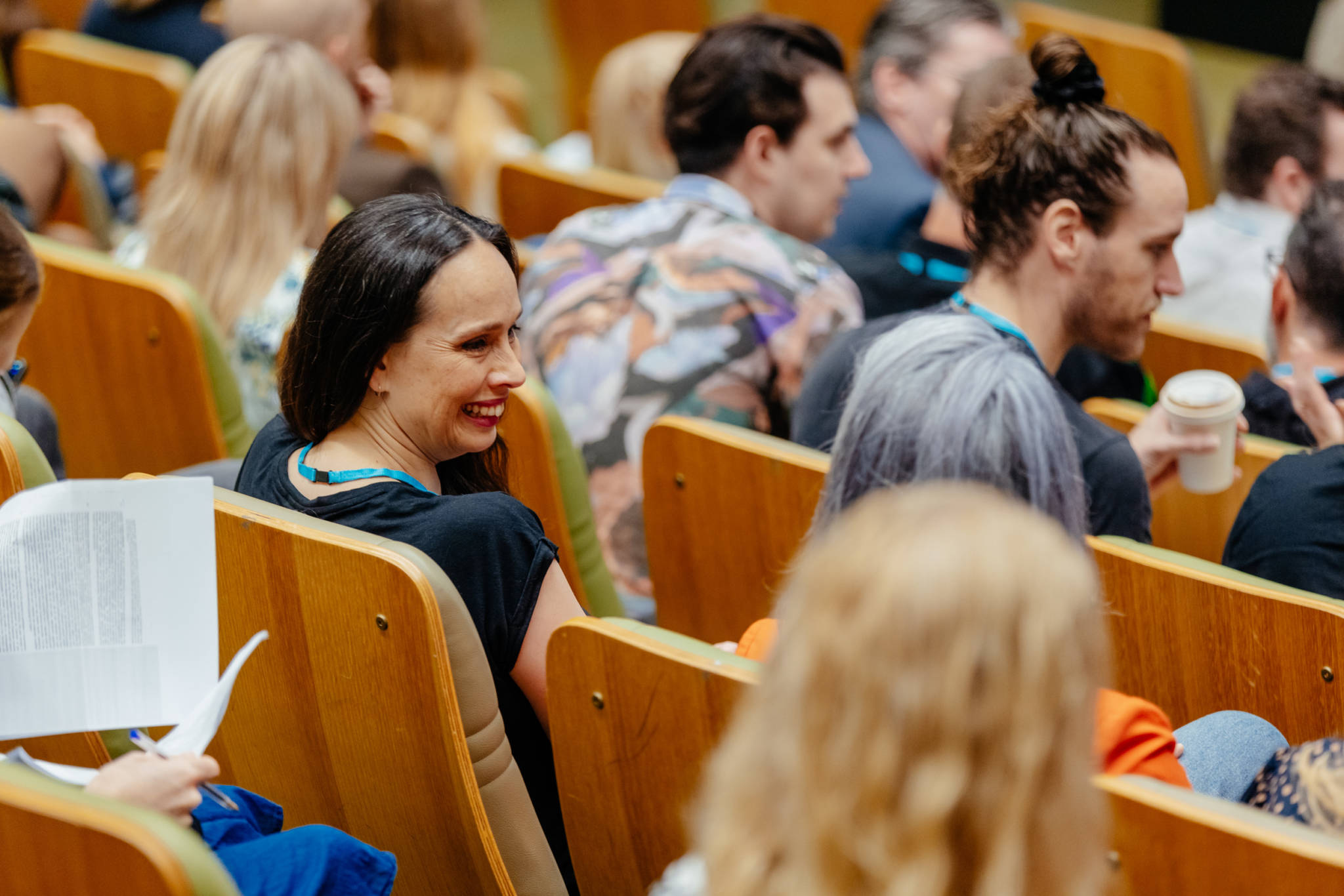 "A lot of what we do is co-production… because I don't like working alone—I love working with others," said Dan. "We're not afraid of working with other people and we know our place when working with other people."
The team at Orange Entertainment Co. revel in the opportunity to collaborate and create alongside other practitioners. They emphasised that finding your people is the most important part of getting a project made.
On looking to the future, they encouraged emerging practitioners that there is opportunity on the horizon.
For writers: "Have a really strong idea of what the story is, who it's for and what's the emotional journey," Diya said.
For directors: "Studios aren't afraid of first timers anymore," said Dan.
And for everyone: "Features are back!"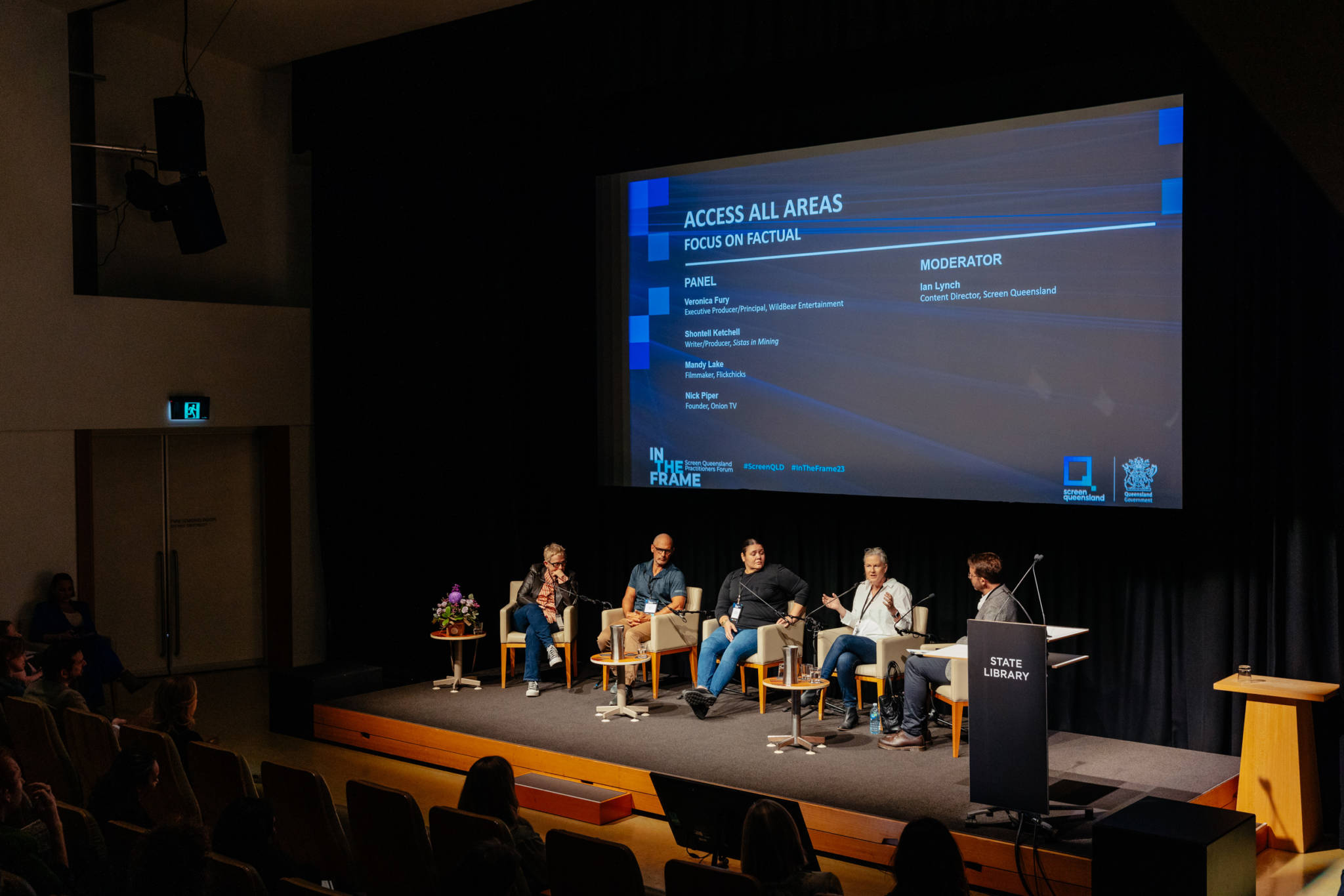 Session Four
Access all areas: focus on factual
Moderator: Ian Lynch (Content Director, Screen Queensland)
Panel: Veronica Fury (Executive Producer/Principal, WildBear Entertainment), Shontell Ketchell (Writer/Producer, Sistas in Mining), Mandy Lake (Filmmaker, Flickchicks) and Nick Piper (Founder, Onion TV)
This panel of filmmakers spanned the full spectrum of factual screen storytelling, but it was clear that one element remains paramount to any production in this space—building and maintaining trust with the subjects is essential for access to their stories.
Each panellist recounted their own experiences on productions: Nick recounted his slow approach on the Stan Original series Dawn of the Dolphins with Wayne Bennet; Shontell talked about becoming her own subject in an unexpected turn of events on Sistas in Mining; Mandy outlined some of the unique challenges of working with some of Australia's oldest citizens on The 100+ Club, and Veronica talked about emphasising the capacity of the screen to find an audience for a cause and the benefits of that platform.
The trick to gaining access isn't really a trick at all; it's about forming a relationship by spending time with the subjects away from the camera, respecting their need for space and understanding the discomfort inherent in being filmed for those in front of the camera.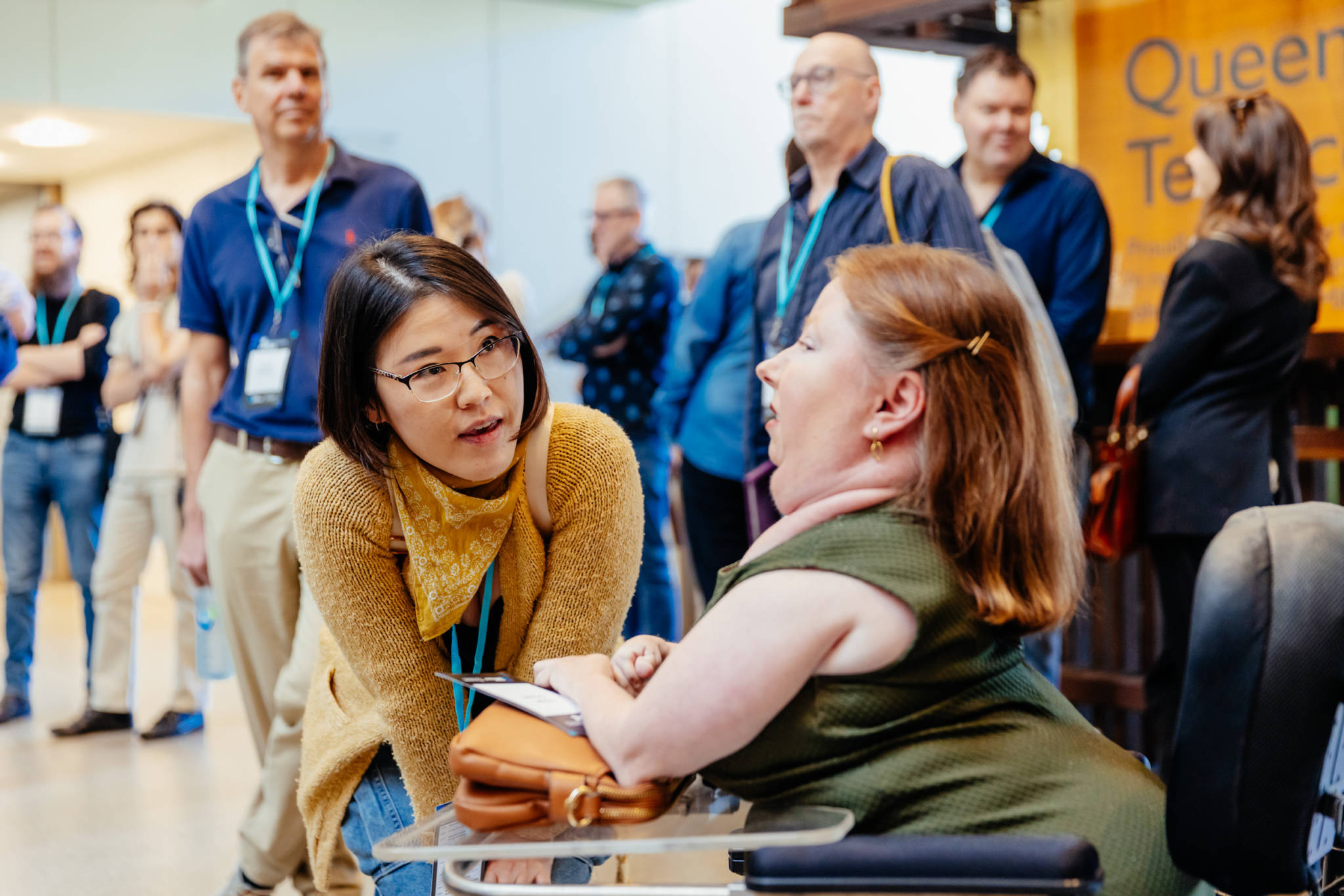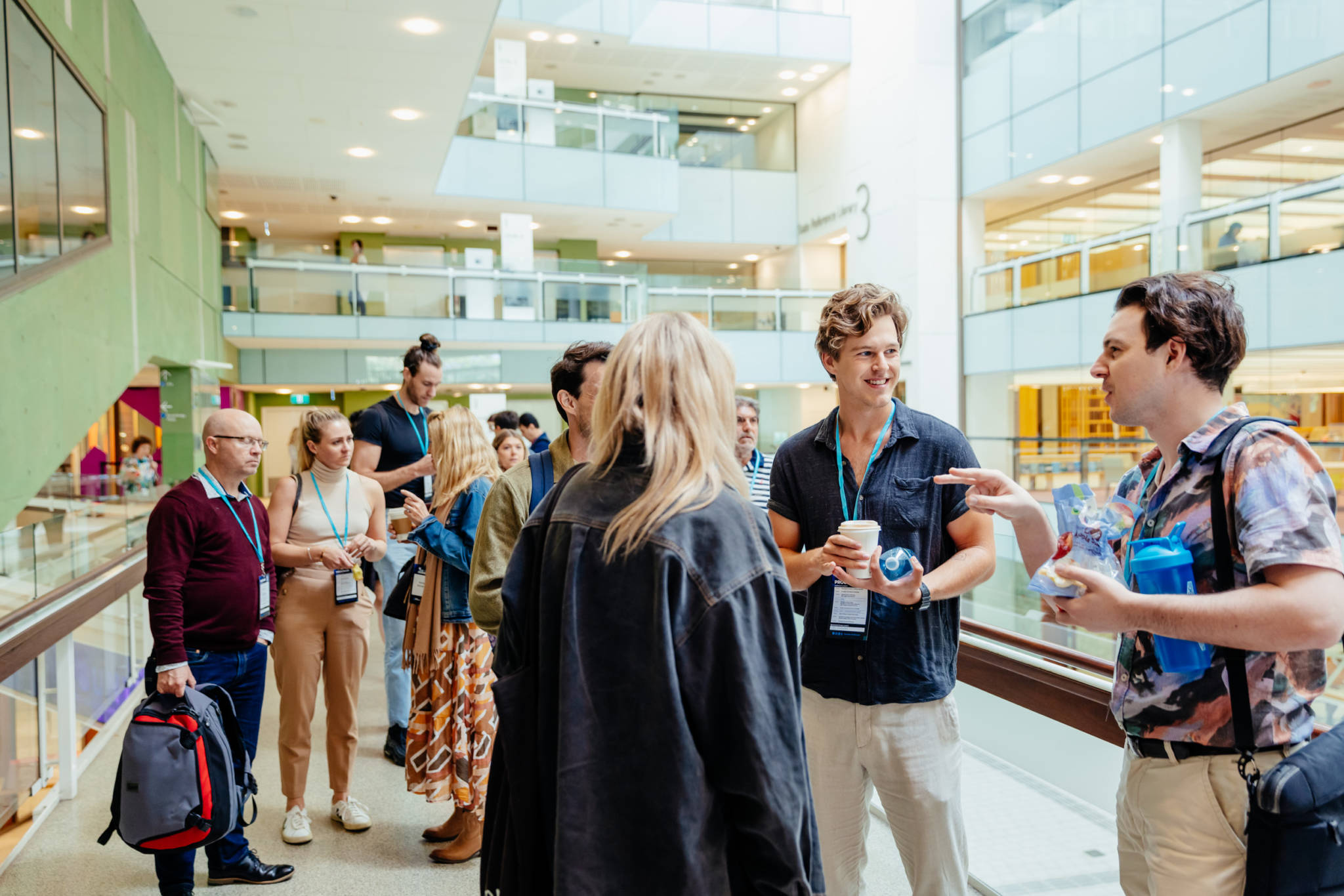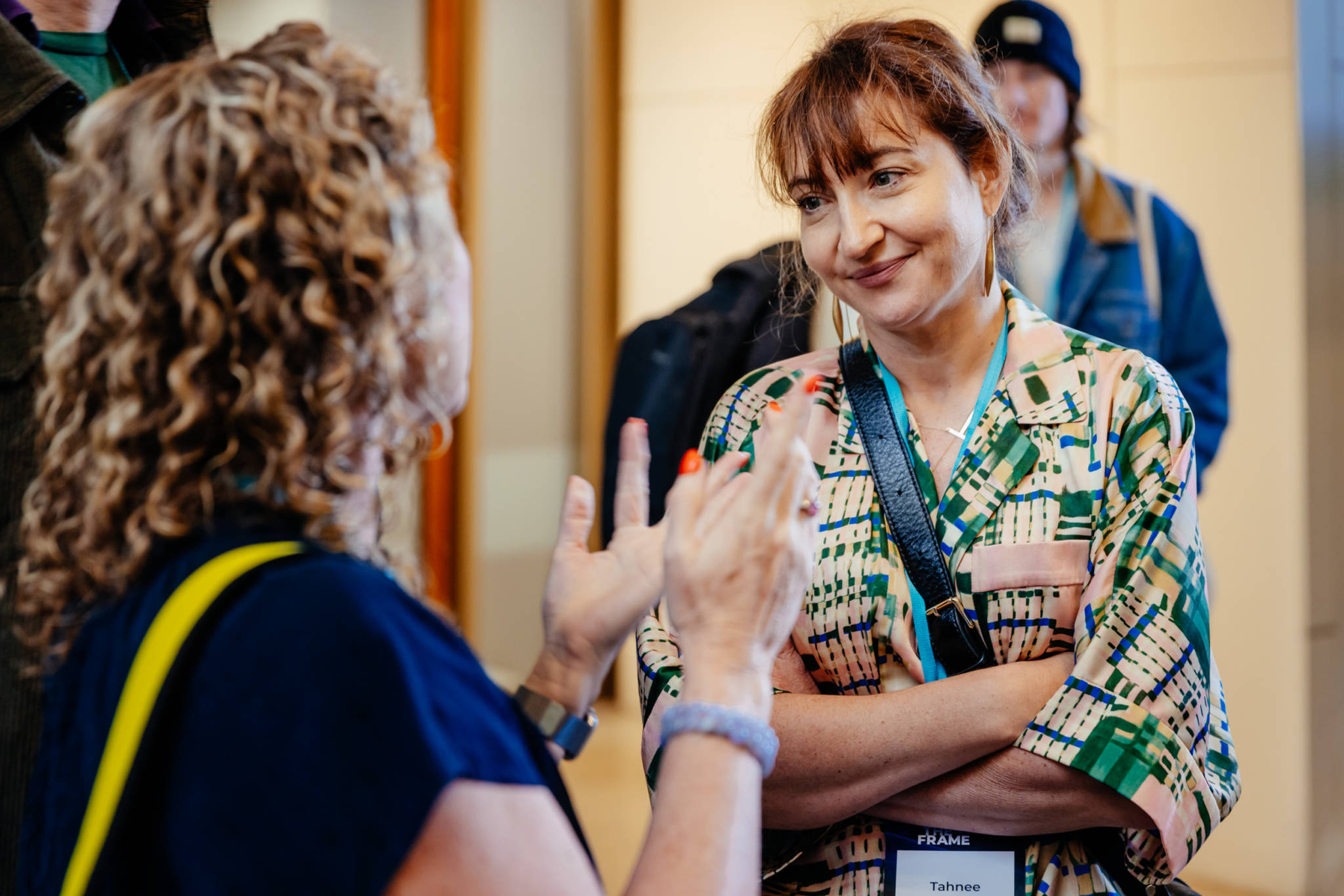 After a morning full of valuable conversations and industry insights, the panellists and attendees broke for lunch. Here, practitioners of all backgrounds and career progressions could connect and discuss the morning's ideas before returning to the theatre.
Session Five
Like a Photon gets scary
Presenters: Kristen Souvlis (Co-Founder, Like a Photon Creative) and Nadine Bates (Co-Founder, Like a Photon Creative)
Following the break, Like a Photon Creative presented their innovative business model that allows them to create high quality animated films for less while showcasing Australian perspectives on an international stage, including business partnerships from outside the industry.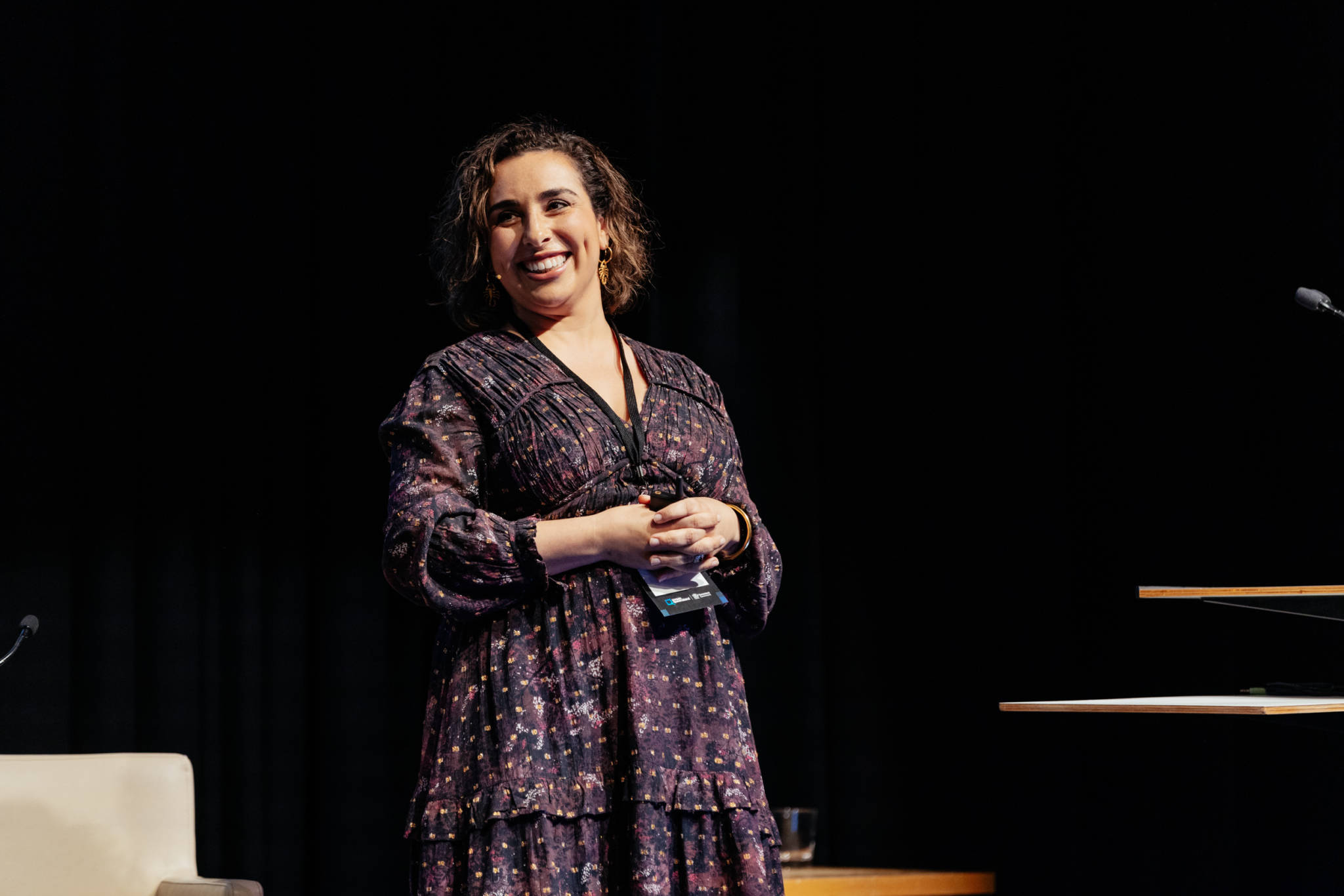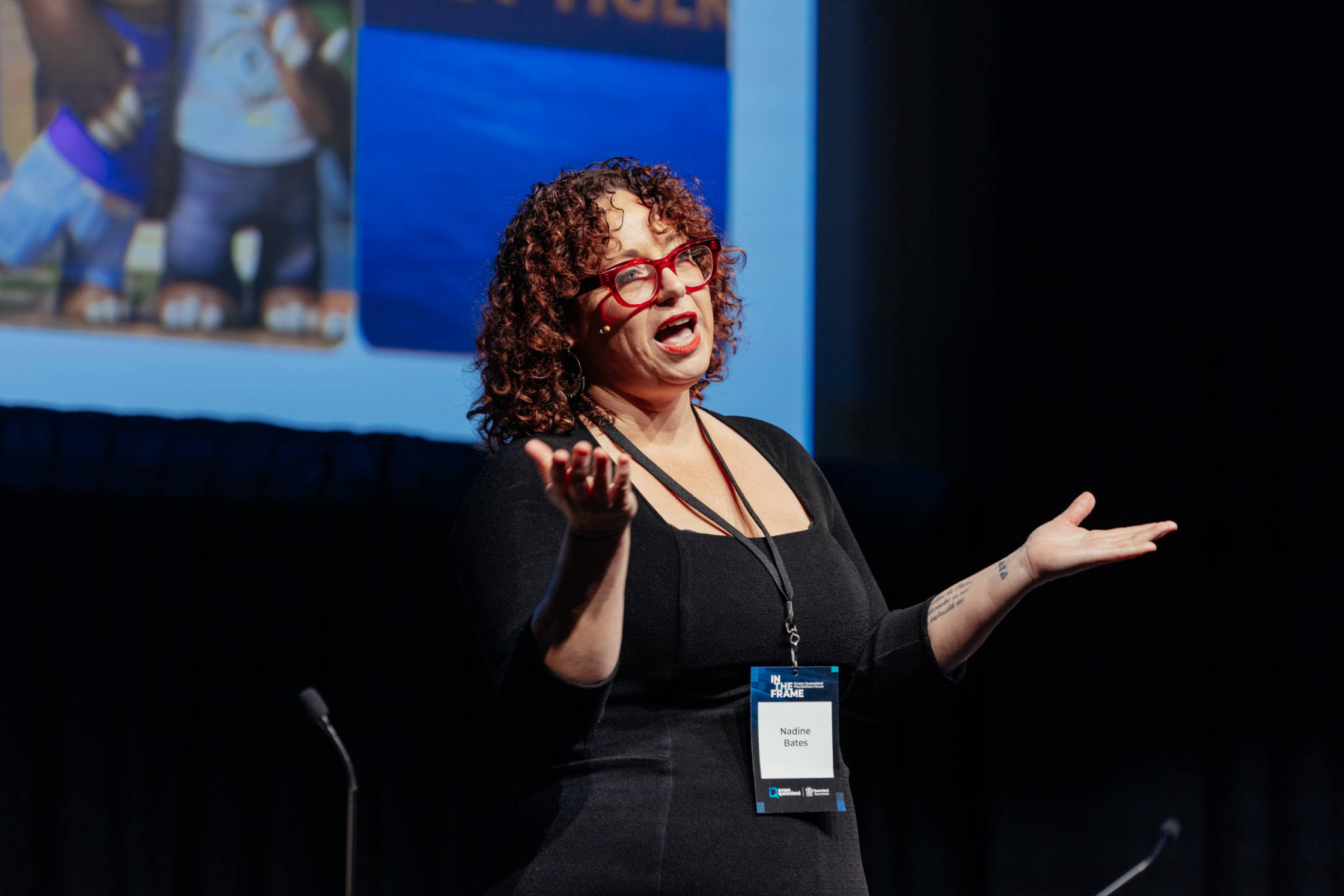 It all comes down to finding a point of difference. The team shared their out-of-the-box approaches that have included writing sincere letters to voice actors, creating physical miniature sets for animation backgrounds and adapting beloved comic book series Scarygirl.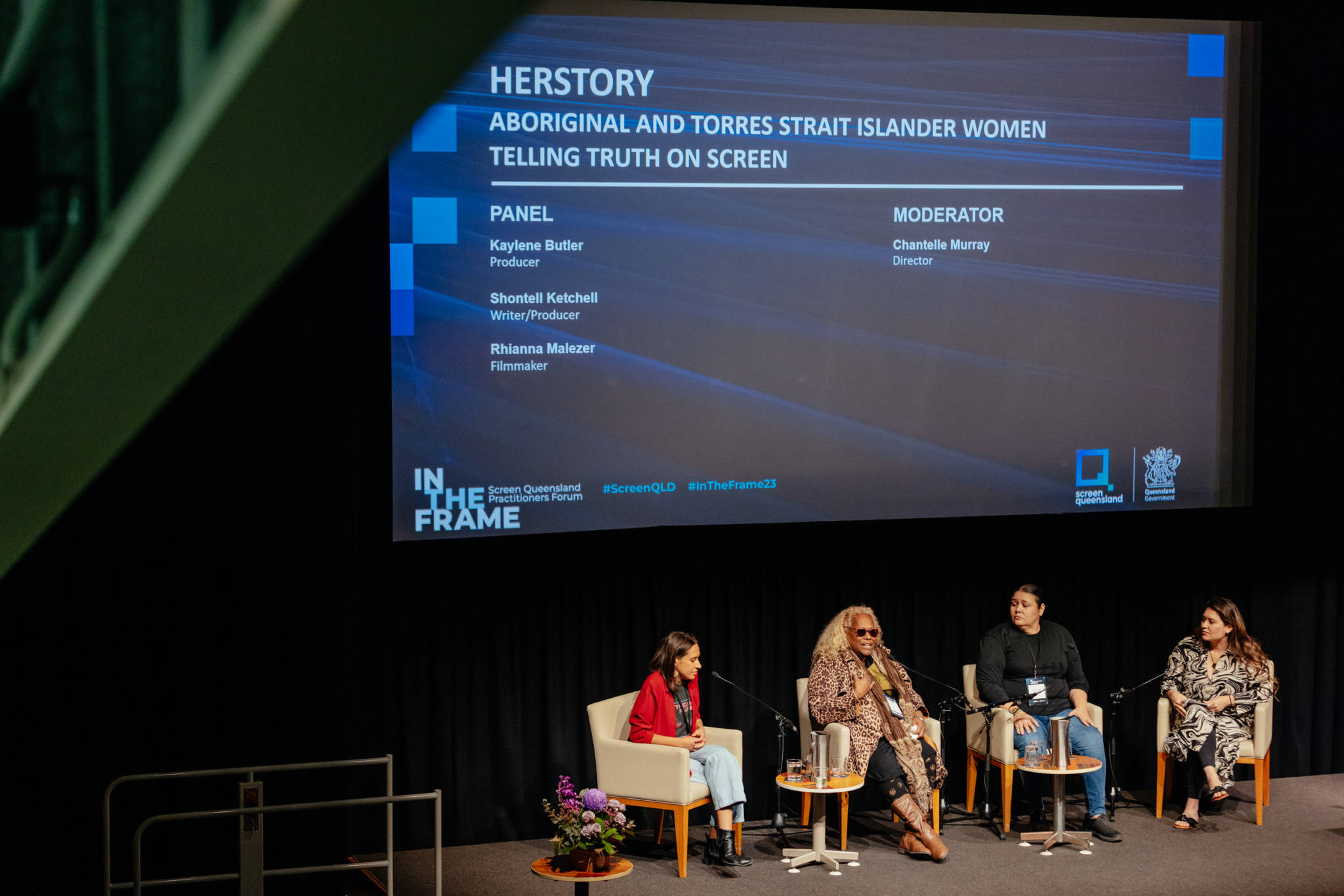 Session Six
Herstory: Aboriginal and Torres Strait Islander women telling truth on screen
Moderator: Chantelle Murray (Director)
Panel: Kaylene Butler (Producer), Shontell Ketchell (Writer/Producer), Rhianna Malezer (Filmmaker)
Towards the end of the day, the panels moved into the larger social challenges facing the film industry. The Herstory panellists all commented on the feeling of a rising tide of change where the voices of First Nations women are gaining new power within the industry.
"We're in the midst of shifting the gaze," Rhianna puts it, referencing how stories are moving away from serving the non-Indigenous perspective, to being made by First Nations people for First Nations peoples. "Indigenous representation is whatever we say it is."
The panel discussed the pressures they can feel representing and speaking on behalf of the broad range of First Nations communities, and the importance of connecting with the local Traditional Owners and communities to inform a project.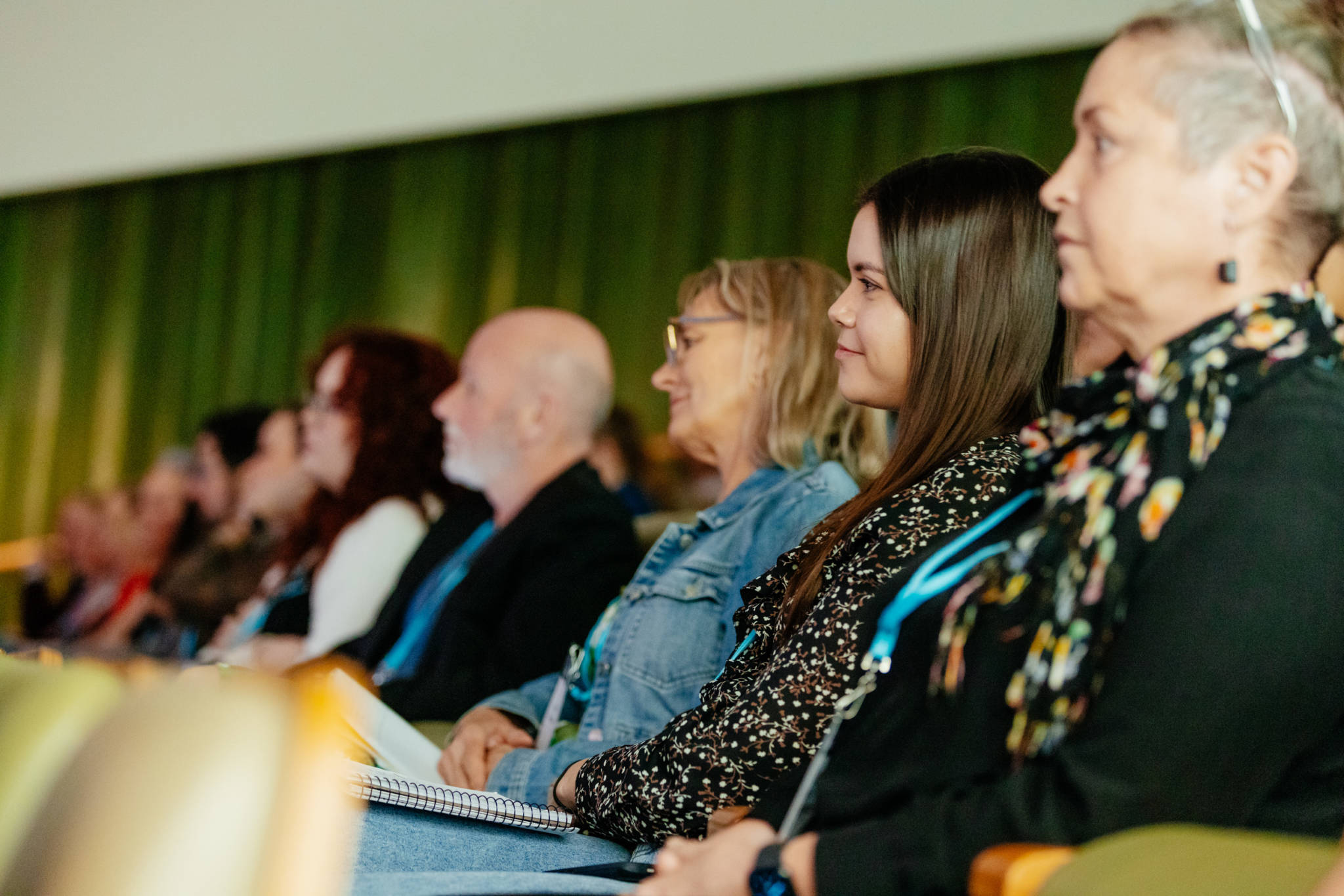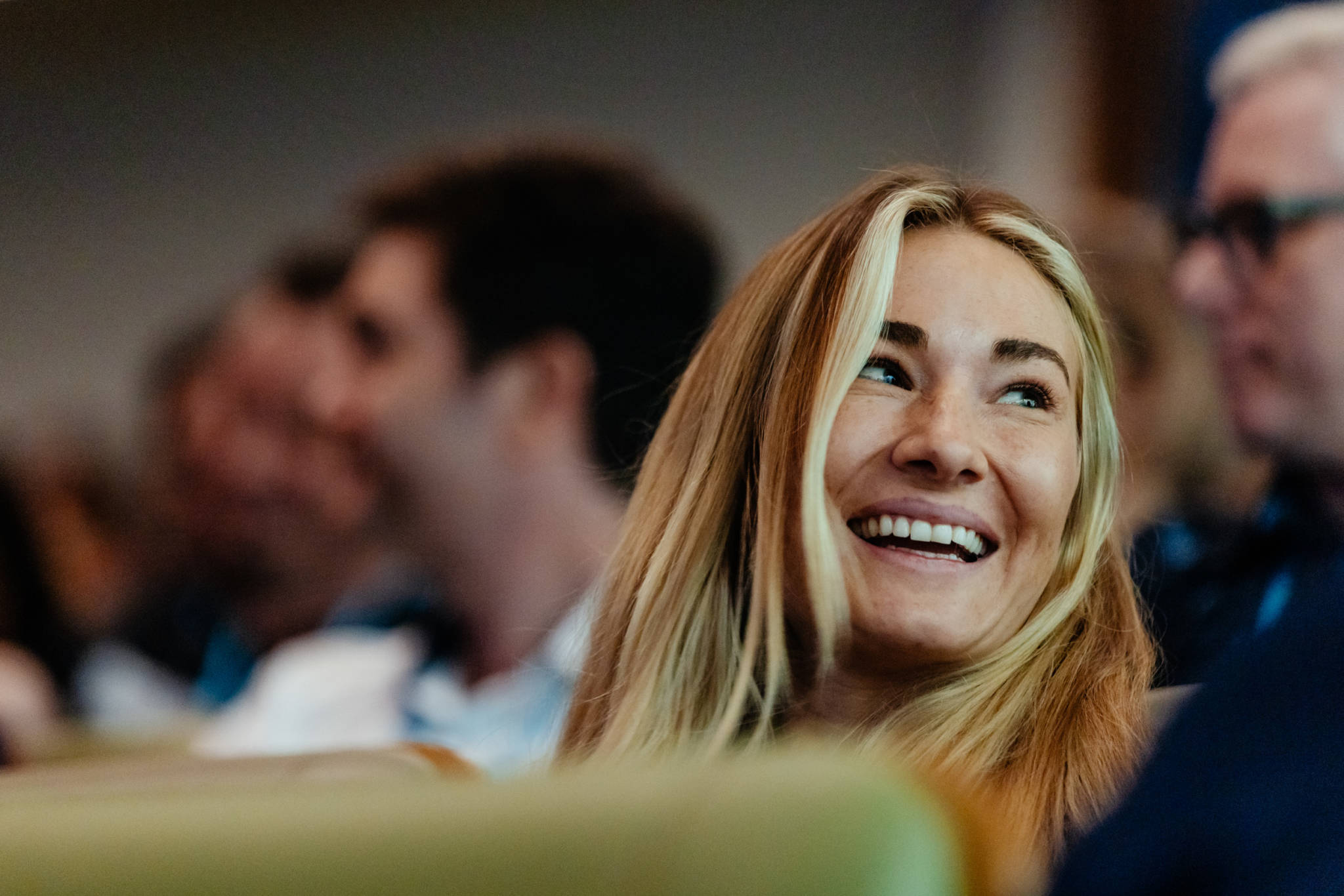 Kaylene talked about her experience on the production of Black Snow where cast, crew, media and creatives did immersion training on Australian South Sea Islander history and culture. The training set the tone for the production and was also an emotional bonding experience for all involved.
As for the future of Aboriginal and Torres Strait Islander stories and representation, it starts with, "more power-sharing—putting us in producer roles and director roles," Rhianna continued. "Other people still think they can tell our stories better than us."
"We're not there to tick a box. We're there to have those truth telling storied and dialogue," Kaylene said, "I want to do something meaningful like every other storyteller."
Shontell said "It's the lack of trust… feeling like you have to have non-Indigenous people attached. Now it's time for our lens to be across the entire story—that's how we can move forward at filmmakers. We're so diverse…there's so much more we can show of ourselves and those are the films I'd like to make."
"Our future is celebrational," said Kaylene.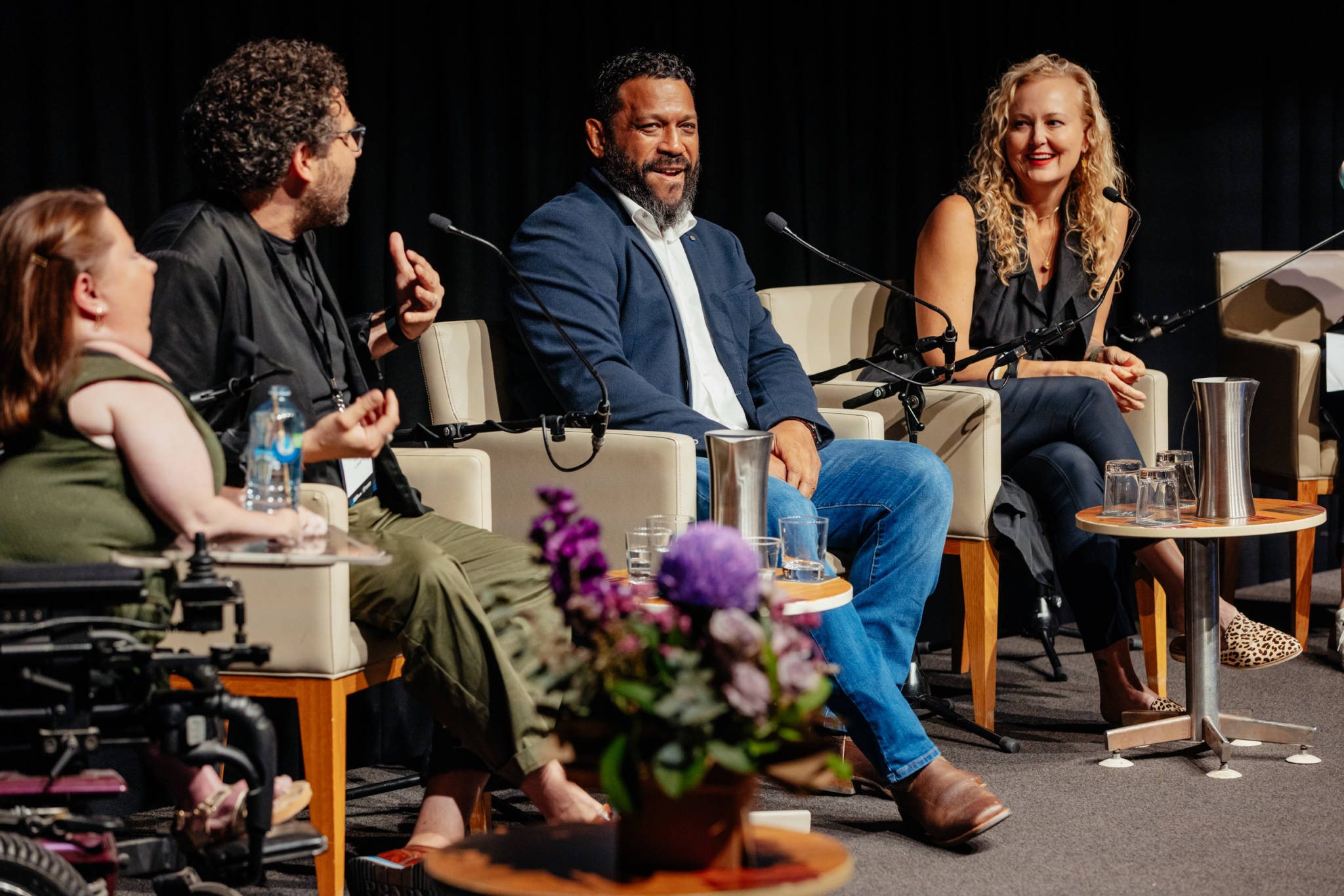 Session Seven
Diversity on and off screen
Moderator: Jacqui Feeney (CEO, Screen Queensland)
Panel: Steph Dower (Screen Queensland Equity and Diversity Taskforce), Aaron Fa'Aoso (Lone Star Productions), Dan Lake (Orange Entertainment Co.), and Tracey Vieira (Hoodlum Entertainment)
The last session for the day discussed what diversity in the industry looks like from a range of perspectives.
The role of access coordinator has been embedded on productions internationally for some time and there is an increasing awareness locally of vital it is to place more attention on promoting and providing solutions to accessibility requirements for both cast and crew on productions. The panel discussed why this is so necessary and how it's become a priority for screen agencies with training programs already in the pipeline.
"We work in the creative industries—we need to be creative in our practices," said Steph.
"Accessibility is something that goes beyond disability" she continued, noting it's something the whole industry can benefit from, "If you have a voice and want to be in this industry, there shouldn't be any reason why you can't."
Dan talked of the reluctance people feel about engaging in conversations around diversity, which remains a barrier to adopting best practice approaches: "This subject makes everyone really uncomfortable for fear of getting cancelled or hurting someone." He then referenced a lesson he had learnt from Steph, "Don't be afraid to put a foot wrong if the intention is right. And don't be afraid to ask the question: how did I get it wrong and how do I get it right next time?"
"We have to become comfortable with feeling uncomfortable," Tracey agreed.
On progress over the last few years, "seeing growth inspires me," said Aaron. "While it's been slow, I have seen improvements and there is a real willingness for improvement."
But there is still much work to do.
"If there's one area that I think there is still work to be done… I think it's at the top, where decisions are being made," said Tracey.
On creating a space for advancement, Aaron said "It's about the allowance for us to lead… when we're in that space."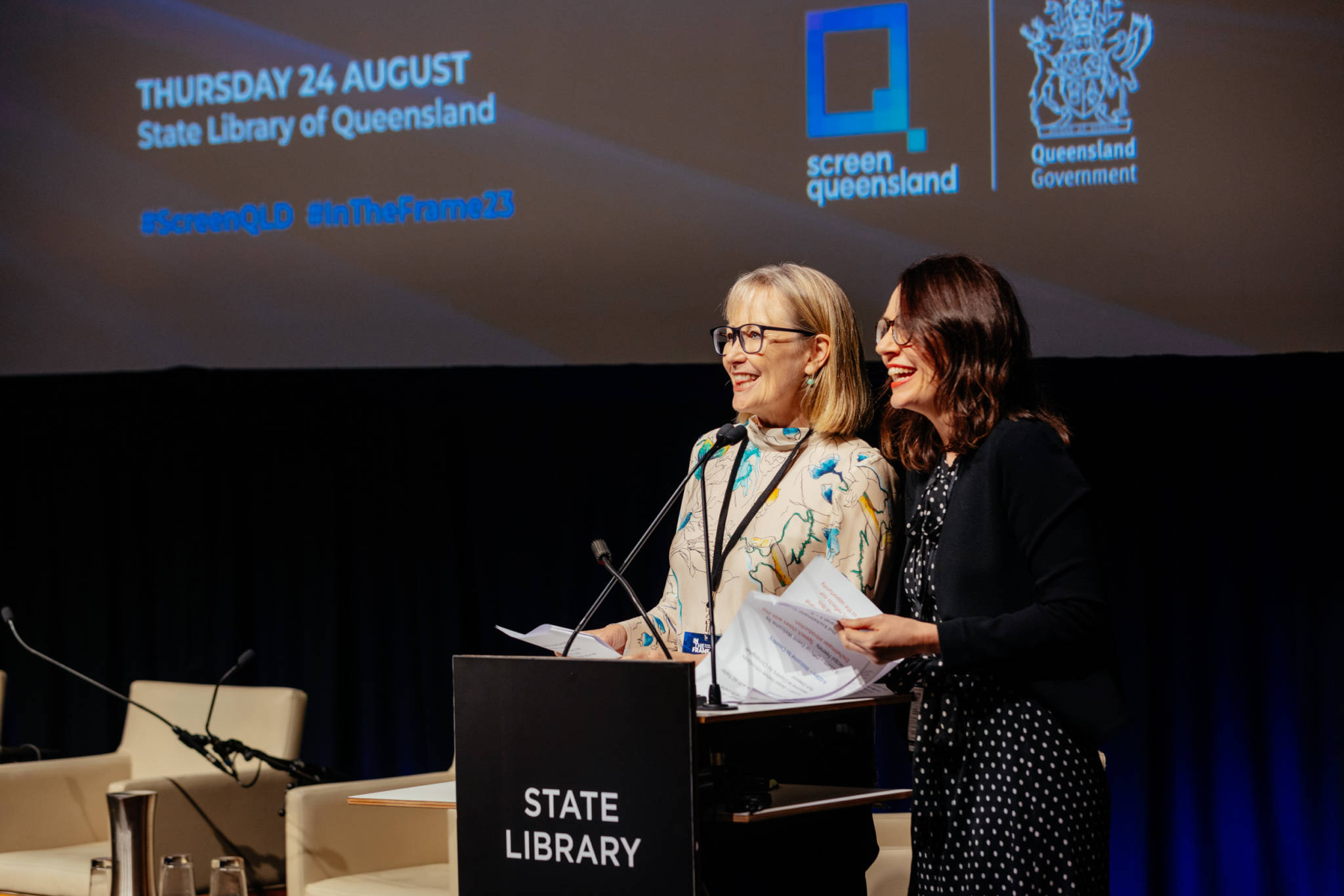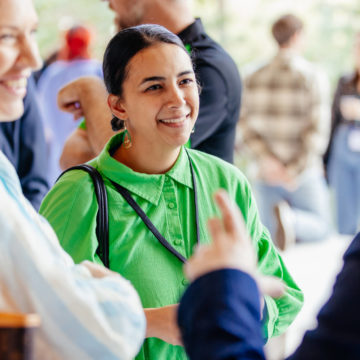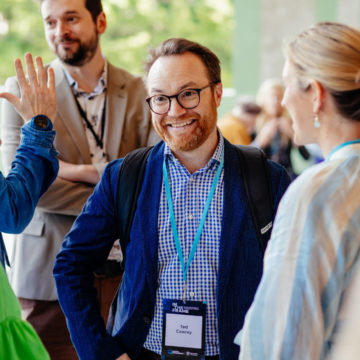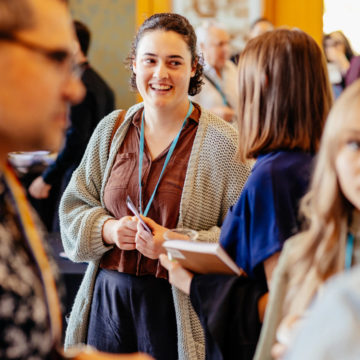 Photos: Joe Ruckli