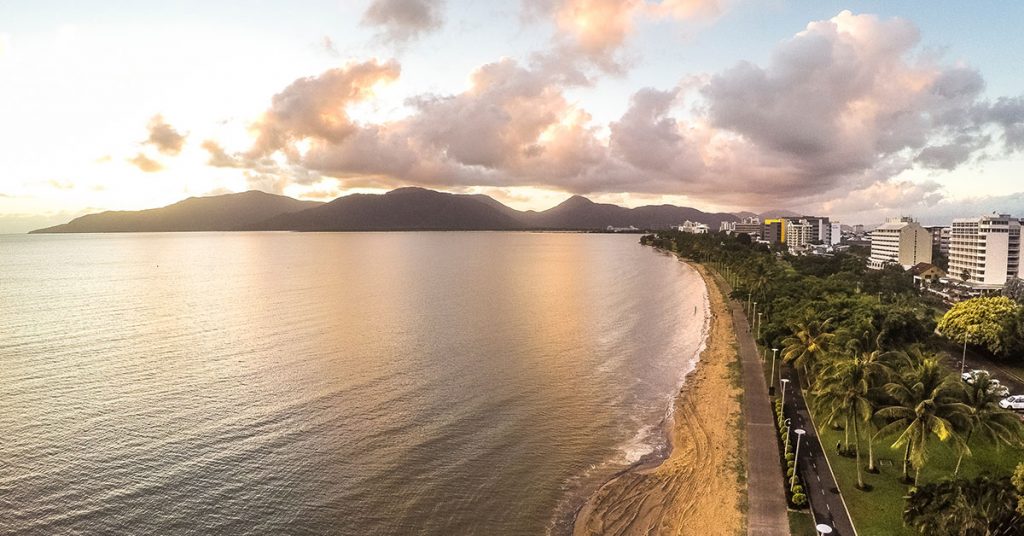 MEDIA RELEASE
Make it in FNQ: Network and plan your creative career
Thursday 13 February, 6:00pm – 8:00pm
Salt House, Cairns
FREE EVENT Registration essential
---
The delivery of the Queensland Government's Advance Queensland Far North Queensland Screen Production Strategic Plan will kick start on Thursday 13 February with a free networking event in Cairns called Make it in FNQ: Network and plan your creative career for local film, TV and games development practitioners.
Premier Annastacia Palaszczuk said the event was the first in a series of initiatives, events and workshops that will roll out over the next three years to boost the existing capability in the region and harness the talent of artists, storytellers and crew in the Far North.
"We are helping to strengthen the local capacity to produce high-quality screen content from the unique perspective of the Far North that together we can take to global audiences," said the Premier.
Screen Queensland's CEO Kylie Munnich said they were delighted to partner with Australia's peak regional screen industry group Screenworks, to deliver a variety of opportunities including skills development workshops, meet the broadcaster events, mentorships, screen productions and more.
"Together with Screenworks we will deliver a comprehensive program specifically designed for the region that will support the experienced practitioners as well as inspire and upskill the next wave of screen industry creatives in Far North Queensland," said Ms Munnich.
"This will be my first of many visits to the region over the coming years and I'm excited to be meeting with local stakeholders and getting to know the diverse pool of talent who live and work in the region.
"I'll be joined by a strong contingent from Screen Queensland and we're all looking forward to uncovering and supporting new stories and new talent," Ms Munnich commented.
Those attending the event at the Salt House, Thursday 13 February, 6-8pm, will be able to build on existing relationships, forge new connections and talk with representatives from Screen Queensland and Screenworks including:
Kylie Munnich, CEO Screen Queensland
Ken Crouch, CEO, Screenworks
Jo Dillon, Executive Vice President Content, Screen Queensland
Douglas Watkin, Vice President Indigenous Stories and Talent, Screen Queensland
Rowena Billard, Screen Culture Manager, Screen Queensland.
Screenworks CEO Ken Crouch said he is looking forward to partnering with the Queensland Government through Screen Queensland to deliver the strategy and drive regional growth.
"This launch event will be a fantastic opportunity for the local screen industry to come together to find out about the slate of opportunities we have planned for them and the region, in addition to being a great chance to catch up with colleagues and meet new collaborators," said Mr Crouch.
Make it in FNQ: Network and plan your creative career will be held Thursday, 13 February, 6:00 – 8.00pm at the Salt House, Marina Point, 2 Pierpoint Road, Cairns. All emerging and established screen industry practitioners based in Far North Queensland are invited to register via the Screenworks' website.www.screenworks.com.au/fnq
For more information visit the Advance Queensland Far North Queensland Screen Production Strategic Plan visit https://advance.qld.gov.au/screen-industry.
-ENDS-
MEDIA CONTACT
Bronwyn Fardon
07 3248 0535, 0414 327 576
bfardon@screenqld.com.au
ABOUT SCREEN QUEENSLAND
Screen Queensland is a Queensland Government owned company that invests in talent and production to grow a creative, innovative and successful screen industry with a focus on stories and audience, secures production and post, digital and vfx to Queensland, and delivers an active screen culture through festivals and events funding across the state. Screen Queensland invests in stories and talent through a range of mechanisms including development, production investment, initiatives, sqhub and mentorships. Screen Queensland is deeply committed to increasing diversity in the screen industry to reflect the Australian community. For more information visit screenqld.com.au

ABOUT SCREENWORKS
Screenworks is the peak industry body for regional film, TV and screen-related content that supports regional screen projects, its practitioners and promotes screen culture across regional Australia. Screenworks' principal activities deliver screen-related development and networking opportunities, programs and initiatives specifically designed to support people living in regional, rural and remote in every state and territory of Australia.
Screenworks has been delivering projects, events and initiatives in Far North Queensland since 2017 including industry forums, networking events and professional development workshops.